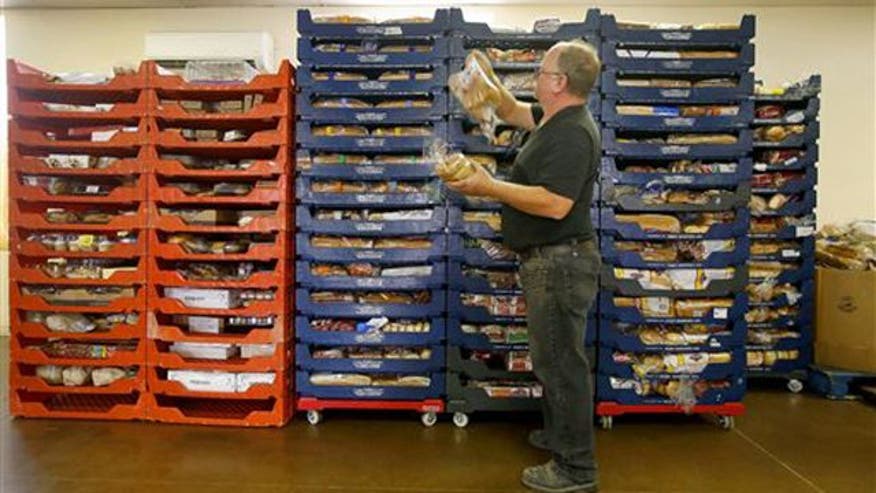 DISCLAIMER: THE FOLLOWING "Cost of Freedom Recap" CONTAINS STRONG OPINIONS WHICH ARE NOT A REFLECTION OF THE OPINIONS OF FOX NEWS AND SHOULD NOT BE RELIED UPON AS INVESTMENT ADVICE WHEN MAKING PERSONAL INVESTMENT DECISIONS. IT IS FOX NEWS' POLICY THAT CONTRIBUTORS DISCLOSE POSITIONS THEY HOLD IN STOCKS THEY DISCUSS, THOUGH POSITIONS MAY CHANGE. READERS OF "Cost of Freedom Recap" MUST TAKE RESPONSIBILITY FOR THEIR OWN INVESTMENT DECISIONS.
ARIZONA CUTTING OFF WELFARE BENEFITS AFTER 1 YEAR; GAO: FED'L FOOD AID PROGRAMS DISHED OUT $100B TO 110M BENEFICIARIES LAST YEAR
MICHELLE FIELDS: I think this is a step in the right direction. Food stamps are supposed to be a short-term solution, but instead it's becoming a way of life here in America. We should be not only putting a time limit—12 months—on food stamps, but we should be requiring people to work. If you want food stamps, if you want welfare, and you're able-bodied, you don't have a disability then you better either have a job or be volunteering in your community. If you want money from taxpayers, you need to also be doing something.
JESSICA TARLOV: I think that's a bit fast. But what I would say, though, is we do need to cut back on welfare benefits. I'm not going to argue that things should just stay as they are. There are people that do steal from these programs. They should be working, as Michelle said, and they are not. But we need to make sure we're giving these people the skills that they need to get jobs. We've had a sluggish recovery. We've replaced a lot of mid-wage jobs with low-wage jobs. These people might not be able to sustain themselves and their families. And we're also talking about this like "let's just make it go nationwide"—we're talking about 1600 families, 2700 children. Those are real American families that we need to make sure are going to be okay when we just take away these programs.
JONATHAN HOENIG: I don't think Arizona is going far enough. The point isn't to make sure the people on welfare are working; the point is to get rid of welfare—that's the issue here. The issue isn't really "should you give money to someone in need?" The real issue is "do you have the right not to give money to someone in need?" Every time Jessica, or Juan, or somebody else says "oh, these people really deserve your help"? The whole idea of America is you own your own life. If you want to help someone, that's great, but you're not a slave to everyone else's endless needs in this free country.
JUAN WILLIAMS: It's up to the states and localities. I would think that conservatives would say "this is the state, let the state have some control." This is an important point because, remember, much of the funding here comes from the federal government, but then it goes as a block grant to the states, and the states have some latitude in terms of how they use the money. That's what Arizona is doing; they're saying they want to use the money for something else, and they're punishing poor people. Not just poor people—disabled people, people with mental issues, people who've been traumatize—often veterans. Jonathan says we're going to be slaves—you know what? We're punishing children.
WAYNE ROGERS: I think the problem is not a moral one. Everybody says "this guy is down and out and he needs food, we should help him." All of those things are true; we all agree on that there is always a certain amount of that. We have 18 food programs administered by 3 separate federal agencies; that is the problem. You've got the federal government in every part of our lives, doing things wrong.
ADMIN'S ISIS STRATEGY FUELING DEBATE AS TERROR GROUP MAKES GAINS IN IRAQ & SYRIA
JONATHAN HOENIG: This is unbelievable evasion. Why have we resigned to this decades-long confrontation with savages? We've got the strongest military in the history of mankind. We can eliminate entire countries, let alone a couple of savages in the desert with pickup trucks they stole from us. It's almost like this President can't stand up for this country. It's all about the coalition; it's all about helping the Islamic streets, the greater good. We can't stand up for American and put our interests first. That's exactly what is needed to win this war.
JESSICA TARLOV: Listening to Josh Earnest or the President this week versus Bob Gates or General Jack Keane—I mean these are starkly different perspective. I'm sure we've seen the clip of Earnest saying we can't "catch our hair on fire" every time that we have a setback, and Ramadi seems like a little more than just a setback. I'm really hesitant to say "let's have a full-scale ground troop war there. There are other things that we could do. We could be using special forces. I was talking to a friend earlier this week that brought up the issue of why aren't we running a better propaganda war. The U.S. is really good at this. We could be dumping pamphlets over there.
WAYNE ROGERS: The problem is the President has no set policy. He's dealing in situation politics, situation military operations. In other words, something happens and he reacts to that. He has no set policy. They have no strategy—that's the problem. And until he understands that this is a war between Shiites and Sunnis, then he's not going to understand how to deal with it.
MICHELLE FIELDS: The Pentagon confirmed last month that we've spent over $2 billion so far trying to fight ISIS. It seems like we have nothing to show for it. This administration continues to say that ISIS has been weakened, but they continue to advance in Iraq and Syria. Like Wayne said, I can't even critique the strategy of this administration because they have no strategy. It seems like we don't know what we're doing there.
JUAN WILLIAMS: I'm just kind of curious, because I think you're all educated and well-informed people, but the strategy is pretty obvious here. The President thinks that the strategy should be to have the Iraqis take care of their own country instead of having us invest trillions more there.
GOP LAWMAKERS CALL FOR IRS INVESTIGATION OF CLINTON FOUNDATION
WAYNE ROGERS: It's a laughable thing. Here you've got the IRS, a corrupt agency of the United States government being investigated on their own, investigating the Clintons' tax-exempt 501C3, which isn't at all. The whole thing is a mess. We can't have the federal government, who is absolutely underwater and doesn't know what they're doing, investigating somebody else who doesn't know what they're doing.
JONATHAN HOENIG: We should end all charity tax-exemptions. It's not like it's government's job to choose who is a charity and who isn't. The Clintons are like the political version of Crefo Dollar. They use their political pull to raise non-tax dollars, to raise more political influence, to control our lives. So I don't think just their tax-exemption should be evaluated—but the entire process, which is cronyism by any other name.
MICHELLE FIELDS: If the Clinton Foundation was a free market group the IRS would already be investigating them, and we wouldn't even be debating this. The Clinton Foundation we already know has underreported donations. They did not report their foreign donations from foreign governments. If this was a Tea Party group they would have already had their tax-exempt status taken away from them. I think it's a double standard.
JUAN WILLIAMS: I'm just surprised it's Memorial Day weekend, and all this hating on the IRS. The IRS had its budget cut so badly that they can't do the basic work that they need to collect revenue from people.
JESSICA TARLOV: I'm with Juan. You can still support Hillary and the rule of law. An IRS investigation does make sense, but I also don't want us to forget all of the good that the Clinton Foundation has done over a decade and a half.
the-cost-of-freedom
The Cost of Freedom, hosted by Neil Cavuto, Brenda Buttner, David Asman, and Eric Bolling, airs on Saturdays at 10AM ET on Fox News Channel.