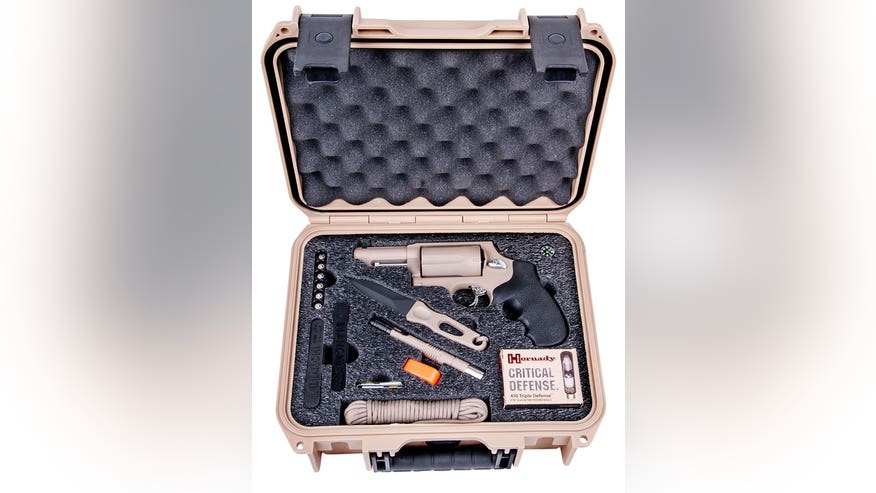 If disaster struck, how would you survive the first 24 hours?
A new, lightweight, rugged kit contains key tools that would certainly give you an advantage.
Taurus has created a solution to improve your chances in pretty much any crisis you could encounter; from a natural disaster to a zombie apocalypse. The First 24 Kit contains smart components to help people survive the first 24 hours of any crisis and make their way to safety.
The kit includes: a revolver, a knife, a flashlight, emergency signals, fire starter kit, a compass, some 550 Para cord, as well as a battery caddy and batteries – all contained in a robust, practical case.
Revolver
So many judges carry this revolver for self-protection into the courtroom that this weapon is known as the "Taurus Judge." It chambers both 45 Colt Ammunition for longer distances and .410 2-1/2″ shotshell for short distances. As the company says, this "Taurus Judge is one decision-maker that lays down the law."
More on this…
This compact has a matte stainless steel finish and weighs 29 ounces. It is fully customized with fiber optic front sights, fixed rear sights and the Taurus "Ribber Grips." The barrel length is 3 inches and it has five round capacity.
The Taurus Judge also features the Taurus Security System designed to provide instantaneous defense. There's also the option of simply turning a key to render the pistol inoperable. In this mode, the pistol is secured and cannot be fired or cocked – even the gun's manual safety can't be disengaged.
Knife
The CRKT Sting Survival Knife, crafted by knife legend A. G. Russell, and customized by Aimpro Tactical, is a fixed blade tactical knife with two edges.
The 3.197-inch blade starts out as alloy, similar to that used in Samurai swords, but is then amped up even more by hot forging and precision grinding into its final, nearly indestructible, form. For corrosion resistance, a black non-reflective powder coat finish is added. The handle is also hot forged 1050 carbon steel.
The handle is contoured for a comfortable fit for both gloved and bare hands. It weighs 3.9 ounces, and when the blade is open, the length is 6.85 inches.
It comes with a custom nylon-stitched reinforced sheath and a strapping option for gear or a clip for belt, pack or boot attachment.
The knife is a smart choice for a survival kit. "Strap it down and take it into any situation. It's ready to battle with any environment," says CRKT.
Flashlight
Brite Strike's EPLI (Executive Precision Lighting Instrument) flashlight won the NRA's 2013 American Hunter Gear of the Year – enough said.
It looks like one of those expensive pens seen in boardrooms, but it functions as a water and shock-proof sate of the art flashlight.
Crafted from high-grade aircraft aluminum with a graphite-anodized finish, the EPLI is a slim, just over five-inch long, penlight.
The low setting is just right for your average camp needs. Its special design produces a very bright beam that creates light similar to natural daylight.
But in the event of danger, the third setting can emit a blinding strobe to help deflect the threat.
The strobe setting can also be used to set an SOS. It takes standard AAA batteries and uses state-of-the-art power management to maximize light duration to more than six hours on lo mode.
Emergency Signals
APALS, or All Purpose Adhesive Light Strips, also made by Brite Strike, are basically next-generation replacements for chemical light sticks.
Military special operators were keen to have reliable, long endurance, combat identifiers. APALS were designed as a solution to improve a warfighter's signaling options.
The APALS can be seen at up to a mile and have three modes: fast strobe, slow strobe, and steady.
They are waterproof, dustproof, and shockproof and can be bought in flexible, lightweight, 1.6-ounce crushproof 10 packs that easily fit in a cargo pocket. This innovative packaging approach is important because chemical light sticks have a tendency to accidentally become activated – this design eliminates that risk.
Highly robust, the strips are designed to operate in the most extreme conditions, from the Arctic to the desert, and provide more than 200 hours of runtime.
This kit includes three colors: red, white and green.
Fire Starter
Fire is always fundamental to survival. Zippo's new bright orange Emergency Fire Starter Kit included in the First 24 makes lighting a fire impossibly easy. It has a reliable flint wheel ignition to light its water-resistant Waxed Tinder Sticks. Everything stays dry inside the Zippo case thanks to its smart design with a water-resistant O-ring seal.
550 Survival Para cord Bundle
The kit also includes 550 Para cord, a lightweight nylon rope that has a breaking strength of 550 pounds or more. Para cord dates back to World War II parachute suspension lines. In a survival setting, Para cord has innumerable useful applications, from securing things and building harnesses, through to using its strands to make fishing line.
As you'd expect from any self-respecting survival kit, there is also a compass, more specifically a 20mm Spherical Survival Compass.
It also includes a Power Pax Slim Line Caddy, originally designed for pilots. The Caddy holds six AA batteries and can be dispensed with one hand. AA batteries are included in this comprehensive kit.
Case
All of these essentials are contained in the SKB Series 1209-4 Waterproof Utility Case, the final component of the First 24. The dimensions are 12 inches long by nine inches wide with a depth of four and half inches.
It has both a waterproof and dust tight design. In addition to impact damage resistance, it is also resistant to UV, solvents, corrosion and fungus. Taurus provides the case in tan.
Altogether, the First 24 goes for $1,499.
Ballet dancer turned defense specialist Allison Barrie has traveled around the world covering the military, terrorism, weapons advancements and life on the front line. You can reach her at wargames@foxnews.com or follow her on Twitter @Allison_Barrie.