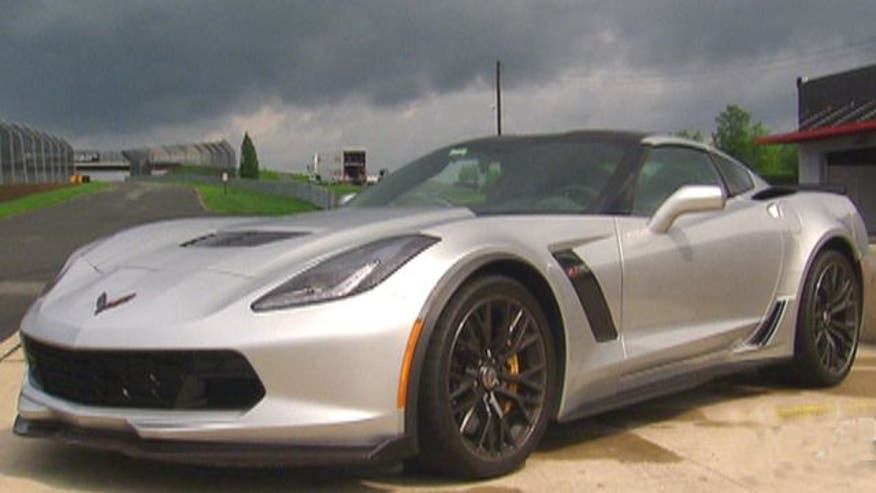 It's great when you get what you wish for, but be careful.
When the all-new Chevrolet Corvette Stingray came out a couple of years ago, the one thing it needed was more power. Well, it didn't exactly need it. Four hundred and sixty horses are plenty for just about anyone, but the car was so good, it was hankering for more.
It got it for 2015 with the introduction of the Corvette Z06, with its supercharged 6.2-liter V8 pumping out a well-balanced 650 hp and 650 lb-ft of torque. That makes it the most powerful Corvette ever made. Ditto for all of General Motors.
It's even more potent than the Corvette C7.R race car that it shares its aluminum frame and style with. You know, that yellow car that won its class at the both the 24 Hours of Daytona and 24 Hours of LeMans this year over the likes of Ferrari and Porsche? For good measure, it picked up the 12 Hours of Sebring, too. No biggie.
The resemblance between the cars is more than cosmetic. The splitters, vents and spoilers on the Z06 are all functional, creating downforce to keep it stuck to the road. Absurdly wide wheels wrapped in sticky Michelin Pilot Sport tires make the most of it, and they required broadening the Stingray's body to fit them in.
It all adds a lot of menace to the Kentucky-made Corvette's already arresting shape, which can turn heads with the best of them while generating plenty of jingoism. Anytime I parked on the street, the admiration of the masses who stopped by to check it out made clear that it's a blue-collar American hero.
Granted, at $79,995 ($101,345 with all of the performance and appearance extras on my test car,) you still have to work a lot of overtime to afford to get in the door, but it's tantalizingly within reach, unlike the European exotics that offer this much power and start at around $250,000.
It's not quite as prim or plush as any of those. The cabin quality, a revelation in the $55,000 Stingray, is little iffy at the Z06's price. But it's very ergonomic, the digital instrument cluster is a winner, the deep sport seats are capable of soaking up some serious Gs, and the small, suede, flat-bottom steering wheel sets the right mood.
Instead of frippery, Chevy puts the premium you pay toward performance. It starts with that engine, which wears its 1.7-liter supercharger au naturel like a giant flat iron grill ready to cook some rubber. It also has direct fuel injection and cylinder deactivation, which lets it run on just four cylinders sometimes, helping it squeeze out an EPA rating of 23 mpg highway. I saw over 25 mpg.
The suspension isn't changed much from the Stingray's (it's that good, I tells ya), but it comes standard with GM's magnetic ride control shocks, which can read the road and adjust accordingly to balance comfort and performance. Along with the Z06's electronic limited slip differential and stability control, it's tied into a performance traction management system that offers many modes, essentially letting you choose the car's difficulty level.
A seven speed manual transmission is standard for those brave few who still like to get their hands dirty, but the optional eight-speed automatic is hardwired into the car's computer mind and can be put completely under its control.
To see how it all works in its natural habitat, I took the Z06 to the Monticello Motor Club right after a nice soaking that left plenty of standing water right where you want it, like at the apex of curves and the middle of the esses. Ugh. This in a car that can accelerate from 0-60 mph in under three seconds and sound like the end of the world is chasing it as it does.
So I dialed up Wet mode and put my faith in technology, marveling at how the Z06 kept itself on the track like a sentient being practicing self-preservation. I'm simplifying it a little, but as long as you slow down enough before a turn, pretty much all you have to do is give it the gas once you're in it and the car figures out how to avoid crashing while finding the fastest way through. Splash through a puddle in the middle and it slips what feels like an inch before it does its thing to keep pointed in the right direction.
You can hear the engine strategically backing off the power. But other than that, it's a seamless effort, with no abrupt changes in pace to upset things. In full-on Race mode, Chevy says it's better than the best drivers can do without it. I'm not one of them, but as things dried out, I worked my way up the charts, revealing more of the Z06's true nature with each step, and I'm not about to argue with that assertion.
There's no doubt it's a world-class machine at speed – and at coming down from it. Some high-performance cars can be squirrely when you stomp on the brakes at triple-digit speeds, but the Z06 stays straight as an arrow, even in mixed conditions. Only in the tightest hairpins does it object to your commands in the slightest, eventually bringing its rear end around and then catching it if you don't. Despite the massive amount of power on tap, it's easy to find your confidence in this car, and learn a few things along the way.
That is, until you reach the end of the road. After a few lapping sessions, the engine in mine unceremoniously called it quits. There was oil, some bits and pieces, unpleasant noises. It was not pretty. The cause? Yet to be determined.
But whether it was a due to a manufacturing or design flaw that Chevy needs to address, or was simply an act of protest after being subjected to thousands of miles of unspeakable horrors by uncaring journalists, it raised an important point: Sports cars break, and it ain't cheap when they do.
This is especially true of high-strung ones that spend much of their lives at the track, a no man's land for warranty and insurance coverage. When something however small goes bad on a pricey import, mortgages can get involved. But with the Z06, you could blow through five or six engines completely and still not spend as much as the upfront cost of the competition. I know, there are residual values to consider and all that, but it's something to think about.
And you should. Because unless you plan on driving it like this sometimes, don't bother. The Stingray is already a dream, and the Z06 isn't meant for a life of leisure. A champ like it deserves the chance to show those fancy pants cars how we do it in the USA, or die trying.
———-
2015 Chevrolet Corvette Z06
Base price: $79,995
As tested: $100,345
Type: 2-door, 2-passenger hatchback coupe
Engine: 6.2-liter supercharged V8
Power: 650 hp, 650 lb-ft torque
Transmission: 8-speed automatic
MPG: 13 city/23 hwy