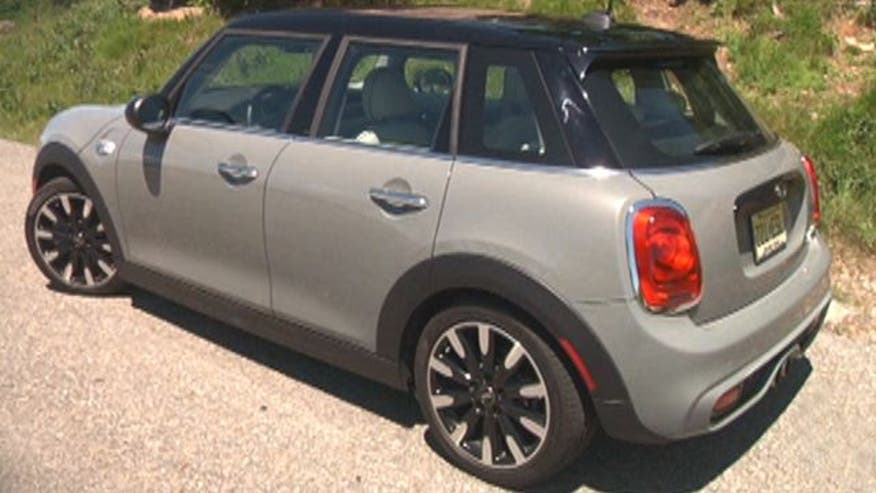 Mini Cooper Hardtop drivers have it pretty good.
They find parking spaces at will, horde bundles of cash saved on gas, and have to try really hard to lose an autocross competition. Yea, most days everything's coming up Milhouse for them.
But show up with two friends and ask them for a ride, and it's payback time for the rest of us.
The problem with the car is that it has rear seats. And with rear seats comes the obligation to have them called into use by others now and then, even if they're as laughably small as the Mini's. But using them is no joke.
You grease your passengers up good, jam them in as best you can, even the kids, and then do the same for yourself, settling in and trying not to chew on the steering wheel to much as you contemplate the sounds that your knees make, since you're wearing them like a pair of over-ear headphones.
Things aren't much better in the cargo area, so if this scenario involves an airport pickup, you'd better hope everyone was too cheap to pay the luggage fees and are getting by with fanny packs.
No, the Mini Hardtop is best treated as a two-seater, with the rears permanently folded down to reduce the temptation to use them and increase its ability to carry junk in the trunk, even if that makes you selfish. But what if you can have it both ways?
Well now you can, because tor the first time ever, the folks at Mini have figured out how to squeeze four-doors onto the car. Shock, meet awe.
It's a truly historic occasion, tempered only by the fact that four-door subcompacts aren't exactly a new concept and it's not even the smallest one on sale today, but still.
The four-door is just over six inches longer than the two-door, which doesn't sound like much, but is surprisingly adequate for the task at hand. About half of that is doled out between the wheels, and half again to the rear seats, which also get enough added shoulder room to turn it into a five-passenger car. Unfortunately the center hump is literally a hump that you sit on almost like a motorcycle saddle, but, hey, motorcycles are fun!
It's still not a car that anyone would describe as "spacious" or "visible without the help of a microscope," but six-footers can painlessly fit behind six-footers who don't practice Bikram Yoga and there's 50 percent more room under the hatch, so let's hit the big and tall outlet, because the khakis are on me!
The Mini wears its new size well. The extra doors and windows are nicely-tailored and give it a much more proportional look than the literally odd, three-passenger-door Clubman that used to fill this supersize slot in the lineup. Its $22,550 starting price (no change for 2016) is $1,000 more than the two-door, with which it shares everything else. This includes relatively elegant furnishings, and a standard 3-cylinder turbocharged engine that should do fine, considering the stretch only added 125 pounds and the 134 hp triple is a spunky little bulldog.
I tried out the Cooper S version, which gets one turbocharged cylinder per door that comes in the form of a 189 hp 2.0-liter four-cylinder engine and costs $25,950 before you start loading in the options. These include a self-parking system, active cruise control, adaptive shocks, myriad stripe and flag decals, and a dual-pane sunroof that makes those back seat passengers think you really care about them.
The longer wheelbase changes the character of the car in small, but noticeable ways. It's more planted in curves, smoother over bumps, and very stable at high speeds, which it loves. It gives up a little of that handbrake-turn-inspiring twitchiness in the process, but this is the family-friendly Mini, so you shouldn't be trying to outmaneuver the polizia, anyway, Croker.
It is quick, though, so you probably could. The engine pulls strongly through the six-speed stick, which is a joy to shift, but an automatic with as many gears is also available. It sounds great, too, with help from some electronic special effects, but the cabin can get filled with road noise on anything but fresh blacktop, thanks in part to the stiff, run-flat performance tires you get with the Cooper S that are not very friendly to potholes, either.
Skip the optional armrest if you go for the manual, because it's high and large and gets in the way when you change gears or try to use the console-mounted dial for the infotainment system. This is still a pretty small car, after all.
I'll take that opportunity to note that for the same money, you could pick up a Volkswagen Golf GTI, which is larger, quieter, more powerful, and objectively better than the Cooper S in just about every way. But if you wanted one of those, you'd already own it.
Instead, you are a lover of the smallest things, trimmed in chrome and immortal styling. The four-door just means you don't have to suffer for this passion anymore, and your friends will appreciate it.
Get used to driving them home.
———-
2015 MINI Cooper S Hardtop 4-door
Base price: $25,950
As tested: $34,350
Type: 5-passenger, 4-door hatchback
Engine: 2.0-liter turbocharged 4-cylinder
Power: 189 hp, 207 lb-ft torque
Transmission: 6-speed manual
MPG: 24 city/34 hwy