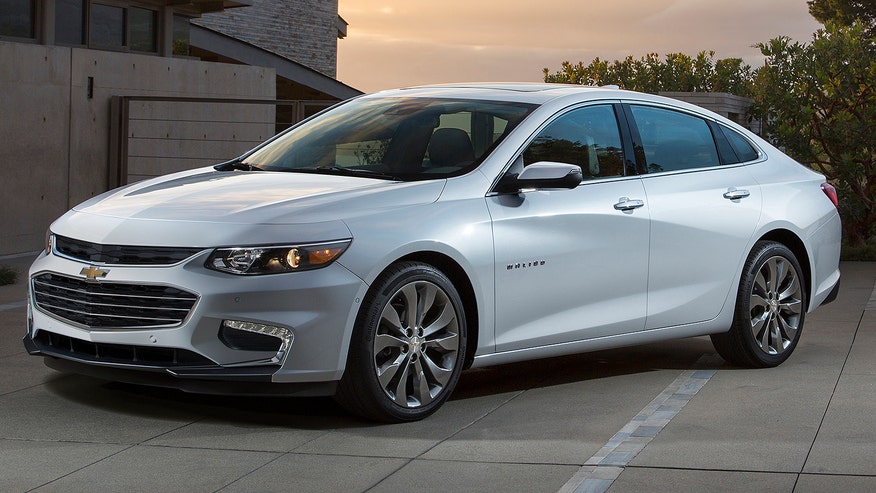 Chevrolet's Malibu has just undergone its most substantial redesign in perhaps the nameplate's history. The all-new model, which debuts this week at the 2015 New York Auto Show, the nameplate's ninth generation, is not only larger than its predecessor, it's also packed with more technology and yet it weighs close to 300 pounds less.
The key is the car's E2XX platform; it's one of General Motors Company's four core platforms and is destined to underpin a host of models sold under every brand except Cadillac. Designed virtually from the ground up to deliver more efficiency, connectivity and advanced safety features than ever, the E2XX platform is what allowed the 2016 Malibu to grow while still losing weight.
The 2016 Chevrolet Malibu is nearly 300 pounds lighter and has wheelbase thatâs been stretched nearly 4 inches, making it more fuel efficient, more functional and more agile.
Designers stretched the wheelbase by 3.6 inches, resulting in a 2.3-inch increase in overall length. Width remains the same as before at 73.0 inches, but the hood and cowl are lower, giving the car an impressive stance. The increase in wheelbase has led to more space inside, especially at the rear which now benefits from an extra 1.3 inches of legroom. The weight savings, meanwhile, have been brought about mostly from the use of high-strength steel in the car's construction.
The 2016 Chevrolet Malibu is nearly 300 pounds lighter and has wheelbase thatâs been stretched nearly 4 inches, making it more fuel efficient, more functional and more agile.
The exterior has clearly been influenced by the latest Impala but the look is far more expressive, and it has to be, now that every automaker from Kia to Toyota is shooting for drama in what was formerly a drama-free zone. Inside, the Malibu has dropped the twin-binnacle, tiered look, striking out with a more conventional shape that's far more unified and appealing. Premium touches include wrapped-surfaces and large displays.
Just as impressive as the exterior is what's under the hood. The Malibu sticks with a trio of four-cylinder engine offerings, and the hybrid option is back, this time with a drivetrain derived from that of the 2016 Chevy Volt. The smallest engine is a turbocharged 1.5-liter four-cylinder good for 160 horsepower. Spinning the front wheels only, via a six-speed auto, it promises up to 37 mpg highway.
Those seeking more power can opt for a turbocharged 2.0-liter four, paired with an eight-speed auto and generating 250 hp, and ultimate efficiency comes from the new Malibu Hybrid which should deliver more than 45 mpg combined. It features a 1.8-liter four mated to a twin-electric motor "drive unit". The drive unit provides additional power to assist the engine during acceleration, for 182 hp of system output.
Tech goodies, either standard or available, include the Chevrolet MyLink infotainment system, OnStar 4G LTE with Wi-Fi, wireless phone charging, a Teen Driver nanny system, and rear-seat USB ports plus 110-volt power outlet. There are also several electronic driver aids such as Front Pedestrian Alert, Lane Keep Assist with Lane Departure Warning, Blind Zone Alert with Lane Change Alert, Forward Collision Alert with Following Distance Indicator, Rear Cross Traffic Alert, Adaptive Cruise Control with Front Automatic Braking, and Front and Rear Park Assist with Automatic Parking Assist.
The 2016 Malibu will be offered in L, LS, LT and Premier trims, as well as the Hybrid model. The Premier trim is new for the 2016 model year and represents Chevy's range-topping trim level. It debuts on the 2016 Malibu and is expected to be offered on other models from the Bowtie brand. More details, including the all-important pricing info, will be announced closer to the market launch in the fourth quarter of the year. Production will take place at GM's Fairfax plant, in Kansas City, Kansas.
———-
For a more detailed look at the 2016 Chevy Malibu, check out the full preview at our sister site The Car Connection. And for more from the 2015 New York Auto Show, head to our dedicated show hub.