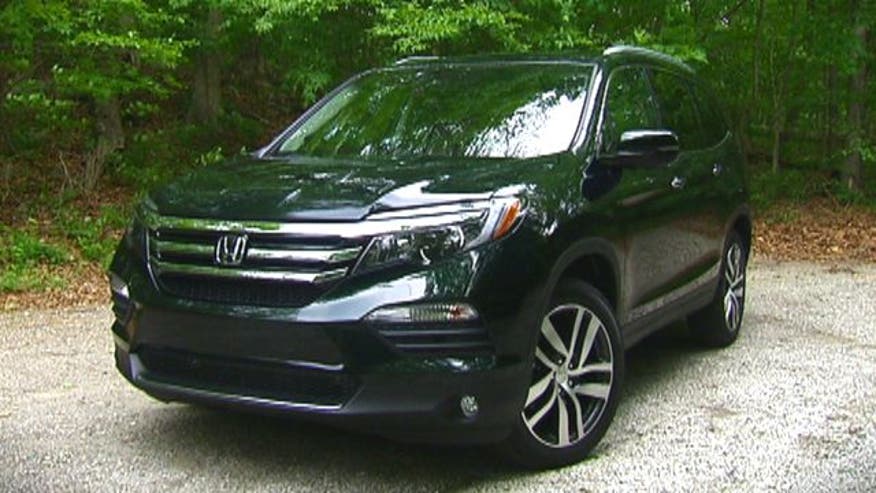 Want to feel like a celebrity? Forget the Lamborghini. Save the quarter-million bucks and buy a Honda Pilot instead.
I'm serious. The all-new 2016 model I tested had the townsfolk swarming around it like bees to sweet, sweet crossover honey every time I parked it. They gathered, gawked and used the word "awesome" to describe it more times than any pilot since Capt. Sully.
Awesome? A Honda Pilot?
Granted, I got my hands on one before it went on sale, so it was the first one anyone had seen, but I was still amazed at its impact. I suspect that will change when it's everywhere, which shouldn't take too long.
The new Pilot marks a return to form for Honda's three-row not-a-minivan. The last generation was a boxy, pug-nose affair that tried too hard to look like a truck. Its sales were respectable, but nevertheless disappointing. So this time around, Honda has gone back to the 2003 original's successful formula and basically made a supersized CR-V.
In fact, the Pilot's resemblance to Honda's best seller is so uncanny that I walked up to a CR-V in a parking lot one day and tried to get in. If I'd succeeded, I would've noted that the cabins share a similar style, too, but quickly realized I'd entered less cavernous space.
The Pilot is huge from front to back. There's room for tall folks in the third row and four carry-on suitcases behind it. The center console's storage compartment could double as a bassinet. The top-of-the-line Pilot Elite comes with second row captain's chairs that slide forward with the press of a button for easy access to the cheap seats. Other trim levels have a bench in the middle and provide accommodations for eight.
The driver and front passenger get the best seats in the house, of course, and they're heated and cooled in the Elite. Cushy on top, but perfectly supportive, they're more comfortable than any chair in my home and would give the ones in the Acura MDX a run for their money. I mention that car because the Pilot is basically its lower-priced clone. But aside from the Acura's arguably nicer leather upholstery and snobby brand cachet, the Honda is just as good.
Even though it's nearly 300 pounds lighter than the one it replaces, the Pilot gets an updated 3.5-liter V6 that increases power from 250 hp to 280 hp, and is matched to a six-speed automatic transmission and front-wheel-drive starting at $30,875. You can work your way through seven trim levels – picking up a nine-speed automatic and one of the best all-wheel-drive systems I've ever tested along the way – up to the Elite, which tops out at $47,300.
It's not built for off-roading, per se, but the AWD is so good that if you floor the accelerator on a dirt or gravel trail, there's barely any slippage and absolutely no stumbling. The Pilot just pulls away with authority. Plus it will tow up to 5,000 pounds. On the road, it can shuffle the power from the front to the back and between the rear wheels as necessary, much like the MDX's fantastically named Super-Handling All-Wheel-Drive (which I suspect is pretty much identical to the Pilot's). There also are settings for mud, sand and snow that were tuned in the wilds of exotic places like Russia, Dubai and Minnesota.
The engine is smooth, sounds great and is fun to rev. The nine-speed transmission has a sport mode that's almost too aggressive in the way it stays in the lower gears and firms up the steering. But the Pilot is so light on its feet and handles so well that getting frisky with it is acceptable, and its ride quality is a buttery bliss.
Take it easy and it delivers the best combined fuel economy in its class, 22 mpg, and the cabin stays so quiet that if someone spilled a box of pins on the carpet you'd be forgiven for thinking they queued up the drum solo from "Moby Dick" on the stereo. I don't carry around an electronic sound meter, but I honestly don't recall the last Bentley I drove being any more peaceful inside.
The audio system is controlled by Honda's latest touch-screen infotainment interface, which, like most of these, would be improved with knobs for volume and tuning. It's a little short on the bells and whistles, and the only music apps it currently supports are Pandora and Aha (and, yes, that is funny). But it has the latest version of SiriusXM satellite radio, which keeps a 30-minute running recording of all 12 of your presets that allows you both to travel back in time and combine several channels into one. '80s on 8? Bah, I want it all on 8!
The ceiling-mounted, Blu-ray equipped rear-seat entertainment system is a little retro in a world dominated by tablets, but Honda says about a third of Pilot customers still want one, and they will get what they want.
The tech is more of-the-moment on the driver aid front. The Pilot has an incredibly effective camera-based lane-keeping assist, and a separate road departure mitigation system. Start drifting toward a line on the road and it will let you know it, setting off alarms and nudging you back on track. The Pilot also has radar cruise control and can prevent or mitigate collisions with other cars and pedestrians. It gave a couple of false positives on twisty two-lane roads with traffic approaching in the other lane, but otherwise, all systems were go.
My only real complaints are those missing knobs and an idle-stop feature that shuts the engine when the car's not moving. It's the default mode, so if you're not into it, you need to deactivate it every time you start the car. There also are ceiling-mounted seatbelts for the center seats in the second and third rows that are clumsy to use and reveal the Pilot's other close relation: the Odyssey minivan.
I know, that lineage doesn't sound too awesome. But the Pilot definitely is.
———-
2016 Honda Pilot
Base price: $30,875
As tested: $47,300
Type: 7 to 8-passenger 4-door crossover
Engine: 3.5-liter V6
Power: 280 hp, 262 lb-ft torque
Transmission: 9-speed automatic
MPG: 19 city/26 hwy