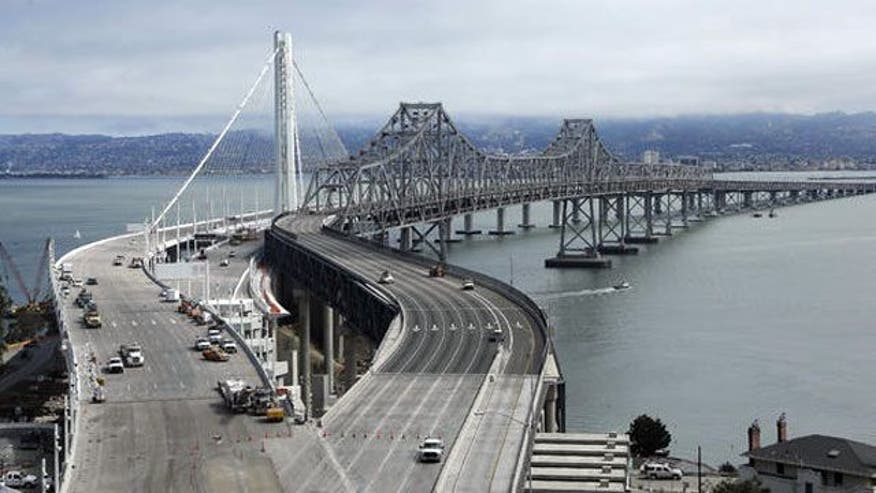 Now that a crucial section of the San Francisco-Oakland Bay Bridge has been replaced by a new $6.4 billion span, nobody needs it anymore — nobody except about 800 birds who call the decrepit, 78-year-old segment home.
The double-crested cormorants – protected, though not endangered – have nested along the bridge for decades, and have so far shown no interest in relocating to the shiny new section that replaced the eastern section of the famed bridge. Officials have tried pricey decoys, bird recordings and even specially-made nests installed underneath the new span to lure them roughly 100 feet next door. The effort to demolish the old section, damaged 25 years ago in the massive Loma Prieta earthquake, is being held up by the birds' unwillingness to move, and critics, who say the delays could cost taxpayers $33 million, are crying fowl.
Without blaming state transportation workers, Sussman argues bird protection laws written in 1918 don't make sense today. But changing the laws in the Bay Area could be hopeless, he said.
"You would have to go through hell and high water because there are so many avowed environmentalists that want that set in stone because, I believe, they see us as the invasive species," Sussman quipped.
California Department of Transportation spokesperson Leah Robinson Leach said the agency is just following the law, and is actually saving taxpayers money.
"If we don't do this," she says, "our penalties could far exceed the cost, so we're in a balancing act."
But the demolition of the original Bay Bridge won't be done until 2018, which means this "balancing act" for the birds will be hovering around for years.
Claudia Cowan currently serves as Fox News Channel's (FNC) San Francisco-based correspondent. She joined the network in 1998.