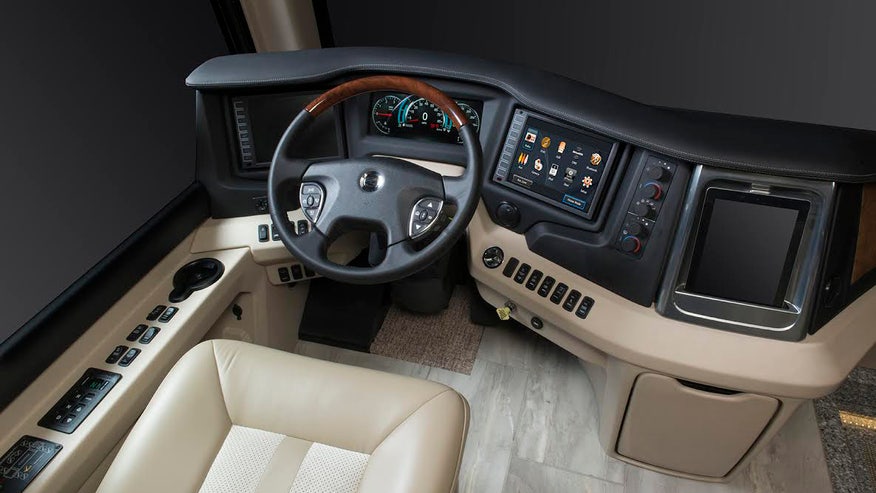 Even for those who know technology, you might think your iPhone or iPad is the upper crust of innovation. That's true for a mobile device, but these high-tech recreational vehicles also pack some nifty surprises. Awnings that roll out automatically, lane departure warning systems, and sophisticated touchscreens are just the beginning.
1. Airstream Interstate Grand Tour ($151,736)
Yes, Airstream is known for its pull-behind trailers. This Mercedes-Benz powered recreational vehicle has an engine that happens to benefit from Mercedes technology, such as traction control (when a tire slips, the engine provides more torque automatically), warnings for lane departure and blind spot, as well as front and rear parking sensors. An awning extends and retracts at the push of a button, and the rear-view mirror has a back-up camera.
2. Winnebago Trevato 59K ($89,475)
Priced just right for the tech traveler, this more nimble RV (at least compared to the bus models) measures 20-feet long but still has an electronically retractable awning. Winnebago added LED lighting inside and out (and even on the awning) to improve brightness. A new 5-inch touchscreen shows a back-up camera view. There's an exterior sound system, and you can opt for a kayak rack on top. Even the mattress adapts to how you sleep using air coils.
3. 2016 American Eagle ($694,500)
The main selling point on this massive bus-sized RV, other than the Samsung curved television (available as an option) and the included Apple iPad for passengers, is the new digital touchscreen dashboard. You can quickly check for weather forecasts, find directions, and sync to your phone for music. The RV includes a Cradlepoint WiFi router with 3G/4G service.
4. Lance Ultra Light Travel Trailer Model 1985 ($33,818)
Here's a more affordable travel trailer that's still high-tech. Lance added LED lighting inside and out, which helps save energy. The stabilizing jacks are all electronic, and there's a keyless entry keyfob. If you camp at a windy park and use the awning, it will automatically retract if the camper senses high-winds. On the roof, there's a 160-watt solar panel for off-the-grid trips.
5. 2016 Alante Class A Motorhome ($79,995)
The base price on this high-tech motorhome won't break the bank compared to many luxury models. Yet, it still has LED lighting for a low power draw, an electric awning, rear-view and side-view cameras for easier parking, and a touchscreen dash radio. Jayco lets you pick a custom color design, including "Midnight Mystery" or "Canyon Sunset" decors.