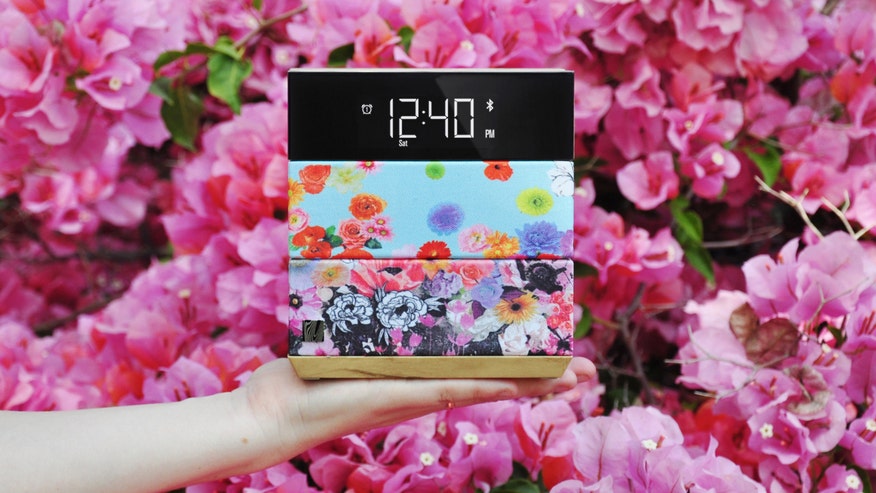 This Sunday is Mother's Day, which means it's time to think about which techie products are suited for your own mother, the moms in the office, extended family, or your wife. Fortunately, there are quite a few new gadgets for 2015 suited for the big day. There's a digital picture frame that lets you load through a website. There's even a clock radio that has a trendy flower-print design.
These colorful wall outlet covers serve multiple purposes. They are safer for kids, since the plugs are located below the faceplate. You can design your own (think: pictures of the kids). One outlet turns into three plugs and you can charge a phone or tablet using USB.
This low-cost digital frame connects to the cloud so the kids (or grandkids) can stream photos from anywhere in the world. It connects to Facebook so you can add photos that way using a Web app or you can load pictures onto a local camera card. The frame powers down and can sense when someone is in the room and turn on automatically.
These low-cost headphones come in bright colors like pink, yellow, and red. There's a "Zound Plug" that lets the listener share the music stream with a second person who has headphones. Sound quality is better than most earbuds and they're more comfortable to wear.
4. Jorno Bluetooth Keyboard ($99)
This portable keyboard will fit in mom's purse or shoulder bag. It connects to an iPad over Bluetooth, but the pairing process is ultra-simple. The Jorno comes in a faux leather case, and the keys feel springy and responsive enough for fast typing sessions.
5. Freshly.com subscription ($69 per week)
It's a bit expensive, but this meal service ships right to Mom's front door. You just create an account, select your plan (six meals per week costs $69) and select the recipient. The meals are mostly gluten-free, low-carb, and tasty enough for a gourmet cook.
Speakers come in all shapes and sizes, but the SoundRise is the only one that has a flower print pattern on the front. It has a small footprint for a nightstand and big, high-quality sound. There's a USB charger for your phone, and you can stream over Bluetooth.