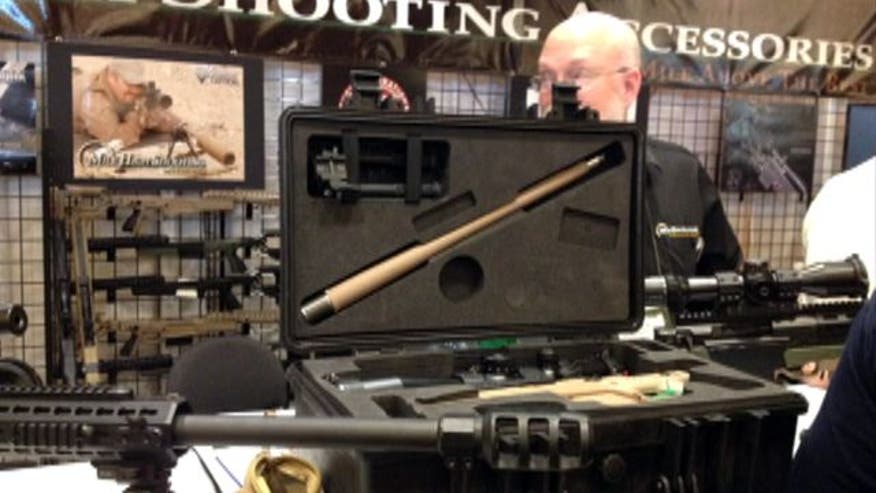 It's that time of year again: Valentine's Day. Are you still hunting for the right gift for the tactical guy or gal in your life?
We've got some ideas for you – from a pen that can ward off attackers through to a conceal carry handbag, and more. Here are our top picks for the military, first responder or outdoorsman in your life.
Assault Gloves
(Screenshot of Assault Glove FR from http://leaf.arcteryx.com)
So what about a gift for the tactical guy that's got everything?
ARC'TERYX LEAF's Assault Glove FR is brand new and a great option. Good gloves can make all the difference. These gloves provide excellent touch and fantastic hand dexterity. The touch is so good that you can easily use communications tech and keep your gloves on. The lightweight 2.8-ounce gloves are made with flame resistant materials.
The Assault Glove is available for $149.
Impromptu Tactical Pen
(Impromptu Tactical Pen. Gerber Gear)
Looks like a pen, doubles as a weapon? The Impromptu Tactical Pen does what it says on the tin – it's a pen for unexpected scenarios, like defending yourself. Arguably, this is the coolest pen on planet earth.
Gerber Gear developed the Impromptu Tactical Pen working closely with law enforcement professionals to take the ordinary pen, a tool always on hand, to a whole new level.
It definitely works like a regular pen and with its Rite in the Rain ink cartridge it lets you write in spite of foul weather.
But this pen can also be used to defend yourself and it can even break a windshield. It is made from machined steel and has a tempered window-shattering tip design.
The pen has two small flats on the barrel that could be used to engrave and personalize the gift.
The Impromptu Tactical Pen is available for $71.99.
Tactical Valentine's Card
(Screenshot of Universal Field-Flex Tactical Field Book from www.riteintherain.com)
On the more inexpensive end of things, Rite in the Rain's Tactical Notebook is always a hit, literally "Defying Mother Nature," as the company's slogan says. The notebook has special paper that lets you write anywhere in any weather. You can dunk it in a bathtub and you can still write on the paper with either a pencil or all-weather pen. The paper is astonishingly durable.
Rite in the Rain's Universal Field-Flex Tactical Field Book has a tough Field-Flex cover and will fit comfortably in a cargo pocket. The 160-page book also contains 16 pages of tactical reference material like sector sketch preparation, mission graphics, and call for fire procedure
The notebook is available for $15.95.
For Mountain Men
(Screenshot of SFB Mountain Boot from www.nike.com)
Not your average boot, this is a boot made with Kevlar – yeah, Kevlar, the stuff in bulletproof body armor.
Nike's military brown SFB Mountain boot's design was inspired by the WW II service of Nike co-founder Bill Bowerman. During his service, Bowerman spent time working in the Italian mountains.
The rugged, water repellant and breathable upper is made of Kevlar reinforced canvas. The quick drying perforated bootie can also be removed and worn on its own. It is made with memory foam that prevents slippage, keeps the foot warm and provides excellent firm cushioning to support carrying heavy loads.
Protecting the foot from punctures, the footbed is also Kevlar reinforced. The aggressive outsole pattern enhances traction on rough terrain. The removable midsole also acts as a sockliner. The smart external collar helps prevent those annoying small stones and stuff from getting inside the boot.
The SFB Mountain Boot is available for $300.
Man's Man Manbags
(Pelican iM3300 case. Alison Barrie)
Sure, some guys may be hoping for a swish briefcase, but some men prefer to head outdoors, not into an office. For the man on the go, a travel case is always a good call. And this is no ordinary wheelie bag.
Pelican has a full range of cases for pistols, machine guns, and more. The Custom Pelican iM3300 case features a custom cutout for the fella or lady with an AI rifle. It's also a great choice for those using a custom rifle with an AI chassis and a mounted scope. Mile High Accessories says most bipod and scope configurations will fit in it.
There are cutouts for the rifle bolt, cleaning rod, and magazines. There are also cutouts for ammo, bipods, or whatever you want to stuff into it. It's watertight and comes in black or Olive Drab (OD) green.
Making travelling easy, this case has in-line wheels and two double-layered, soft-grip handles.
Available at Mile High Shooting, the prices start at around $350. If you're looking to splash out on a present and you've deep pockets, it's a smart investment – this is a gift that Pelican guarantees for life.
Covert Conceal Carry Handbag
(Screenshot of 5.11 Tactical Lucy Tote from www.511tactical.com)
Handbags are always a popular gift for women. For the tactical woman in your life, the 5.11 Tactical Lucy Tote is a great alternative to the ordinary handbag.
There are not a lot of conceal carry handbag options out there for female operators, but 5.11 has succeeded in designing a full-sized covert bag that makes sense and looks and performs like a real handbag with a stylish look.
The inconspicuous, water resistant tote has a number of smart tactical features built into it. For easy and rapid access to a gun, there's a strategically positioned TacTec System compatible pistol compartment with zippered pockets. There's also a concealed pocket that can fit a passport or badge.
Need to restrain someone? No problem. The interior panel has built-in flex cuff slots.
Available in iron grey and military brown, you can snap it up now for the reduced price of $87.99 from $109.99.
And even better – this Valentine's Day 5.11 Tactical has a special promotion so if you spend $150 or more then you get a free life size, solid chocolate gun and a 10-pack of Valentine's range targets. Use promo code LOVE511.
Ballet dancer turned defense specialist Allison Barrie has traveled around the world covering the military, terrorism, weapons advancements and life on the front line. You can reach her at wargames@foxnews.com or follow her on Twitter @Allison_Barrie.