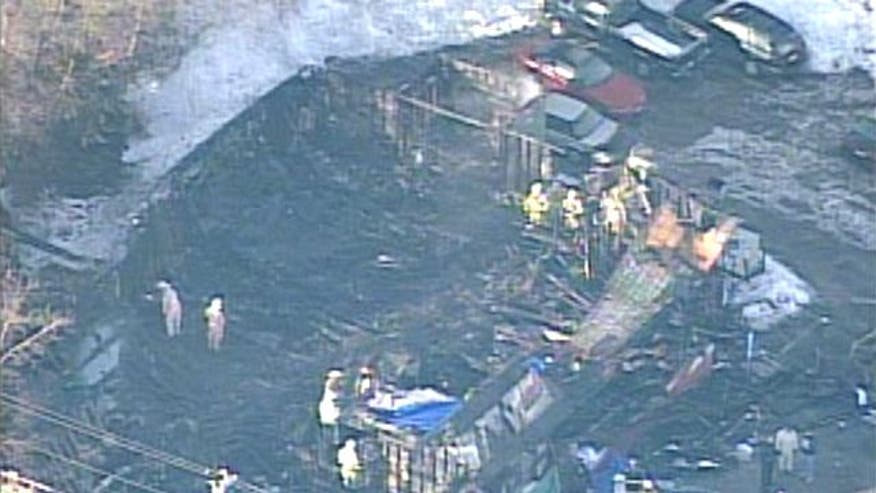 Ann Gruttadauria still recalls her fateful decision to urge her daughter Pamela to go out with friends to see a faded 1980's band headlining a Rhode Island club on a night that ended in unspeakable tragedy.
Pamela Gruttadauria was 33, and co-workers had coaxed her into coming along to The Station, a West Warwick nightclub where Great White was playing.
"She kind of hesitated, and I said 'Go out, you never go out,'" said Ann Gruttadauria.
Pamela never came home. A fire that broke out when the band's pyrotechnics ignited the crowded, low-slung club's soundproofing, turned it into a deathtrap. As the flames spread and smoke filled the club, nearly 500 people rushed for exits. Pamela was one of 100 who died; hundreds more were injured.
"It was devastating," Gruttadauria, 68, told FoxNews.com. "That started our nightmare."
"I miss my daughter more now than I did then. But I have tried to resolve my issues with this fire."

– Ann Gruttadauria, mother of woman who died in Rhose Island nightclub fire
Wednesday marks the 10th anniversary of the tragic blaze, which changed fire codes not only in Rhode Island, but nationwide.
"What I've seen is a heightened awareness in many states on public assembly occupancies, particularly in nightclubs where you have large gatherings of individuals," Rhode Island Fire Marshal John Chartier told FoxNews.com.
In 2003, Rhode Island began requiring that every nightclub serving more than 150 people be equipped with sprinklers. The National Fire Protection Association wanted state codes to go even further, and a year later pressed for sprinklers in every nightclub serving more than 50 people, building inspections, one trained crowd manager at all gatherings, and a prohibition on the use of festival seating for crowds of more than 250.
"If the code that was in place [at the time of the fire] was enforced, it could have helped," said John Barylick, who represented victims in civil cases against the nightclub owners.
Massachusetts, Maryland and New Hampshire adopted similar provisions, despite resistance from small businesses who claimed the safety equipment was too costly and not effective.
"We were trying to tell them that exits were the answer – more exits, exits closer together, larger exits," Steve Lombardi, former owner of 1025 Club, recalled in a recent interview.
Rhode Island relaxed the fire code significantly in 2012 because of the strong pushback, to provide financial relief to businesses and reflect new standards for fire safety. The most recent code provides compliance options that allows for alternative wiring methods that are less expensive. It also allows for sprinklers or alarms to only be in certain rooms instead of throughout the entire building.
"There was numerous complaints from small business that it was too restrictive, but I think we have done a great job working through issues in the past few years," said Chartier.
Great White band manager Daniel Biechele, who ignited the pyrotechnics during the performance, pled guilty to 100 counts of involuntary manslaughter and was sentenced to 15 years in prison (although released for parole in 2007).
Nightclub owner Michael Derderian was sentenced to 15 years in prison and his brother, co-owner Jeffrey Derderian, received a 10-year suspended sentence, three years probation, and 500 hours of community service. Michael was released from prison in June 2009 for good behavior.
Along with the criminal trials came civil settlements totaling $175 million.
"I think people were pleased with the settlements," said Barylick. "Many victims and their families used that money to pay for their expenses after the fire."
When a nightclub fire claimed the lives of 245 people in Santa Maria, Brazil, on Jan. 27, Ann Gruttadauria knew hundreds more mothers were plunged into the despair she lives with daily, as well as the anger over laws that don't protect people and club owners eager to squeeze money out of footloose revelers.
"People are greedy and they will never learn," said Gruttadauria.
In the suburb of Providence where many of the 2003 club fire victims lived, families like the Gruttadaurias still grieve for their loved ones.
"I think some people are still struggling," said Gruttadauria. "I miss my daughter more now than I did then. But I have tried to resolve my issues with this fire."
Mary Quinn O'Connor is part of the Junior Reporter program at Fox News. Get more information on the Junior Reporters Program here.