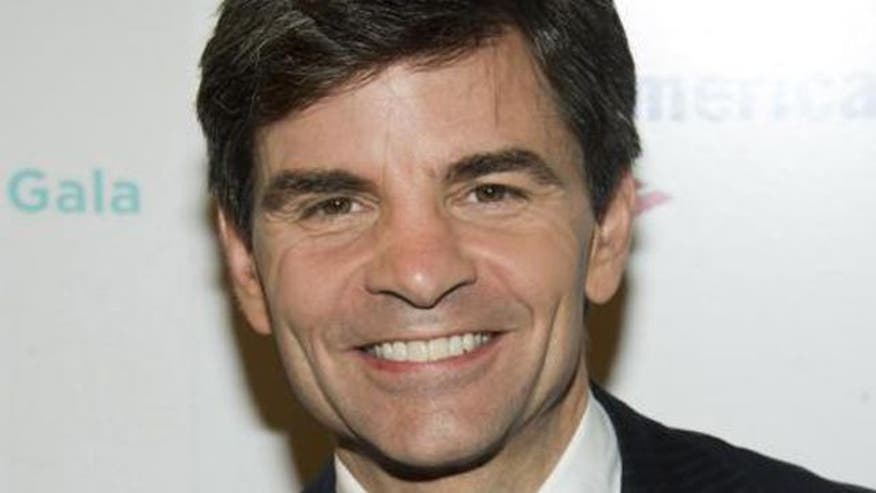 ABC News chief anchor George Stephanopoulos got deeper in hot water Thursday with his network, which revised upward to $75,000 the amount of money he contributed to the Clinton Foundation without full disclosure to the network or viewers — while he was covering Hillary Clinton's presidential campaign and foundation controversies.
Stephanopoulos apologized Thursday and said he should have revealed the contributions, which were initially reported at $50,000.
But an ABC official told Fox News on Thursday afternoon the anchor has changed that number, to $75,000. He is also pledging not to moderate any presidential debates, Fox News has learned.
The anchor is a former Bill Clinton spokesman and aide, and his ties to the former first family are well-known. However, as first reported by Politico, he made multiple $25,000 donations to the foundation in recent years — and while the donations can be found in the organization's records, Stephanopoulos did not disclose them to viewers as he covered the Clintons.
Even when he interviewed the author of "Clinton Cash" — the high-profile book examining potential conflicts of interest behind Clinton Foundation funding — on ABC's "This Week," Stephanopoulos did not disclose his own contributions.
Stephanopoulos said in a statement on Thursday: "I made charitable donations to the Foundation in support of the work they're doing on global AIDS prevention and deforestation, causes I care about deeply. I thought that my contributions were a matter of public record. However, in hindsight, I should have taken the extra step of personally disclosing my donations to my employer and to the viewers on air during the recent news stories about the Foundation. I apologize."
The Washington Free Beacon said Thursday that Stephanopoulos confirmed the donations to Politico only after the Free Beacon asked ABC News for comment.
Meanwhile, ABC News said they stand behind their star anchor.
A statement from the network said: "As George has said, he made charitable donations to the Foundation to support a cause he cares about deeply and believed his contributions were a matter of public record. He should have taken the extra step to notify us and our viewers during the recent news reports about the Foundation. He's admitted to an honest mistake and apologized for that omission. We stand behind him."
As of noon ET on Thursday, however, the ABC News website included no acknowledgement of the apology or the network's statement on the ethics issue.
Rich Noyes, research director for the conservative Media Research Center, said the contributions also weren't discussed when Stephanopoulos interviewed former President Bill Clinton in recent years — but at least should have been disclosed when he interviewed "Clinton Cash" author Peter Schweizer.
"It's especially egregious that he did not talk about this [then] … That was the time he needed to come clean," he said.
In that interview, the host of "This Week" posed tough questions to Schweizer, pressing him on whether he really had any "smoking gun" showing wrongdoing by the Clintons in their dealings with foundation donors and in Hillary Clinton's actions as secretary of state.
Noyes said such tough questions would be expected, but viewers might see them differently had the host disclosed his donations. Noyes said he hopes ABC News addresses the issue on air.
Fox News' Ed Henry contributed to this report.