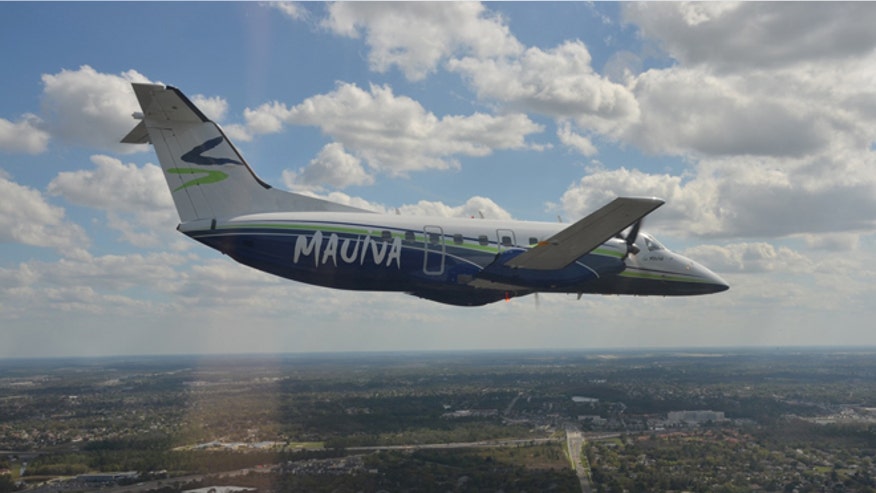 Here are some of the most exciting and memorable opportunities to help you fall in love with this time of year all over again.
Fall leaf peeping is no longer just about taking a walk or drive to see the vibrant yellows, reds and oranges. From Maine to New Mexico – resorts, outdoor centers and destinations are offering adventures for those seeking to see the change of seasons in unique ways.
Whether you're an animal lover who would enjoy a dog-powered cart tour or an adrenaline-seeker who wants to fly above the foliage in a motorless plane, there are experiences available for every type of traveler looking to get outdoors in October and November.
Fox News Traveler rounded up some of the most exciting and memorable opportunities to help you fall in love with this time of year all over again.
Family-Friendly Rapids
Located in Wesser, North Carolina – the Nantahala Outdoor Center offers family-friendly river rafting through the end of October. The Nantahala River features Class II and Class III rapids that will create a memories for everyone in the family, which won't fade away like the leaves.
"Situated in the Smokey Mountains, the Nantahala Outdoor Center offers stunning views of the surrounding nature during the autumn months," said Sutton Bacon, the president and CEO of NOC. "We urge families, outdoor enthusiasts, and 'leaf peepers' this fall to experience the rainbow of colors while enjoying the many thrilling outdoor activities we offer."
The individual half-day guided raft rates start at $47.99 per person. More information about the NOC's packages and pricing is available at www.noc.com.
A Cruise via Air
Departing out of Farmingdale, New York, the All-American East AirCruise from Mauiva takes guests on a six-day journey through foliage rich destinations across the eastern half of North America. The private plane stops at multiple locations including Niagara Falls, N.Y.; Toronto and Ontario, Canada; Washington, D.C.; Mount Vernon, Va.; Hershey, Lancaster and Harrisburg, Pa.. At each destination, guided tours are pre-arranged to help visitors make the most of their trip.
"The AirCruise is ideal for those travelers that want a unique vantage point for seeing the fall foliage throughout the northeastern United States," said Don Hundley, the director of marketing for Mauiva. "Not only do you get the aerial perspective by flying into smaller airports that are off the beaten path, but you also get a tour from someone with local knowledge of the area who knows where to capture the best views."
The AirCruises start at $1,649 per person based on the double-occupancy rate or $1,129 per person if the travelers plan to skip the guided tours.
Climbing into the Colors
Be a kid again this fall by climbing trees in southwest Virginia. Bob Wray of Blue Ridge Tree Climbing helps outdoor enthusiasts get up close and personal with the change of seasons. He says almost anyone can be a tree climber for the day as long as they are at least eight years old and in decent shape. The guided climbs are for two people at a time and last for two to four hours.
"There is definitely something magical about tree climbing," said Bob Wray, the owner and instructor of Blue Ridge Tree Climbing. "It takes you back to your childhood almost immediately. And we will do things that you could only dream of as a child. Climbing during the color change is especially magical. Climbing up through the branches you 'become' the color, and you are looking down on the leaves versus looking up through the them. You can practically breathe the colors, and 'yes' it will take your breath away."
The climbs cost $75 per person for two people and $95 for a solo session. More information about booking a climb can be found here: http://www.blueridgetreeclimbing.com/BRTC/Welcome.html.
Spotting Antlers
Further north, guests can take a wildlife moose tour at Sunday River Resort in Maine. The adventure lasts for about three to four hours.
"Fall is a beautiful time to visit the western mountains of Maine and if you can combine that with a moose tour or an activity like disc golf, which gets you outside, you have the makings for an incredible trip," said Dana Bullen, the president and general manager for Sunday River.
Tickets cost $30 for adults, $20 for children (ages 6 to 12) and children who are under six years are free. Discounts are available for guests staying at a resort lodging property. More information about the moose tours and disc golf is available at www.sundayriver.com.
Glide Above the Trees
Based in the Finger Lakes Wine Country – a sailplane ride from the Harris Hill Soaring Corporation is sure to give fliers a once-in-a-lifetime view of the fall foliage. One person at a time can step into the Schleicher ASK-21 high-performance sailplane for an approximately fifteen to twenty minute ride with a pilot onboard.
"Taking a ride in a glider is a great way to see the fall colors because it is very relaxing and peaceful," said Ron Ogden, the director of marketing and development for the National Soaring Museum and also a glider pilot. "The colors on the hills below are beyond beautiful… Motorless flight is a unique opportunity to be connected with nature. You're floating with nature; in her breezes, and above her leaves. Soaring is a very peaceful experience and a wonderful way to experience fall in Finger Lakes Wine Country, New York."
The glider flights cost $95 per person. More information is available at http://www.harrishillsoaring.org.
Giddy Up
In the West, fall leaf seekers can find their inner cowboy or cowgirl as they take a guided horseback riding tour of Dollar Mountain at Sun Valley Resort in Idaho.
"Ernest Hemingway lived and spent his last years in Sun Valley, and he loved the fall here most of all," said Jack Sibbach, the marketing director at Sun Valley Resort. "An avid outdoorsman, he loved taking to the trails and exploring by Trail Creek and through the mountain passes. It's a great time of the year to come, if you can catch the leaves at peak color."
The one-hour guided tour is $44 per person – available from the Sun Valley Stables. Fall colors are usually present through October. For more information, visit http://www.sunvalley.com/things-to-do/summer-activities/#/stables/.
Catching More than Tree Colors
Take time to sit back and enjoy the fall colors by casting a line into Lake Hayward in Sawyer County, Wisconsin. Also home to the Fresh Water Fishing Hall of Fame and Museum – this delightful destination allows visitors to explore their passion for fishing.
"Enjoy the thrill of catching a world record muskie, on over 50,000 acres of glacial lakes, and fly-fishing on the area rivers," said Sherry Beckman, the executive director of the Hayward Lakes Visitors and Convention Bureau. "Experience the tranquil beauty of these incredible bodies of water from a fishing boat and cruise the shoreline to enjoy an autumn day."
The Fresh Water Fishing Hall of Fame and Museum is open seven days a week until November 2nd. Admission is $6.50 for adults. Discounts for seniors are available. For more information, visit http://www.freshwater-fishing.org/index.php.
Dropping Weight as the Leaves Fall
Hiking through either the New Jersey Pine Barrens or the Appalachian Trail in Georgia is about more than just seeing the fall colors for those on a Fitpacking trip. The weight loss backpacking vacations offer week-long trips where participants lose pounds as the trees are about to lose their leaves.
"Fitpacking is perfect for city-locked people to visit places where cars can't travel, see brilliant foliage first hand that most people will never see outside of a magazine and exercise during the process," said Bree Gotsdiner of Fitpacking. "Fitpacking is unique in that it combines beautiful scenery with fitness. People lose weight and feel great while admiring the fall colors and natural sunsets."
The trips start at $1000 per person. For more details about the weight loss adventures, visit http://fitpacking.com/.
Off Road Riding
For off road enthusiasts, head to Evarts, Kentucky where the Black Mountain Off Road Adventure Area features more than seven-thousand acres of riding terrain. From beginner to extreme trails, those taking their ATV's, 4×4's, trucks, UTV's and dirt bikes will be able to create their own unique fall experience on the mountain.
"Black Mountain Off Road Adventure Area has something for everyone whether you are an off-road enthusiast, thrill seeker or just love to enjoy beautiful scenery," said Susan Haught of Black Mountain Off Road. "Ride the zipline and soar over majestic mountains – experiencing the most breathtaking views of vibrant colors and nature at its best. Take your off road vehicles through valleys and atop mountains to any of the several look out points located in the area to watch the sunset."
A 31-day pass is available for $20 per vehicle. Yearly passes are available for $35 per vehicle. For more information about taking your vehicle off roads with, visit http://www.harlancountytrails.com/.
Dog-Powered Tours
The snow hasn't come down yet, but that doesn't mean you can't enjoy a dog-powered tour in the Rockies. Snow Caps Sled Dogs offers a Diggler-style scooter tour as well as a cart tour in Breckenridge, Colorado. The adventure takes visitors through the Swan River Valley where the aspens turn golden.
"The scooter tour is the way to go for people who prefer adventure – it's like mountain biking without the sweat," said Orion Paiement, the owner of Snow Caps Sled Dogs. "For the ones who'd rather sit back and focus on fall photos, the cart tour offers more time to take it all in and get shots of the dogs and the scenery. When you're steering one of the scooters, you're paying attention to the dogs."
The scooter tours cost $70 per person for a one-and-a-half hour tour; participants must be at least sixteen years old. The cart tours are $40 for children (eight years old and younger) and $55 for adults for the one-hour-twenty-minute tour. For more information about the dog-powered tours in Breckenridge, visit http://www.snowcapssleddogs.com/breckenridge-summer-activities.
Floating in a Fall Waterway
Just because summer is over doesn't mean you have to stay away from the water. Northern Illinois is one of many places where spectacular waterways make for a great place to view the change in colors. Paddle and Trail offers guided as well as unguided half day, full day and overnight kayaking trips along Rock River and Fox River.
"The best way to view the full glory of fall is by paddling quietly along the wooded waterways," said Therese Oldenburg, the marketing director of Paddle and Trail. "The misty mornings and golden sunsets of fall beckon you to get out on the river in a kayak. Rivers literally change to liquid gold as the trees reflect the vibrant hues of fall and colorful leaves fall gracefully along as you paddle."
Tour packages offered by Paddle and Trail start at $40 per person. To book a paddle adventure in Rockford or Aurora, Illinois, visit http://paddleandtrail.com/.
Take a Walk Above the Colors
For those not afraid of heights, Bridge Walk tours take visitors on a 1.5-mile walk across the New River Gorge Bridge in West Virginia. Fastened in with a safety cable, participants cross the 24-inch wide catwalk above the river. The tours typically last between two to three hours.
"To be up 800 (feet) above the river and look straight down and see the colors – what could possibly be better?" said Benjy Simpson, managing partner at Bridge Walk. "People drive along the New River Gorge Bridge to see the leaves, but there's no sense of height there, and the heights accentuate the colors. You name a color – you can see it. With the height, the mountains, and the river, it's utterly unique."
The tours cost $69 per person. Visitors must be at least ten years old and 48-inches tall. For more information about Bridge Walk reservations, visit http://www.bridgewalk.com/.
Colorful Canoeing
Even though the weather won't quite feel like a chilly fall in New Mexico, the moderate climate makes canoeing an enjoyable activity even late into the season. Based near Albuquerque, Quiet Waters Paddling Adventures offers guided river trips.
"Fall is one of the most beautiful times to float along the Rio Grande here in the Albuquerque area, but sadly, most locals don't even know such an opportunity to experience it exists," said Michael Hays, the owner of Quiet Waters Paddling. "The river is calm – making it accessible to everyone, with colorful cottonwoods lining the riverbank and the Sandia Mountains providing a stunning backdrop."
The cost for guided tours range from $24.50 to $245. For more information about booking a trip with Quiet Waters Paddling Adventures, visit http://www.quietwaterspaddling.com.
Sleeping in the Trees
Near Harpers Ferry, West Virginia, guests can stay the night literally up in the colorful branches at the Tree House Camp on the Maple Tree Campground. Backing up to the Appalachian Trail, the seclusion and quiet nature of the campsites allow guests to get away from the hustle and bustle of fall while seeing the splendor of the season up close.
"This is a prime location to see the fall colors as we sit on top… with views of the valley and surrounded by woodlands," said Louise Soroko, the owner of The Tree House Camp.
The rates range from $43 to $72 depending on the size of the Tree House. To find more details about an overnight stay, visit www.thetreehousecamp.com.
Alpine Mountaineering
Described by some as more like rock scrambling than rock climbing, alpine mountaineering at Crested Butte Mountain Resort in Colorado is an extreme adventure for those looking to get their heart pumping. Participants are harnessed in and tour the mountain with professional guides. The maximum ratio for the tours is one guide to every three climbers.
"It is really a one of a kind experience, unlike anything else at a North American ski resort; providing a very European style alpine climb similar to Chamonix's famed Cosmiques Arete," said Jayson Simons-Jones, the owner of Crested Butte Mountain Guides.
The cost is $290 for one person; $370 for two people and $480 for three people. For more information about the guided tours, visit http://crestedbutteguides.com/.
Falling into the Season
A free fall from around thirteen-hundred feet above the Shenandoah Valley and Blue Ridge mountains gives participants a top-down perspective of the season. Operating out of the Orange County Regional Airport, Skydive Orange can take between sixty to eighty people into the sky per day.
"Get a bird's eye view of the fall colors," said Gigi Rucker, the chief operations officer of Skydive Orange. "This is as close as you will ever get to feeling like a bird. I don't know another way to describe it – the feeling is unlike anything you'll ever experience."
The cost is $255 per person and is offered Wednesday through Sunday in the fall. More details can be found online at http://www.skydiveorange.com/.
Prehistoric, Native American Archaeological Site
More than just OK for fall foliage viewing, the Spiro Mounds Prehistoric Site in Spiro, Oklahoma gives visitors a glimpse into the sophisticated ancient culture, which influenced the Southeast.
"People who think Oklahoma is flat prairie will be surprised by the beautiful mountains found in southeastern Oklahoma," said Jonita Mullins of Downtown Muskogee, Inc. "Muskogee sits in the foothills and is a great launching site for a full day's drive along winding roads through beautiful vistas. Our Native American heritage and history make the visit a learning experience as well."
The site is open Wednesday through Sunday. Admission is $4 for adults; $3 or seniors and $1 for children (ages 6 to 18). More information is available at http://www.okhistory.org/sites/spiromounds.