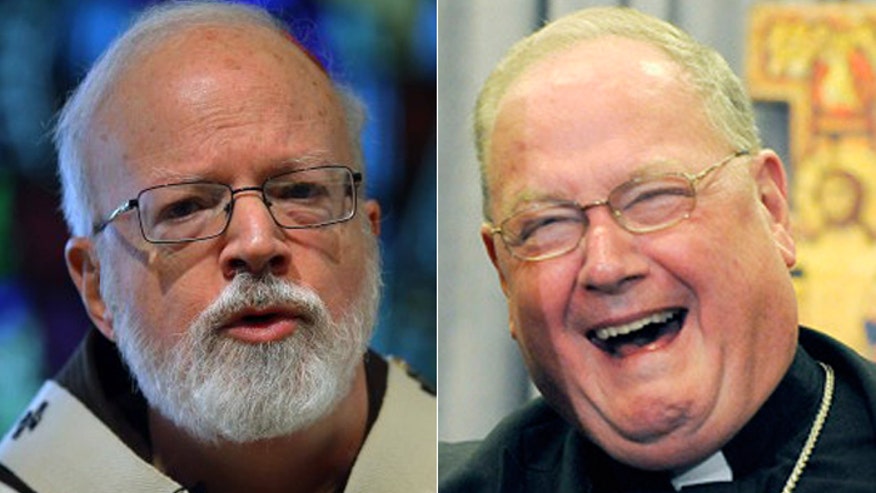 Cardinal Timothy Dolan is quick with a quip and, more often than not, he is the target of his own sense of humor — a trait that will continue to serve him well if he is to become the first American pope.
While archbishop of Milwaukee a decade ago, Dolan once wore the Green Bay Packers' trademark "cheesehead" hat during a homily. Last September, he shared a stage at Fordham University with Comedy Central's Stephen Colbert for a moderated discussion of humor and faith and more than held his own in generating laughs. And when named a cardinal last year, Dolan joked to a reporter at New York's fabled St. Patrick's Cathedral that he'd pondered holding the title as a little boy growing up in Missouri.
"I can never remember a time I didn't want to be a priest."

– Cardinal Timothy Dolan
"When I was 6 years old, I wanted to be Stan Musial!" Dolan replied, referring to the late baseball Hall of Famer.
In a more serious moment, Dolan, who grew up the eldest of five and the son of a McDonnell Douglas engineer and a homemaker, acknowledged that as a boy he would pretend to celebrate Mass.
"I can never remember a time I didn't want to be a priest," he said.
The self-deprecation of the New York archbishop has been known to soften a sharp intellect, staunch conservatism and formidable fundraising skills, traits that would appear to have him on the short list to succeed Pope Benedict XVI, who retired on Feb. 28. As head of the second-biggest U.S. archdiocese with 2.5 million Catholics, Dolan also has used his wit to deliver a message to critics. When some questioned his invitation to President Obama to attend the Alfred E. Smith Memorial Foundation Dinner over the president's views on gay marriage and abortion last October, Dolan took to his blog to reply.
"If I only sat down with people who agreed with me, and I with them, or with those who were saints, I'd be taking all my meals alone," wrote Dolan, 63, who had earlier strongly condemned Obama's signature health care law, which he believes violated rights of employers by forcing them to provide health insurance that covered abortion and birth control.
Dolan is not immune to the stain of sex abuse scandals that plagued the church in past decades. The Milwaukee diocese he led from 2002 to 2009 was one of eight to file for bankruptcy since 2002 amid a flood of civil claims. Dolan publicized the names of priests accused of molesting children and also authorized $20,000 payments to predator priests to get them out of the church. Dolan called claims that the disbursements were payoffs "false, preposterous, and unjust." Supporters say the moves showed a willingness to confront the problem head-on, in contrast to how the church had long handled the scandal.
The Rev. Donald Hying, auxiliary bishop for the Archdiocese of Milwaukee, said Dolan left a lasting impression during his time in Wisconsin.
"He never really stopped being a parish priest," Hying recalled. "What struck me the most about him was his radical availability to people, his tremendous joy, his boundless energy. He visited every one of the 205 parishes, every school, every fish fry. He seemed to be everywhere at once.
"Every Catholic in Milwaukee has at least one Cardinal Dolan story — a phone call, a letter, a drop-in visit — some way that he reached out to people in moments of joy, sorrow, suffering and triumph," Hying added. "He is an amazing man."
Colin Nykaza, director of Young Adult Outreach for the Archdiocese of New York, said Dolan combines a sense of humor with an firm commitment to the church's long-held principles.
"His unwavering support on the dignity of human life and marriage has been crucial and vital for this Archdiocese when our very core beliefs are under attack," Nykaza said. "His funny and down to earth approach with dealing with many difficult issues is refreshing."
Dolan, who studied theology in Rome and earned a doctorate at Catholic University in Washington, lacks the language skills typically required of a pope. But If elected by the 115-member Papal Conclave, Dolan would continue – if not accelerate – the Vatican's newfound embrace of technology. Where Pope Benedict received great fanfare for joining Twitter last year, Dolan is a veteran of the tweet, boasting 80,000 followers, and has his own blog, "The Gospel in the Digital Age."
Georgetown University Prof. Thomas Reese wrote last week in his blog that the Conclave is "looking for someone who can preach the gospel in a way that is understandable and attractive to people in the 21st century. In other words, they want Jesus Christ with an MBA."
There has never been a non-European pope, much less an American. Paddy Power currently lists Dolan as a 33-1 shot, well behind favorite Cardinal Peter Turkson of Ghana, at 5-to-2, and Italian Cardinals Tarcisio Bertone and Angelo Scola, both of whom the Irish bookmaker lists at 7-to-2 odds.
If an American cardinal is to be the next pope, and his name is not Timothy Dolan, it will likely be Boston's Cardinal Sean P. O'Malley. O'Malley, 68, was appointed archbishop in 2003, replacing the outgoing Cardinal Bernard Law, who resigned after the sexual abuse scandal engulfed the parish. O'Malley is credited with applying a no-nonsense, hard-line approach to the pedophile priests, and has said the next pope must show no tolerance for them or bishops who protect them.
Where Dolan is known for wit and warmth, O'Malley is seen as an uncompromising and demanding administrator. Also making O'Malley a long shot is the fact that he is a Capuchin friar and not a diocesan priest, making him something of an outsider to the elector cardinals. Although worshippers within his parish believe he is a strong candidate to lead the church, O'Malley has dismissed suggestions that he is a legitimate contender.
For his part, Dolan also downplayed his chances of succeeding Benedict.
"I've got a better chance following 'A-Rod' at third base for the Yankees than following Benedict XVI as the bishop of Rome," Dolan told reporters in Rome.