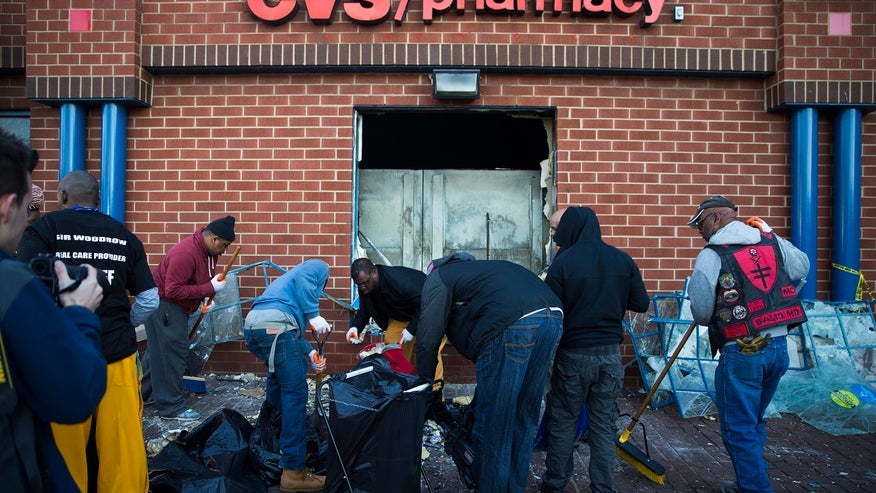 The big story today is the riots that raged through Baltimore yesterday and overnight after the funeral of 25-year-old Freddie Gray.
At least 15 police officers have been injured as people threw bricks, rocks and pieces of concrete at police. Stores and homes were looted, police cars set on fire, and fires were set in buildings. A community center for the elderly that was under construction burned to the ground. Nearly 200 have been arrested.
The mayor who over the weekend seemed to suggest a small amount of violence would be tolerated, now says "thugs" are trying to tear down the city. She instituted a mandatory curfew.
The governor declared a state of emergency in the city and activated the National Guard.
Possible Democratic Presidential candidate and former Maryland Governor Martin O'Malley (who used to be mayor of Baltimore) cancelled a series of speeches in Ireland to rush home to help calm tensions.
We've got Fox team coverage, and analysis today.
We'll also get perspective from Juan Williams and former NAACP head Kweisi Mfume.
In other news,
The death toll from that major earthquake and aftershocks in Nepal continue to grow. More than 4000 dead and 7000 injured. 1.4 million may need food aid.
The Senate today takes up a bill that would require congressional approval of any deal with Iran.
The passage of budget hit a snag overnight. We'll get an update.
President Obama has several events with the Japanese Prime Minister today at the White House including a Noon joint news conference. There is a formal state dinner tonight.
We get reads on housing and consumer confidence today as many big companies report their earnings for the quarter. Last night Apple reported its second best quarter ever and booming sales of iPhones. Ford, UPS, Phizer and Twitter will file reports today among many others. We also got a report suggesting it was the best year for new car sales in a decade.
Big day at the Supreme Court where the highest court takes up the constitutionality of gay marriage. Oral arguments today as the court decides not only whether or not gay people get the same constitutional right to marry as others, but also whether states with bans on gay marriage must allow it. Shannon Bream reports and we have analysis.
happening-now
Jon Scott and Jenna Lee will take YOU to news when and where it happens.