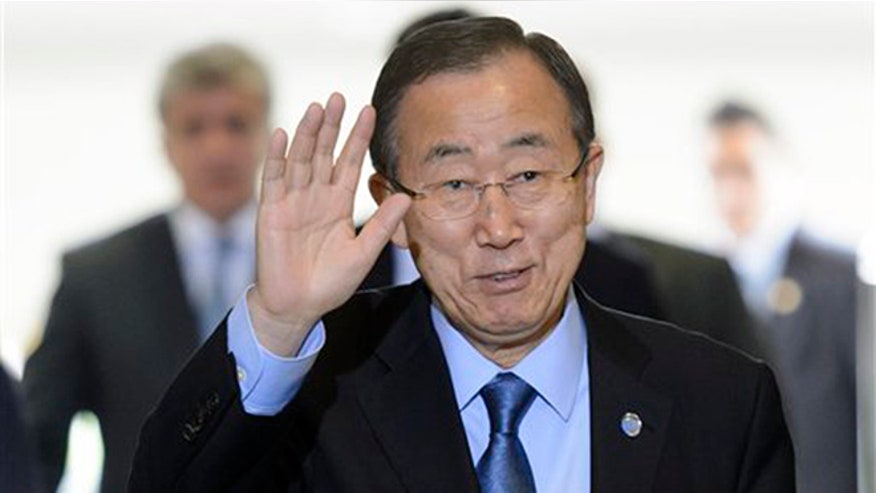 A former Canadian Supreme Court judge who earlier this year conducted an official review of sexual harassment in her country's armed forces will head a three-personal panel that will look into the United Nations' handling of allegations of child sexual abuse by non-U.N. peacekeepers in the Central African Republic, Secretary-General Ban Ki-moon announced today.
The panel is expected to start work in July and report its findings within ten weeks—or roughly at about the same time that President Barack Obama intends to hold a summit of world leaders in New York in September to bolster support for U.N. peacekeeping operations.
Marie Deschamps, who retired from the top court in 2012, and who critiqued the "sexualized culture" of Canada's armed forces in a report issued in Ottawa last March, will be joined on the U.N. review panel by the head of a South African human rights foundation and a prosecutor for the U.N.'s International Criminal Court Tribunal in Rwanda, according to Ban's announcement.
The "external, independent review" panel is intended to defuse a growing furor at the U.N. over handling of the Central African sex abuse scandal, which involved French and African peacekeepers who were not under U.N. command engaging in sex acts with hungry children as young as nine during 2013 and 2014.
The troops were mandated by a U.N. Security Council resolution and were replaced by a full-fledged U.N. peacekeeping force in September 2014.
The scandal erupted after U.N. investigators interviewed the abused children and a U.N. human rights official, Anders Kompass, passed on the raw testimony to French diplomats whose government subsequently launched an investigation.
After a long delay, the U.N. asked Kompass to resign, then launched its own investigation of his leaks—leading to criticism that the world organization was more focused on hushing up leakers than in protecting young and starving children from rape, sodomy and other predatory behavior. LINK HERE TO
According to Ban's announcement, the panel is tasked to look at the U.N. response to the sexual abuse allegations "and assess the adequacy of procedures in place," as well as "any allegations of abuse of authority or retaliation by senior officials" and "mandated to make recommendations on how the U.N. should respond to similar allegations in the future."
The panel also has a catch-all mandate to "look at any shortcomings in existing procedures covering serious crimes by United Nations and related personnel," along with others "that it may become aware of during its review."
That mandate may also cast daylight on the U.N.'s own deficiencies when it comes to handling charges of sexual exploitation and abuse, which the U.N. claims are limited and steadily improving.
But an internal panel of experts charged a year ago in an internal report—only made public when leaked—that such U.N. peacekeeper crimes were under-reported, under-investigated, and often protected by a culture of impunity among peacekeepers when it came to sexual offenses.
The new probers will get "unrestricted access to all U.N. records and full access to staff members and other UN personnel," Ban has promised. Additionally, " the U.N. will make its best efforts to facilitate the access of the panel to non-U.N. personnel."
The announcement was hailed by Paul Donovan, executive director of a non-government organization known as AIDS-Free World, which first leaked the U.N. expert panel report and a large number of documents relating to the Central African Republic scandal.
Donovan welcomed the panel's "flexible scope" and access to U.N. personnel, and said her organization would "immediately submit our request to brief the panel on everything we have learned since we first exposed the story of abuse in late April."
A more skeptical reaction came from Bea Edwards, executive director of the Washington-based Government Accountability Project, a whistleblower protection organization. She found the broad terms of reference "encouraging," but also noted that two of the three members—Rwanda prosecutor Hassan Jallow of Gambia, and human rights executive Yasmin Sooka of South Africa—had previously served in U.N. positions.
"To be truly independent, the panel must not include anyone with current or former ties to the United Nations system," Edwards observed. Nor, she noted, did the "parameters of the review" specifically include the issue of retaliation against an official like Kompass "who in good faith acted on behalf of the victims of sexual abuse," while breaking U.N. rules about passing on un-redacted testimony to outsiders.
"If a human rights officer can be punished for attempting to stop abuse, who is going to report ongoing exploitation now?" she asked?
(At the U.N., Ban's spokesman Stephane Dujarric responded to a question about Jallow's independence that cited Edwards' letter; he called the Rwandan prosecutor "a jurist of impeccable reputation" who had been elected to his prosecutor position by U.N. member states, and was completely independent of Ban's Secretariat.)
On the other hand, there appears to be little concern about the independence of ex-judge Deschamps, whose March, 2015, report took Canada's armed forces to task for a "disjunction" between the "high professional standards established" by Canadian military policies concerning "inappropriate sexual conduct, including sexual assault and sexual harassment, and the reality experienced by many members day-to-day."
Among other things, Deschamps noted "a strong perception" in those forces that senior non-commissioned officers were "responsible for imposing a culture where no one speaks up and which functions to deter victims from reporting sexual misconduct."
She also noted "a broadly held perception in the lower ranks that those in the chain of command either condone inappropriate sexual conduct, or are willing to turn a blind-eye to such incidents"—not too different from the feelings of the U.N.'s own experts as expressed in their year-ago internal report.
CLICK HERE FOR THE CANADIAN REPORT
Deschamps' report was limited to accusations of harassment and abuse within those armed forces, and did not deal with the m issues involved in protecting civilians using troops supplied by other countries, as the U.N. panel must do.
But at least readers of the new panel's report will be able to make some kind of comparison: Secretary General Ban has promised that the Deschamp panel's document will be made public—"subject to due process and confidentiality considerations."
George Russell is editor-at-large of Fox News and can be found on Twitter: @GeorgeRussell or on Facebook.com/George Russell