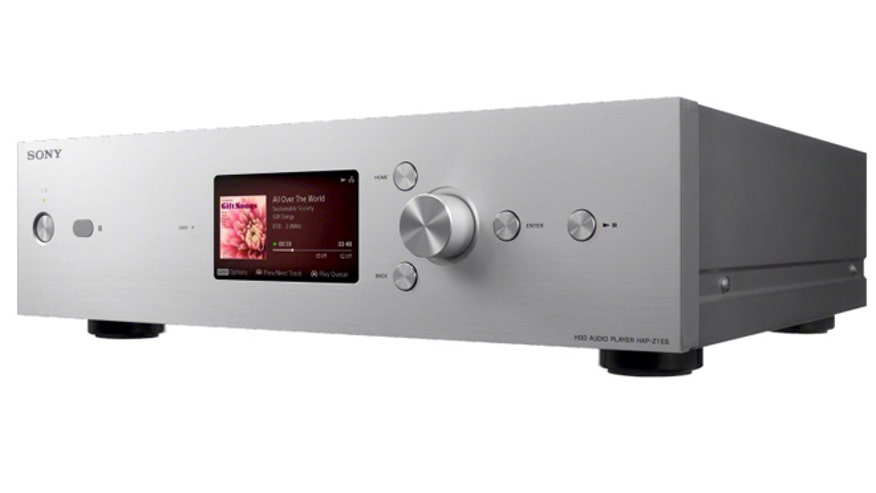 The iPod marked a huge leap forward for the music industry — and a step backward, too.
To make music conveniently portable, digital music players rely on compressed songs, which strip out parts of what otherwise would be very large music files.
It's the only way to fit 10,000 files on that iPod, and in theory your ears don't notice what's missing.
But theory isn't reality, experts say, and a growing number of musicians, composers and sound engineers aim to fix that by putting the fidelity back into your digital hi-fi, and getting the output — the song you listen to — to match the input that went into it at a mixing board. Your ears won't believe the detail and clarity, they say.
"It's like cleaning off a dirty windshield," said Mike Mettler, former editor in chief of Sound and Vision magazine. "You can't quite see what's there, and then all of a sudden…"
Mettler spoke Tuesday as part of a panel at the 2014 Consumer Electronics Show that delved into high-resolution digital music, a term the panel of top names in the music business struggled to define. At its most basic, it refers to a file's bit rate (the number of bits stuffed into each second of music) and its sampling rate (the number of slices of sound taken per second). The higher, the better.
Where to get the music
CD-quality music is 16 bit / 44.1 kHz — a standard defined in 1980, when Jimmy Carter was president. A rate of 24/48 is generally regarded as the baseline for high res. Here's where to get it:
hdtracks.com — Founded by David and Norman Chesky, HDtracks is one of the top sites for high res music.
aixrecords.com — High-res music straight from one of the best sound studios in Los Angeles
bluecoastrecords.com — Free downloads of DSD files to get you started, from this acoustic recordings site
channelclassics.com — Award-winning classical music, available as high-res, multichannel DSDs
But to these men and women, the term "high resolution" speaks to the poetry of music and engineering: That intake of breath before a trumpet solo, a mic stuffed in a drum and wrapped in blankets to perfectly capture each sharp thump, an echo bouncing around a room until it can reverberate no more.
"When you're learning to taste wine, you don't learn how to taste it. You learn how to describe it. It's the same thing with music," said C. Jared Sacks, head of Channel Classics Records, a classical music label. "At the end of the day, it's emotion."
Put simply, the higher the resolution — the more bits of data stuffed in a second and the more samples of audio taken — the more sharpness, the more detail, the more breaths, the more echoes. It makes the music more realistic.
CD-quality music is 16 bit / 44.1 kHz — a standard that was defined in 1980, when Jimmy Carter was president and "The Police" had just started recording. But even that doesn't cut it. A rate of 24/48 is generally regarded as the baseline for high res, experts say.
"Past 24/48 the door opens to the discotheque of the high-res world," said Cookie Marenco, founder of Blue Coast Records. Tracks run up from there. A popular recording of the Pretenders' 1979 debut album can be had at 24/192, for example.
At 24/48, the recordings should meet or exceed the capability of the human ear, which is generally believed to hear sounds at frequencies between 20 and 20,000 Hz, said Mark Waldrep, head of AIX Records and founder and president of iTrax.com. Music ought to fill that range and go further. But few digital files do.
"We have the technology for the first time to not only record that way, but deliver it that way — if we so choose," Waldrep said.
Few consumers are even aware of the esoteric details that these engineers and enthusiasts pore over. Indeed, most people are unaware that digital files can be had outside of iTunes and Amazon and Spotify. To get high-res files, you need to visit specialized websites such as HDTracks.com, iTrax.com, and Super HiRez.
To spread the word, the Consumer Electronics Association has jumped headfirst into high-def; on Tuesday it launched the website hiresaudiocentral.com, which will serve as a clearinghouse of information, expert content, gear and more for those looking to boost sound quality. Mettler currently runs a site called soundbard.com; in his spare time he will be chief content officer for the new CEA site.
'With DSD or PCM or hot dogs or bananas, the thing is how it's implemented.'

– David Chesky, founder and creative director of Chesky Records
Newbies to high-res audio will be struck immediately by the cost. High-res is expensive, sometimes three or four times the cost of an album from iTunes. Files are also much bigger: A 3.5 minute song can be 120MB or more, rather than 3 to 4 in a typical MP3.
Newbies will also confront unfamiliar terms: Files are distributed not as MP3s but as AIFFs or FLACs — or DSD or PCM files, two uncompressed digital file formats. Engineers have been using both to mix songs for decades. The panel differed as to which format is better, but it doesn't seem to matter in the end.
"The thing is, with DSD or PCM or hot dogs or bananas, the thing is how it's implemented," said David Chesky, founder and creative director of Chesky Records and a legend in the field.
You must choose, then. But choose wisely.
High resolution digital music is also tied into surround sound, or at least the consumer electronics industry hoped it would be. A decade and a half ago, Philips and Sony came out Super Audio CD (SACD), which was far higher resolution audio that hinged on having lots of speakers. At the same time Panasonic and a few other companies came out with DVD-Audio, a very similar type of disc.
Both were utter failures on the commercial market.
Among other factors, many consumers found the sheer number of speakers to be daunting.
"The challenge was convincing my wife to have five speakers in the room," Sacks said, laughing. "And that's not going to change."
But, as with high-res music itself, the technology is addictive. "Once you've heard good multichannel, it's hard to go back."
Still, the new website alone is unlikely to convince people to buy, acknowledged John Newton, founder and president of Soundmirror, a recording studio with over 80 Grammy nominations.
"We're fooling ourselves if we think that the person who has an iPod plugged into a desktop device while they're cooking or cleaning is ever going to experience or care about high-res sound. They want that in the background. And that's a different market than the people that listen more seriously to music."
The weight of a consumer electronics giant might make a difference. Sony recently threw its weight (again) behind high resolution audio, with a new line of consumer electronics such as the HAP-Z1ES, a music player that can handle DSD files and won an innovation award at this year's CES show.
"With a giant multinational company getting behind this and exposing it to people, we're going to see if people take to it," Chesky said. "The masses are now going to have an opportunity to be exposed to high res."
And like a longtime McDonald's eater who finally tastes foie gras, ears may be permanently changed, Chesky said.
"We're in the fine food and fine wine business."
Jeremy A. Kaplan is Science and Technology editor at FoxNews.com, where he heads up coverage of gadgets, the online world, space travel, nature, the environment, and more. Prior to joining Fox, he was executive editor of PC Magazine, co-host of the Fastest Geek competition, and a founding editor of GoodCleanTech.