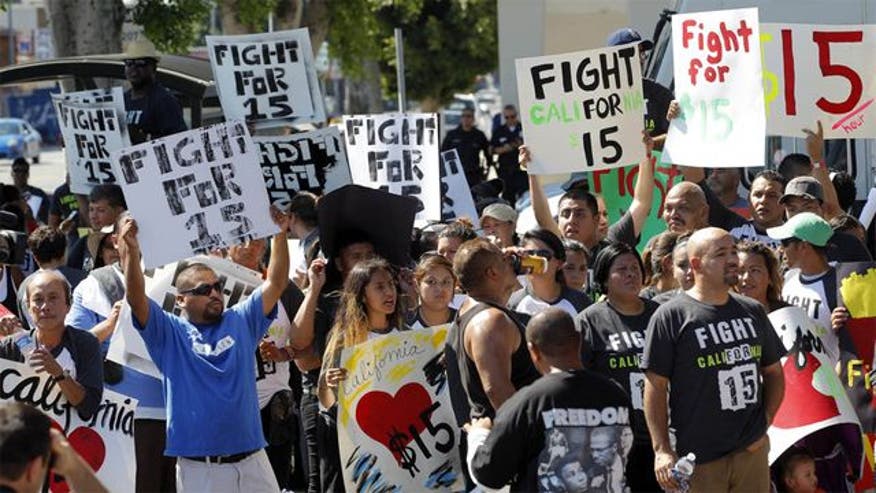 DISCLAIMER: THE FOLLOWING "Cost of Freedom Recap" CONTAINS STRONG OPINIONS WHICH ARE NOT A REFLECTION OF THE OPINIONS OF FOX NEWS AND SHOULD NOT BE RELIED UPON AS INVESTMENT ADVICE WHEN MAKING PERSONAL INVESTMENT DECISIONS. IT IS FOX NEWS' POLICY THAT CONTRIBUTORS DISCLOSE POSITIONS THEY HOLD IN STOCKS THEY DISCUSS, THOUGH POSITIONS MAY CHANGE. READERS OF "Cost of Freedom Recap" MUST TAKE RESPONSIBILITY FOR THEIR OWN INVESTMENT DECISIONS
LABOR LEADERS WHO PUSHED FOR $15 MIN WAGE NOW WAS EXEMPTION FOR UNION ALLIES
MICHELLE FIELDS: I'm not surprised at all. This is shameless. This is exactly how the unions work. This is why unions are basically dying. What's happening is they understand, just like the rest of us, when you raise the minimum wage it leads to more unemployment. This isn't rocket science, it's common sense. They don't care about the worker, they care about making money. They care about getting money from their members. They want as many members as possible, and they want to make unions basically the cheapest labor and have more money for themselves. That's what this is all about.
WAYNE ROGERS: It's incredible, but I think Michelle is right. This is all by the union leaders. The union leaders want this because it enhances their power. They're trying to get more members. They're not trying to better the workers' plight. They think "we'll raise the rate from $10 to $15 an hour, and then will regulate it that way because they'll say we'll have an exemption for union members". It's hypocrisy at its worse.
JESSICA TARLOV: I'm not going to deny the hypocrisy here, or how detrimental I think it is to the cause of raising the minimum wage to have done this at the last moment. I recycle what Michelle said, but there is evidence as well that raising minimum wage is not going to hurt the economy, it's not going to hurt jobs or employment. I feel like the unions should have stuck with that argument or made it clearer sooner.
JONATHAN HOENIG: The unions always talk about they want a "fair market". Well, a fair market is a free market. Employers and employees come to mutually beneficial trade on a job. I think to the panel's point, this whole, "oh, for the working man" my tushy! I mean, the union's goal here is to hurt nonunion businesses. They can't compete in that free market, so they use government guns, which are exactly what all these exemptions are, to shut down nonunion businesses. This is cronyism by any other name.
JUAN WILLIAMS: They are feeding the right-wing anger at unions, and giving ammunition. It's unbelievably hypocritical and stupid. I will say, they think, somehow, that people won't notice this. It undermines the importance of unions and the importance of raising the minimum wage, because I think there's no question that it's not going to damage any of the economy and it's a free market.
ISIS HANDING OUT 'MARRIAGE BONUSES' TO HELP ATTRACT RECRUITS
JESSICA TARLOV: it's smart though, right? I mean, this is something that's working. There are reports out that Jihadis are coming from half of the nations in the world; they're flocking there. We need to make sure we can cut off their money supply. They're making most of their money off oil. So target the pipelines. Make sure they can't be part of the international economy. We should be doing more on this front, certainly if we're not going to be sending troops in.
MICHELLE FIELDS: We don't have a strategy. Like I said last week, we've been spending over $2 billion trying to fight them. That hasn't been working. In terms of this bridal starter kit or whatever they're giving out, my hope is these brides are soon to be widows. We need to be, like she said, we need to be targeting these oil refineries and we need a strategy. They said this was just some jayvee team. This is not a jayvee team if they have a welfare system set up and they're taking over Syria and Iraq.
JONATHAN HOENIG: $1,500 for a wedding. What's interesting is that they're insisting a rabbi officiate the wedding, which I thought was amazing. Seriously though, I mean, you look at these stories, these Jihadis are animals. They're worse. A dog doesn't buy and sell animals. Our goal here should not be to reform ISIS or fix the Middle East or bring democracy to the Middle East. It should be to make this threat, this threat to America, nonthreatening. That can only be done with military force.
JUAN WILLIAMS: Look, I think the appeal of extremism is the threat here. Make it plain these people are murderers. It's not a game. I think young people are somehow locked into this idea that it's exciting, it's thrilling, it's travel, and I'm fighting for a larger cause. This is a deadly, sinful, evil cause. I think we need to make that very clear.
WAYNE ROGERS: Well, first of all, we have no strategy to combat this at all. Talk about ISIS winning these new battles every time. Meantime, we are backing Baghdad. We're sending to the Peshmerga Kurds all of the arms and have to flow through Baghdad. Why don't we go through and supply them directly? They're much better fighters. They can get rid ISIS quickly. We are here supporting people who are going to ultimately be against us. In other words, there's a choice here. The fundamental choice is Sunni or Shiite. For 2,000 years.
NEW RULE ALLOWS EPA TO REGULATE MORE WATERWAYS ACROSS COUNTRY
JONATHAN HOENIG: Look at the name of this. It's the "Waters of the United States" rule. It's purposely vague, to your point, and essentially gives government control over all water– as if government owns all the water in the United States. It's going to do whatever it wants with lakes and ponds and literally, you know, empty riverbeds or streams on your own property. And the ultimate effectiveness is that costs will go up for everyone when it comes to using the earth– and that's what this is all about: preventing industry and preventing mankind from exploiting the earth for its benefit.
JESSICA TARLOV: It's not clearly an overreach. It's protecting our drinking water and it's a clarification of a rule.
MICHELLE FIELDS: Well, I love this story because it perfectly captures what this administration's about. We've got innocent people dying in Iraq and Syria and what's their concern? What's their priority? Oh, the puddles in people's backyards. This has nothing to do with clean water. This is about control. That's what it's about.
WAYNE ROGERS: It's an administrative grab by an administrative agency of the government. Government now is done by administration from these agencies and they have their own power. They lobby Congress. The thing about the Clean Water Act is all about just giving that agency more power. It has nothing to do with the clean water at all. It has to do with that agency grabbing more power so that they can regulate.
JUAN WILLIAMS: I think all you guys are right-wing conspiracy theorists. If you like clean water, if you know a ditch on a farmer's property is going to be become a repository for all sorts of pollutants you would want to stop it, too.
the-cost-of-freedom
The Cost of Freedom, hosted by Neil Cavuto, Brenda Buttner, David Asman, and Eric Bolling, airs on Saturdays at 10AM ET on Fox News Channel.