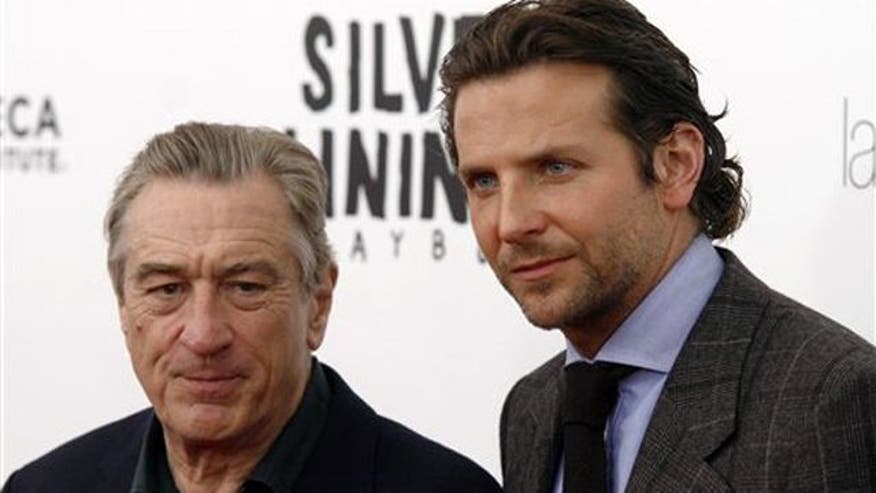 "Silver Linings Playbook" premiered in New York City on Monday night and opens nationwide next week. The movie's star Bradley Cooper plays Pat Solitano, a bi-polar man who winds up in a mental institution after catching his wife cheating on him, before being released into his parent's custody. Co-star Jennifer Lawrence plays Tiffany, a troubled widow who can relate to Pat's situation and befriends him.
Cooper was at the New York premiere, and talked to FOX411 about acting with Lawrence, who couldn't make it as she is shooting the next film in the "Hunger Games" series. Predicting Lawrence will become one of the biggest stars in Hollywood, Cooper told Fox 411: "She's incredible. We did a movie right afterwards together. I love her."
Cooper and Lawrence's characters make a deal in the film to help each other out. Pat needs Tiffany to get a letter to his wife, with whom he is separated by a restraining order, and Tiffany asks Pat to perform with her in a dance competition, which her late husband would never do.
Asked about his dance moves, Cooper smirked. "Yeah, yeah, I like to dance." Asked if he thinks he will be a target for the next season of "Dancing with the Stars," Cooper joked: "You know I have submitted myself on tape every year, now and maybe now they will look at it."
This is also the second film Cooper has done with Oscar-winner Robert DeNiro. So are they Hollywood's next dynamic duo? DeNiro told FOX411 the two are friends and "will probably do other stuff together, when the right stuff comes along."
Admitting to crying at the end of "Silver Linings Playbook," co-star Julie Stiles said she loved the heart of the movie. "The message behind it is that we are kind of misfits, and that misfits can find each other and find love," she said. "And that we are all a little bit crazy."