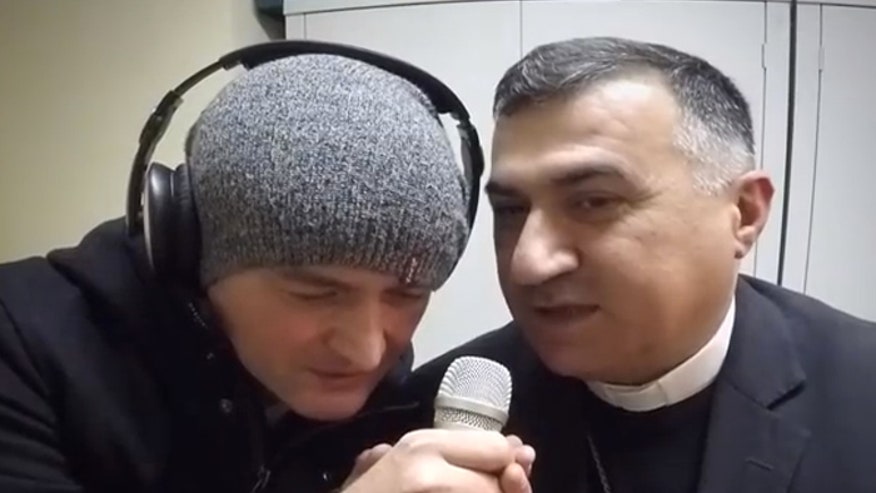 A British pop band and an Iraqi Christian leader have teamed up for an emotional music video dedicated to thousands of refugees forced to flee from ISIS.
"We Are One," a song by the band Ooberfuse, is accompanied by a video that details the plight of Christians and other religious minorities, and features footage of the band members visiting refugee camps. The music video, filmed during the band's visit to Iraqi refugee camps three weeks ago in a trip set up by the United Nations Human Rights Council, provides powerful imagery of the suffering wrought by the Islamist extremist group.
"In our home, in our faith, in our love, we are one. You aren't alone in this dream. We are one."

– "We are One"
"There is no humanitarian solution for this tragedy," United Nations High Commissioner for Refugees, Antonio Guterres, says in the video, before the song begins. "These people can receive tents, can receive food, can receive water, but that is not what they want. What they want is to be able to go back home and to restart their lives."
After Erbil's Archbishop Bashar Warda recites a prayer in the local Christian native language of Aramaic, the song then begins with lead singer Cherrie Anderson standing in front of a refugee camp playground, singing together with a young Christian girl wearing a cross.
"In our home, in our faith, in our love, we are one," Anderson sings in the song's haunting refrain. "You aren't alone in this dream. We are one."
Songwriter Hal St. John said there is more to the heart-wrenching story that the song could not convey.
"What the video doesn't show are the invisible things; the sense of dread and anticipation that something terrible is about to happen," he told FoxNews.com. "We could feel this in most of the people we met."
The song's target audiences are those who are suffering as well as those around the world who seek to help them.
"We want those persecuted for standing steadfast to their faith to feel encouraged," St. John said. "We want them to know that although the international community is slow to coordinate an effective response, ordinary people around the world are in solidarity with them right now."
The band was first inspired to address the topic of Islamic radicalism in 2013, after British soldier Lee Rigby was viciously murdered by Muslim extremists near their homes in Woolwich, an area in southeast London.
"The international community hasn't made its mind up about what it wants to do, and the longer it procrastinates and delays about what to do, people's lives are vulnerable," St. John said.
Earlier this year, the band, formed in 2010, wrote a song in honor of Pope Francis' mission to visit the typhoon-stricken Philippines.
"The great thing about music videos is that it opens up emotional windows to convey what's happening," St. John said. "We share a common humanity and the hidden scars of deep trauma will have consequences for generations to come or until we wake up."
Lisa Daftari is a Fox News contributor specializing in Middle Eastern affairs.