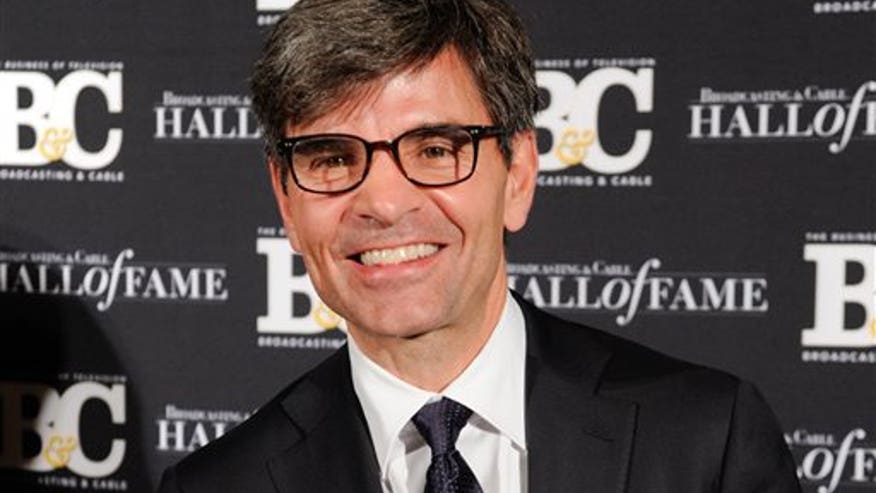 ABC News chief anchor George Stephanopoulos may have tarnished his reputation for good after failing to disclose his ties to the Clinton Foundation while reporting on the foundation.
"This was a mistake and I'm not sure he's going to be able to recover from it any time soon," Brit Hume, Fox News senior political analyst, said on "Fox News Sunday."
Karl Rove, former Bush White House adviser and Fox News contributor, also called out Stephanopoulos and said he should have been more upfront about his Clinton past. Rove took a jab at himself during a panel discussion. "I'm not a journalist… I'm a pundit," he said.
Stephanopoulos apologized Friday to his viewers for his failure to disclose $75,000 in gifts he made to the Clinton Foundation while he was covering Hillary Clinton's presidential campaign and foundation controversies.
Stephanopoulos had apologized Thursday for not revealing the contributions — initially reported at $50,000.
But an ABC official later told Fox News that the contributions actually totaled $75,000.
"I now believe that directing personal donations to that foundation was a mistake."

– George Stephanopoulos
Stephanopoulos also pledged not to moderate any Republican presidential debates.
On Friday, Stephanopoulos addressed the contributions on-air from his seat on "Good Morning America": "Over the last several years, I've made substantial donations to dozens of charities, including the Clinton Global Foundation. Those donations were a matter of public record, but I should have made additional disclosures on air when I covered the foundation, and I now believe that directing personal donations to that foundation was a mistake," Stephanopoulos said. "Even though I made them strictly to support work done to stop the spread of AIDS, help children and protect the environment in poor countries, I should have gone the extra mile to avoid even the appearance of a conflict."
ABC News' chief anchor is a former Bill Clinton spokesman and aide, and his ties to the former first family are well-known. However, as first reported by Politico, he made multiple $25,000 donations to the foundation in recent years — and while the donations can be found in the organization's records, Stephanopoulos did not disclose them to viewers as he covered the Clintons.
Even when he interviewed the author of "Clinton Cash" — the high-profile book examining potential conflicts of interest behind Clinton Foundation funding — on ABC's "This Week," Stephanopoulos did not disclose his own contributions.
Despite the uproar, ABC News said they stand behind their star anchor.