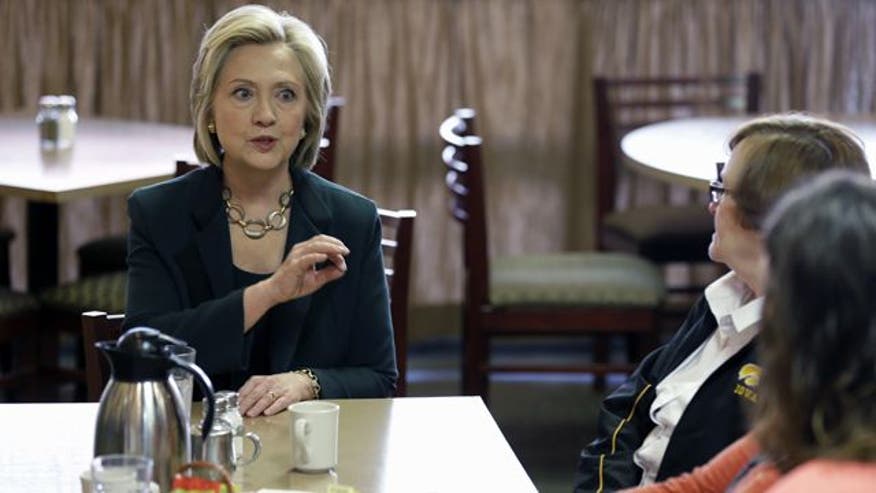 Hillary Clinton ignored questions from congressional investigators in December 2012 about her use of a personal e-mail account while secretary of state.
The latest revelation comes days after Clinton announced her candidacy for the 2016 Democratic presidential nomination. The announcement followed weeks of questions for Clinton about her use of a personal email account housed on a server set up in her New York home to conduct all official business as America's top diplomat.
Fox News has obtained a copy of a letter dated Dec. 13, 2012, that was sent from then-House Oversight Committee chair Rep. Darrell Issa, R-Calif., to Cabinet secretaries, including Clinton, inquiring about their email habits. The committee was conducting an investigation into how the Obama administration handled the use of personal email by its officials.
The letter contained eight questions related to officials' use of personal email accounts. The very first question asked by Issa was, "Have you or any senior agency official ever used a personal email account to conduct official business? If so, please identify the account used." Subsequent questions asked about whether "alias email" accounts and text messages were used to conduct official business.
The fourth question asked for written documentation of agency archiving and record-keeping procedures as they related to the use of non-official email accounts, while the fifth question asked, "Does the agency require employees to certify on a periodic basis or at the end of their employment with the agency they have turned over any communications involving official business that they have sent or received using nonofficial accounts?"
Clinton's last day as secretary of state was Feb. 1, 2013, seven weeks after the date of Issa's letter, which requested a response by Jan. 7, 2013 at the latest. The New York Times reports that Issa's committee did not receive any response from the State Department until March 27, and even that amounted to a recounting of the department's email policy. The Times reported that the State Department's letter said that employees using personal accounts "should make it clear that his or her personal email is not being used for official business."
Clinton's use of a personal email account, first reported last month by The New York Times, enabled her to shield most of her messages from scrutiny by members of Congress and the media. She has previously said she used one account for convenience because she did not want to go to the trouble of carrying more than one electronic device.
Last month, the House select committee investigating the 2012 attack on the U.S. Consulate in Benghazi, Libya, subpoenaed all of Clinton's personal emails. They received no response. So far, Clinton has turned over 55,000 pages of her emails, 300 of which are related to Benghazi.
Fox News' Ed Henry contributed to this report.