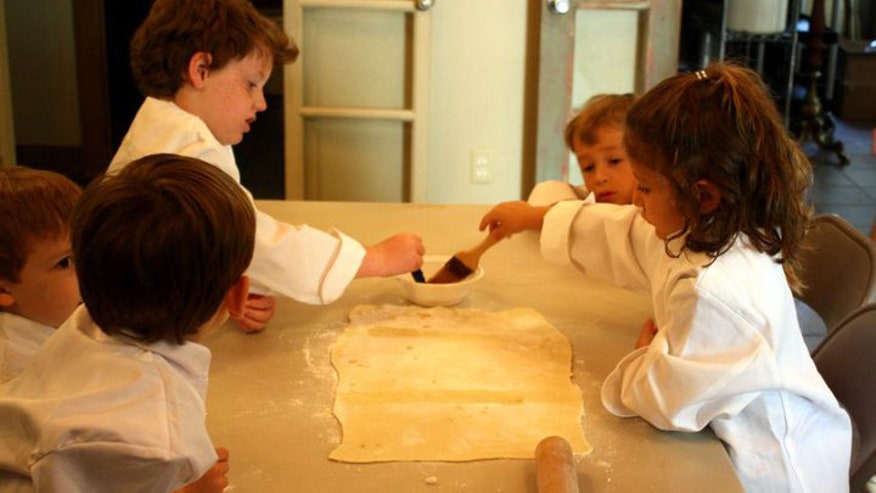 You're never too young to be a chef. ;
Don't just crave a better dinner for your family. Let your kids become chefs at camp this summer.
Culinary camps are mixing up the traditional idea of what makes a great summer experience for kids, blending in cooking skills with kitchen challenges and a platter of fun. The camps help participants and their parents learn more about where food comes from and how to put ingredients together to create a delicious meal.
"It's important because we are not only trying to teach kids the basic function of knowing how to cook, but knowing how to understand how to eat nutritionally and eat smart,."

– David Martone, Classic Thyme Cooking School
The food movement has spread to the younger generation, and children's palates are more refined these days. Whether your child is a budding scientist, art enthusiast, Food Network junkie or outdoor explorer, there is a cooking camp that will fit his interests and tastebuds – even if he (or she) doesn't think he's intrigued by playing in the kitchen. Day or overnight culinary camps across the country offer a wide variety of themed experiences.
In Westfield, N.J., Classic Thyme Cooking School hosts multiple sessions of its edible and living garden schoolyard summer camp. In this farm-to-table program, children between the ages of 4 and 9 learn how to plant seeds, pick fresh vegetables and make meals with what's in season.
"It's important because we are not only trying to teach kids the basic function of knowing how to cook, but knowing how to understand how to eat nutritionally and eat smart," said David Martone, Classic Thyme Cooking School's executive chef and owner. "Not just economically, but earth smart, green smart. We want to protect our own agriculture."
Besides having fun getting their hands dirty in the soil, Martone says campers will learn to explore new foods and flavors.
"By teaching them really from the ground up, no pun intended, how these foods grow, what they look like, what they smell like … it gets them more interested and intrigued to try it," he said.
Dirt-to-dining camps are also popular in California, where Connolly Ranch, in Napa, features a life-on-the-farm experience. Campers ages 6 to 12 not only help with an organic garden, but they take care of and learn about farm animals as well.
"When they're tasting those eggs and they're meeting those chickens, it's the excitement of figuring out where their food is coming from," said Jennifer Fotherby, Connolly Ranch's executive director.
From country farms to urban metropolises, summer options for kids offer nearly everything but the kitchen sink.
Taste Buds Kitchen in New York City offers a new theme every week during the summer. Some of the options are chopped camp, cookies and cupcakes camp, chocolate lover's camp, urban foodies camp, master chef camp and around-the-world camp. Participants make several recipes a day during each session.
Kids who love Food Network can try to become the next Bobby Flay or Kelsey Nixon during a master chef junior event, where they are given a basket with a mystery ingredient.
"They get to put their own spin on it," said Nicole Bassis, Taste Buds Kitchen's manager. "They love the challenge and working together."
The activities and recipes challenge not only the students' skills, but their palates as well.
"They're more likely to eat it if they know where it comes from," Bassis said. "Some of our younger kids come in and they're like, 'I don't like vegetables. I don't like anything green.' Once they come in, try it and they're making it themselves, smelling everything in the kitchen, and there's other kids around them who are tasting what they're eating, they're a little more adventurous."
Taste Buds Kitchen even gives out stickers saying, "My taste buds tried something new," to encourage kids to keep trying new vegetables, fruits and dishes.
In addition to expanding the list of what kids will eat, at least one camp says it works on increasing family time for when the kids go home.
"On the surface, we are teaching children kitchen safety, cooking techniques, healthy living and more through recipes and wild science experiments…. But in reality, our students are inspiring their own families to connect over meals at home," said Sherri Hansen, owner and director of Culinary Kids in Mandeville, La.
"Creating and sharing meals together leads to memories, traditions and life skills that last, and at Culinary Kids, kids and families connect in the kitchen."
In order to help inspire positive time together at the dinner table, Hansen says her camp goes beyond preparing the food.
"All of our camps and programs integrate manners, etiquette and social skills – basically social graces," Hansen said. "In the South, we're known for our food and Southern hospitality… It makes very good sense for us to uphold those traditions."
Craving not just an increase in family time, but confidence, is what each of the camps hopes to instill in the next generation of chefs.
At Pali Adventures in Running Springs, Calif, culinary camp is just one of more than a dozen specialties kids can choose from. Once they finish their cooking or baking classes in the morning, they can share the leftovers with their friends in other camps.
"They definitely take a lot of pride in it," said Daniel Hammond, Pali Adventures' culinary director. "'I made this.' You can definitely see the accomplishment on their faces."
It won't be just the kids smiling after culinary camp. Parents may realize they paid for something special when their kids are hungry to do something more – like prepare a home-cooked meal for the entire family.