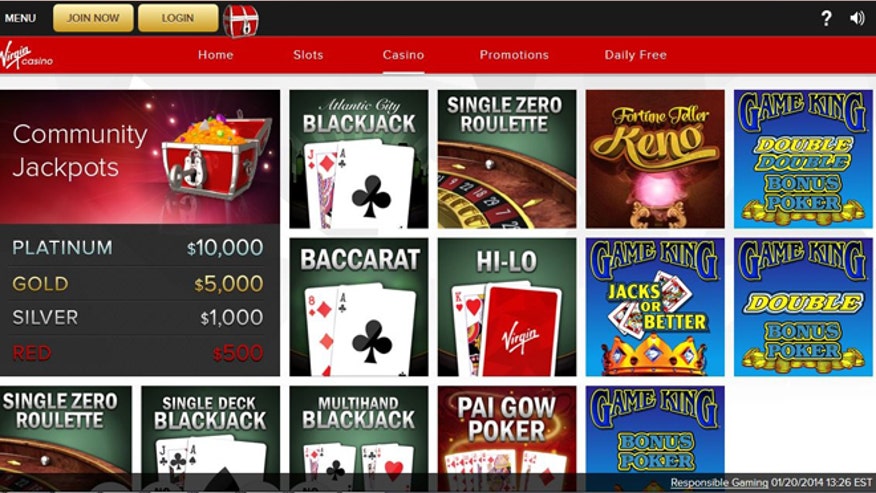 Congress banned online gambling in 2006. But new laws across the nation are rolling the rules back — and lawmakers think they're holding a royal flush.
Mega-entrepreneur Richard Branson's Virgin Group is the latest entry in online gambling, teaming with the Tropicana Resort in Atlantic City and online game maker Gamesys to bring online poker, blackjack and slots to New Jersey this week. Gov. Chris Christie validated the vice in the waning weeks of 2013, saying he hoped to rake in $1 billion in casino revenues this year, of which the state will collect a 17 percent tax.
And New Jersey isn't alone; eight other states have bills in the works that will allow Internet gambling as well. Nevada and Delaware also began offering some online gambling last year, but New Jersey is the first state to "fully" legalize it, said Lee Fenton, the chief operating officer of Gamesys.
"There will be many games to play online in New Jersey," Fenton told FoxNews.com. "Blackjack, slots. Not just poker."
'Last year, before a single state authorized legal online gaming, Americans spent nearly $3 billion.'

– Geoff Freeman, president and CEO of the American Gaming Association
Players must be at least 21 years old, and either reside in New Jersey or be in the state when they place their bets. They play against the house at Virgin Casino, and they can finance their wagers with debit cards, credit cards, or in person.
"Those from other states can play, but they cannot wager," Fenton said. "The technology is rolling out this week."
To prevent unauthorized access, Virgin Casino physically locates gamers' cellphones periodically. "If we are unable to determine that you are in New Jersey, you will be unable to play on Virgin Casino," the site notes. If your phone is off, or if you're too near state borders, you may not be allowed to play.
What happens online, stays online
Six other firms, including popular companies like WSOP.com and Ultimate Poker and other casinos like Caesars and the Golden Nugget, participated in the "soft play" launch of online gambling in New Jersey in November, the state's Department of Gaming Enforcement Director Dave Rebuck said during a recent conference call.
Not everyone agrees with the odds. Virgin could be holding a full house, but it could also fail before the flop.
"It'll be interesting to see how this plays out," said Laurence DeGaris, associate professor of marketing at the University of Indianapolis and an expert in Internet culture.
"Slots and roulette are very visceral games, lots of bells and whistles. That doesn't translate online," DeGaris told FoxNews.com. "Blackjack and poker have a very human element that's lost online. In online casino gambling, it's about the game more than the bet."
But analysts are mostly rolling with Christie and the casinos. U.K. market research firm H2 Gambling Capital, which focuses on the gaming industry, predicted about $300 million for New Jersey's online casinos — or about $45 million in tax revenue, according to the New York Times. Others predict the overall U.S. market could be worth as much as $9 billion in the coming years as other states, including California, legalize online wagering.
Globally, the business is even more lucrative. H2 said the industry was worth $33 billion in 2013, with $4.5 billion coming from mobile gambling on iPads, iPhones and smartphones.
Prohibition failed – again
Last month, the president and CEO of the American Gaming Association testified before Congress and urged legislators to repeal their 7-year-old ban on Internet gambling.
"Prohibition simply does not work," Geoff Freeman told a House panel on Dec. 10. "The federal government has tried the prohibition approach – specifically the Unlawful Internet Gambling Enforcement Act of 2006 and the Wire Act – and through multiple Justice Department crackdowns on offshore operators as well."
Many Americans simply ignored the ban, he noted, as the country did during Prohibition in the '20s.
"Last year, before a single state authorized legal online gaming, Americans spent nearly $3 billion on illegal, unregulated offshore gaming sites. To put that into further context, Americans accounted for nearly 10 percent of the entire $33 billion worldwide online gaming market," Freeman said.
Legalizing gambling across the U.S. will generate – in addition to tax revenue from the proceeds at casinos – approximately 22,000 new online gambling-related jobs, Freeman testified.
Freeman said the Department of Justice has relaxed its views toward online gambling since 2011, and this could open up even more opportunities in the U.S. — notably sports betting.
"In sports gambling, it's about the bet," DeGaris said. "That's where I see the huge potential in online gambling, and I reckon the U.S. will catch up to the rest of the world and allow it at some point."