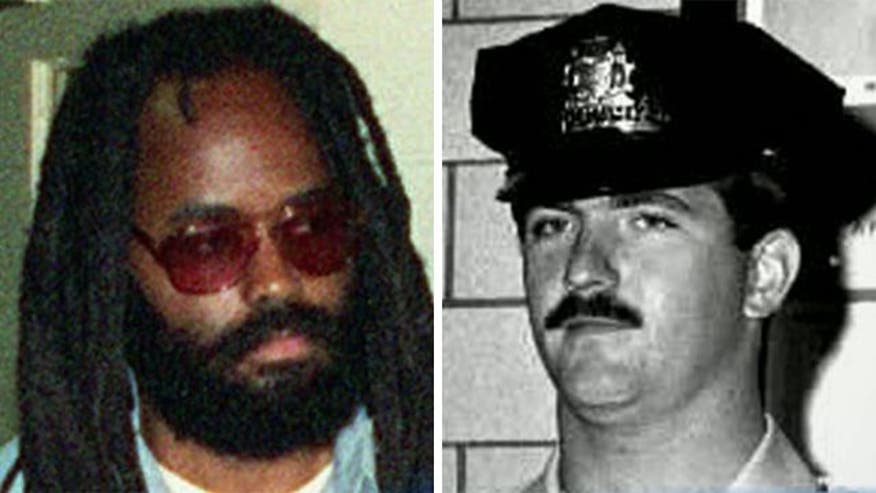 A Vermont college's selection of convicted cop killer Mumia Abu-Jamal as speaker at its commencement Sunday is a "despicable" decision that should be reversed, his victim's widow told FoxNews.com.
Maureen Faulkner, whose husband Daniel was gunned down by Abu-Jamal in 1981, was shocked to learn of the selection by undergraduate students at tiny Goddard College in Plainfield. Abu-Jamal, who will not attend the event and whose speech will be pre-recorded, received a bachelor of arts degree from the 245-student liberal arts college in 1996 through a correspondence program.
"It's not appropriate," Faulkner said. "His freedom was taken away when he murdered a police officer in the line of duty. It seems like our justice system allows murderers to continue to have a voice over the public airwaves and at college commencement. It's despicable."
Abu-Jamal, born Wesley Cook, was sentenced to death following a high-profile trial in Philadelphia. His sentence was later reduced to life in prison without parole for killing Faulkner, a 25-year-old patrolman who scuffled with Abu-Jamal's brother during an early morning traffic stop. Abu-Jamal, a member of the Black Panther Party, was wounded by a round from Faulkner's gun and a .38-caliber revolver registered to Abu-Jamal was found at the scene with five spent shell casings, according to trial testimony.
"People need to start realizing that there's right and wrong in this world. It seems like no one thinks about that."

– Maureen Faulkner, widow of former Philadelphia cop Daniel Faulkner
More on this…
Sunday's event will mark the third time Abu-Jamal, 60, has given commencement speeches at colleges, including at Evergreen State College in Washington and Antioch College in Ohio. Both of those events prompted widespread protests on behalf of law enforcement officers and Faulkner's relatives.
"How can this go in our country? It's amazing," Maureen Faulkner continued. "People need to start realizing that there's right and wrong in this world. It seems like no one thinks about that."
In a statement, Goddard College Interim President Bob Kenny said the college holds 20 commencement ceremonies annually to provide personalized graduation ceremonies in each degree program.
"As a reflection of Goddard's individualized and transformational educational model, our commencements are intimate affairs where each student serves as her or his own valedictorian, and each class chooses its own speaker," Kenny said in a statement. "Choosing Mumia as their commencement speaker, to me, shows how this newest group of Goddard graduates expresses their freedom to engage and think radically and critically in a world that often sets up barriers to do just that."
The head of the Vermont State Police also condemned the school's actions, saying the college's students and leaders are showing "blatant indifference" toward law enforcement. ;
"The scheduled commemoration of convicted cop killer, Mumia Abu-Jamal, demonstrates an appalling disregard for law enforcement officers, and their families, who have lost their lives in the line of duty," Col. Tom L'Esperance said in a statement to FoxNews.com. "Our thoughts go out to Officer Daniel Faulkner's wife and family, who continue to mourn the 1981 death of the 25-year-old Philadelphia police officer. Despite this blatant indifference shown by the students and leaders at Goddard College, law enforcement officers across the country, and in Vermont, continue to serve and protect their communities — everyday — at great risk to themselves. All the while, their loved ones are wishing them safely home."
Faulkner, who said he intends to protest the ceremony in some way, acknowledged that Abu-Jamal remains not far from her mind. Earlier this month, the notorious inmate made headlines when an attorney nominated to lead the Justice Department's civil rights division withdrew from consideration due to his involvement in Abu-Jamal's case while working with the National Association for the Advancement of Colored People to overturn his death sentence.
And in April, a lesson plan posted on the Oakland (Calif.) Unified School District's website asked students to draw parallels between late civil rights leader Martin Luther King Jr. and Abu-Jamal, an exercise akin to advocating violence to young students, Faulkner said.
"It's a travesty," Faulkner told FoxNews.com in April. "You're going to teach children about a man who murdered a police officer? That's not a good lesson to be teaching children. He was a radical, a militant. My question is: Are our tax dollars paying for this?"
Meanwhile, a spokesman for Goddard College said university officials do not condone "any acts" of violence.
"Our condolences go out to [Faulkner] as they go out to the many victims and their families who have experienced senseless acts of violence," spokesman Dustin Bylerly said in a statement to FoxNews.com. "Our aspiration is to make the world a less violent place in which to live by examining carefully those elements of life in this world that lead to such senseless acts. Without equivocation we do not condone any acts of violence."