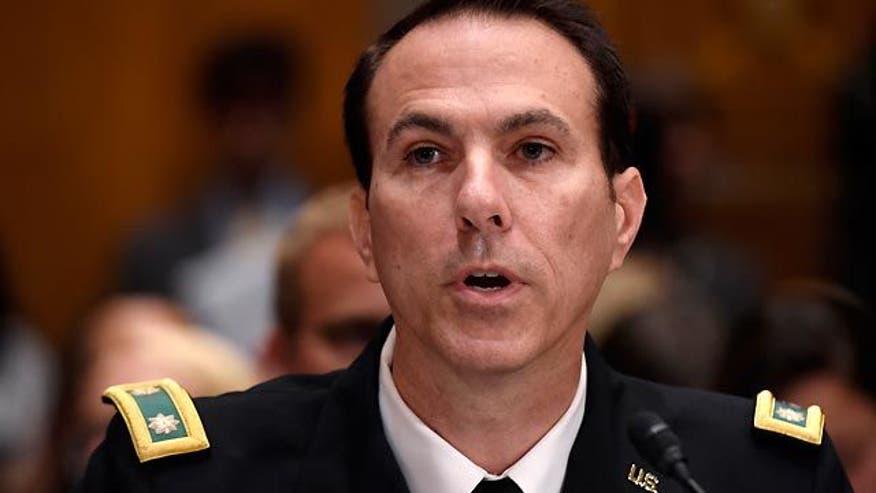 Lt. Col. Jason Amerine, a decorated Green Beret who was among the first on the ground in Afghanistan after 9/11, is now under investigation by the U.S. Army and was threatened with court martial for sharing information with lawmakers about what he calls a "dysfunctional bureaucracy" preventing the recovery of American hostages held by Islamist terrorists.
"Warren Weinstein is dead. Colin Rutherford, Joshua Boyle, Caitlin Coleman and the child she bore in captivity remain hostages in Pakistan. I used every resource available but I failed them," Amerine told a Senate committee during a hearing on whistleblower protection Thursday, listing the names of American hostages.
"One of those resources was my constitutional right to speak to members of Congress." But he testified that "after I made protected disclosures to Congress, the Army suspended my clearance, removed me from my job, and sought to court martial me."
Amerine told lawmakers he is now being punished by the Army for speaking to members of Congress about his concerns over an incoherent U.S. hostage policy.
He said he reached out first to Rep. Duncan Hunter, R-Calif., because of his position on the House Armed Services Committee and because he wanted to repair a "broken" hostage recovery system.
"Here is someone who is trying to save lives and who puts it on his sleeve basically what he is doing and he got slammed for it by the Army," Hunter said in an interview with Fox News.
"So you have them doing a retaliatory investigation of a great soldier. This is the kind of guy we want in the Army. This is who we want out there fighting for us," Hunter said of Amerine, who received the Bronze Star with Valor for his actions in Afghanistan.
Hunter showed his support for Amerine Thursday by sitting behind the decorated soldier during the hearing on Capitol Hill as Amerine testified along with other whistleblowers who also had faced retaliation.
Five years ago, Amerine was tasked by Gen. John Campbell, currently the top U.S. commander in Afghanistan, to find ways to bring home Taliban prisoner U.S. Army Sgt. Bowe Bergdahl after Army commanders realized there was no coherent plan to do so.
While working to free Bergdahl, Amerine realized there were other American hostages being held by Al Qaeda and Pakistan as well, but with all eyes on Bergdahl, the civilian hostages were forgotten and there was no plan to rescue them, he said.
Amerine believed a one to seven trade-off of the "Afghan Pablo Escobar," Haji Bashir Noorzai, currently serving a life sentence in the United States, for all the Americans was possible.
Instead, Bergdahl was traded for five senior Taliban leaders who had been serving indefinite sentences at the U.S. military's prison in Guantanamo Bay, Cuba — a deal he said had been rejected by senior U.S. officials years ago.
"My team had a difficult mission and I used all legal means available to recover the hostages. You, the Congress, were my last resort," he told lawmakers. "I am before you because I did my duty and you need to ensure all in uniform can go on doing their duty without fear of reprisal."
He said he is being retaliated against because the FBI and others were angry when Hunter revealed the Defense Department had tried to pay a ransom for Bergdahl, which is against U.S. law.
Amerine said he drew their ire when Hunter submitted a complaint to the Inspector General alleging an "illegal or questionable" ransom had been potentially paid in a failed attempt to free Bergdahl.
"There was a good deal of evidence that it occurred and a lot of questions as to how it occurred," Amerine told Senator Ron Johnson, R-Wisc, chairman of the Senate Homeland Security and Government Affairs Committee.
Amerine accused the State Department, FBI and CIA of not sharing information with the military and described turf battles and bureaucratic "stove pipes" that he said have hindered the return of American hostages such as Caitlin Coleman, who recently gave birth in captivity in Pakistan, and Warren Weinstein, who was killed in a CIA drone strike in January.
The Army denied there was any retaliation against the decorated Special Forces officer.
"As a matter of policy, we do not confirm the names of individuals who may or may not be under investigation to protect the integrity of a possible ongoing investigation, as well as the privacy rights of all involved. However, I note that both the law and Army policy would prohibit initiating an investigation based solely on a Soldier's protected communications with Congress," a spokeswoman for the U.S. Army said in a statement.
The FBI declined comment when contacted by Fox News.
Meanwhile, the Army has cancelled Amerine's planned retirement this summer.
Jennifer Griffin currently serves as a national security correspondent for FOX News Channel . She joined FNC in October 1999 as a Jerusalem-based correspondent.