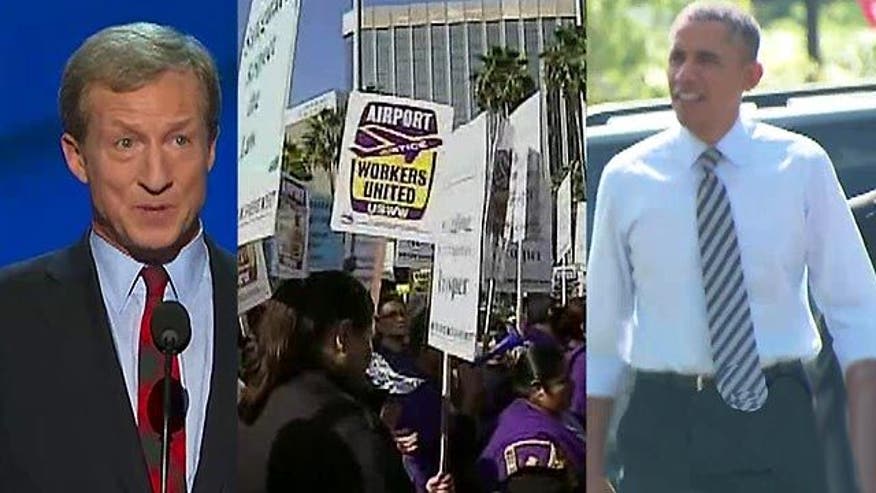 Despite outrage from Senate Majority Leader Harry Reid and other Democrats about billionaires like the Koch brothers donating to the GOP, statistics show Democrats are outraising Republicans this election season.
Sheila Krumholz of the Center for Responsive Politics estimated, "the Democratic senatorial campaign committee has raised $111 million compared to $82 million for their Republican counterpart."
Even when you take all sources of money, from all donors for all races, the Democrats still lead. "It's about $595 million for the Democrats, and about $450 million for the Republicans," Krumholz said.
In the run-up to the Nov. 4 election, the Republican Senatorial Campaign Committee made a last minute push and just announced it raised $15.5 million in September, its best month ever.
Political analyst Michael Barone of the American Enterprise Institute said, "that's a change and it says that Republican contributors big and small are martialing to the cause."
Although the Democrats have enjoyed a money lead for some time, they still are asking for more cash. A Democratic campaign group on October 7urged,"Today's ad buy deadline is the most critical of the election. This is our last chance to rescue Democrats drowning in Koch-funded attacks. Can you chip in $5 or more?"
Ben Wieder of the Center for Public Integrity, another watchdog group, noted, "everyone kind of likes to play the underdog role. And so it's been very interesting to see fundraising ads, particularly related to Senate races where Democrats are claiming that, you know, they're losing the race."
Much of the Democratic party's money comes from the president's non-stop efforts to raise cash, having done more than 50 fundraisers, seven just last week, all closed to the media, including one at the home of real estate baron Rich Richman — a name Democrats would likely ridicule if he were giving to Republicans.
Democratic Senate candidates, while happy to get the money, sometimes try to avoid being seen with an unpopular president. According to Barone, that's "because these candidates are running in states where President Obama's job performance rating is negative, in many cases highly negative."
In some recent polls, his personal approval rating stands at only 40 percent.
Democrats recently pulled money from 11 marginal races, and the Republicans just poured another $6.5 million into the Senate race in North Carolina after internal polls showed Republican Thom Tillis in a position to win.
Wieder explained,"as you're getting three weeks out, you've got to spend your money in the places where it will do the most good."
But not all money goes into ads. Some is reserved for voter turnout efforts, because fewer people vote in mid-term elections.
Wieder noted that "TV ads accounted for about 50 percent and then that pool of the remaining 50 percent, you can kind of split between get out the vote, mailers, phone calls."
Low turnout elections tend to favor the angriest and most energized voters, and these days, that tends to be Republicans.
"There's a close correlation between how voters approve of the president, whether it's this president or the previous one, and how they vote in Senate elections," Barone explained.
Jim Angle currently serves as chief national correspondent for Fox News Channel (FNC). He joined FNC in 1996 as a senior White House correspondent.