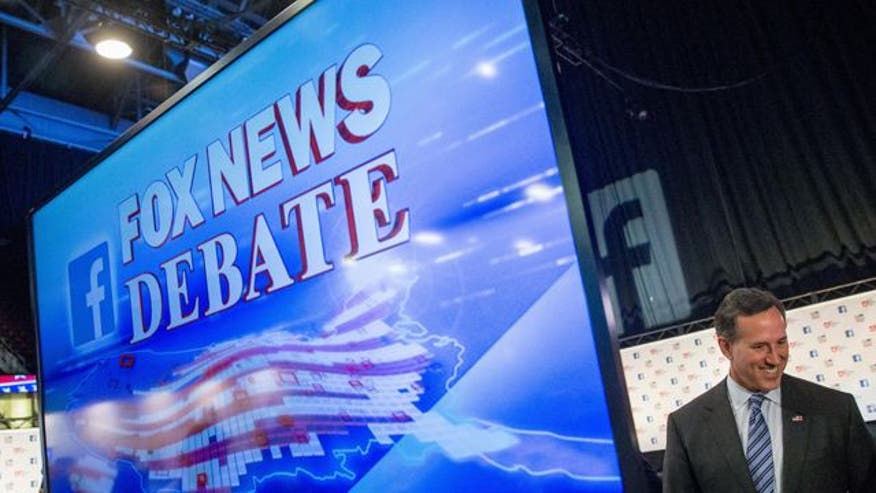 **Want FOX News First in your inbox every day? Sign up here.**
DO THE BIG NIGHT RIGHT: DEBATE WATCHERS' GUIDE
CLEVELAND – Two debates. Seventeen candidates. Three hours. Five moderators. Talk about a full-court press…
The first candidate debates of the 2016 cycle are just hours away here at Quicken Loans Arena, home to the Cleveland Cavaliers. And in the same way that sports reporters manage to grind down to joyless dust even the most magnificent moments, the political press has already pulverized the big event with analysis, most of it dead wrong.
In truth, we have no idea how this event, which is wholly unlike any before it, will go down. The debates are starting later, are more crowded and have higher stakes than before. We could do the conventional thing and make an elaborate guess as to what might happen, but we can't really know. Like the smart sportscasters say: That's why they play the game.
But we do know a few things about when and how the breakout moments might come.
The action starts at 5 p.m. ET with the seven candidates who fell short of the top 10. Anchors Bill Hemmer and Martha MacCallum will handle the tip off. Then at 9 p.m. ET, anchors Bret Baier, Megyn Kelly and Chris Wallace will handle the action with the top 10 candidates in the polls.
Here's what to watch for…
Dust ups and dogfights – There are plenty of feuds and rivalries among these candidates and much of the debate may be driven by how much and how often they erupt. Remember that these folks are all fierce competitors with plenty of ego. One key dynamic to watch will be how other conservatives go after the leader of their pack, Wisconsin Gov. Scott Walker and, of course, how often second-tier candidates try to tangle with Donald Trump. But there are a few specific flash points. Watch for sparks between rivals Sens. Ted Cruz and Rand Paul, as well as between former allies Jeb Bush and Marco Rubio as well as Bush and Ohio Gov. John Kasich. And rest assured that Mike Huckabee will find a moment to remind voters of his skills as a grenadier.
Working the refs – Candidates may not just lock horns with each other, but also with their moderators. Newt Gingrich made moderator bashing a staple of his 2012 shtick. While the moderators tonight won't be playing the kinds of gotcha games that play into candidate's hands, there will still be temptations to make the debate itself the issue. The risks are high, though. Looking unable to cope with difficult situations is not a good starting place for a presidential campaign, and tangling with Fox News' all-star team is a scary thought unto itself.
Outside game – All the political eyes are on Cleveland but the campaigns know debate performance isn't enough. With seventeen people talking tonight all campaigns will engage in mass social media outreach. For example, Marco Rubio's campaign will have an online war room that offers supporters real-time fact checking during the debate. Jeb Bush taps into the stream on debate sponsor Facebook with an ad knocking Hillary Clinton on Planned Parenthood. Moves like these engage and empower supporters. Such tactics also can create a positive hangover effect for campaigns to draw out over the course of the next few weeks. Those who perform well will see their spot in web videos, and television ads lasting well into the next round of debate.
Early birds – Most of the political chatter concerns the 9 p.m. debate, but the 5 p.m. is crucial. Of the contenders in the early evening, Carly Fiorina and former Gov. Rick Perry, R-Texas, have the most opportunity to get a hold of a spotlight that has evaded them thus far. But, with the likes of former Sen. Rick Santorum, R-Pa., and others desperately grasping at any attention they can get, Fiorina and Perry will need to try hard to stay above the fray.
Got a TIP from the RIGHT or the LEFT? Email FoxNewsFirst@FOXNEWS.COM
POLL CHECK
Real Clear Politics Averages
Obama Job Approval: Approve – 45.4 percent//Disapprove – 49.7 percent
Directions of Country: Right Direction – 28.6 percent//Wrong Track – 63.2 percent
POWER PLAY: K.P. KNOWS
Now you've got the guide for what to watch tonight, but what will our political gurus watch for? Daily Beast columnist and author of "The Silencing" Kirsten Powers sits down with Chris Stirewalt for a preview of tonight's debate. Powers tells all for what she wants to see from the candidates tonight including a clearer narrative for Jeb Bush's campaign, and high expectations for former Harvard star debater Sen. Ted Cruz, R-Texas. WATCH HERE.
OHIO: THE HEART OF POLITICS
He didn't need any super PACs – Mark Hanna, successful Cleveland businessman, master campaigner, and eventual Ohio Senator is often credited with reinventing the Republican Party. From the Cleveland Plain Dealer: "Many of the practices that still define campaigning in the age of social media and micro-targeting were introduced or refined by Hanna during his political tour de force: the 1896 campaign to put William McKinley, his friend and fellow Ohioan, in the White House."
Buckeye boys – From 1869 to 1913 six of the ten presidents occupying the White House hailed from Ohio. In all, seven native Ohioans have served as chief executive: Ulysses S. Grant, Rutherford B. Hayes, James A. Garfield, Benjamin Harrison, William McKinley, William Howard Taft and Warren G. Harding.
Breaking barriers – During the 1872 re-election bid by President U.S. Grant, a fellow Ohio native Victoria Woodhall became the first woman to run for president. Woodhall ran as a member of the Equal Rights party.
…so goes the nation – The premier presidential bellweather title enjoyed by Ohioans is well-deserved. In the 29 presidential elections since 1900, Ohio has correctly picked the winner 27 times.
Debate drought – In spite of its status as a key battleground state, Ohio has hosted just three presidential or vice-presidential debates since they began in their current form in 1960. All three were held in Cleveland.
TAKE FIVE TAKES FIVE
Eyes may be on the White House, but the fight for the Senate has already heated up. Democrats need five seats to flip the Senate from red to blue. We're taking a one-week break for debate mania, but keep your picks coming!
Share your top five picks. Email them – just five, please – to FOXNEWSFIRST@FOXNEWS.COM or tweet @ChrisStirewalt.
Chris Stirewalt is digital politics editor for Fox News. Want FOX News First in your inbox every day? Sign up here.
Chris Stirewalt joined Fox News Channel (FNC) in July of 2010 and serves as digital politics editor based in Washington, D.C. Additionally, he authors the daily "Fox News First" political news note and hosts "Power Play," a feature video series, on FoxNews.com. Stirewalt makes frequent appearances on the network, including "The Kelly File," "Special Report with Bret Baier," and "Fox News Sunday with Chris Wallace." He also provides expert political analysis for Fox News coverage of state, congressional and presidential elections.