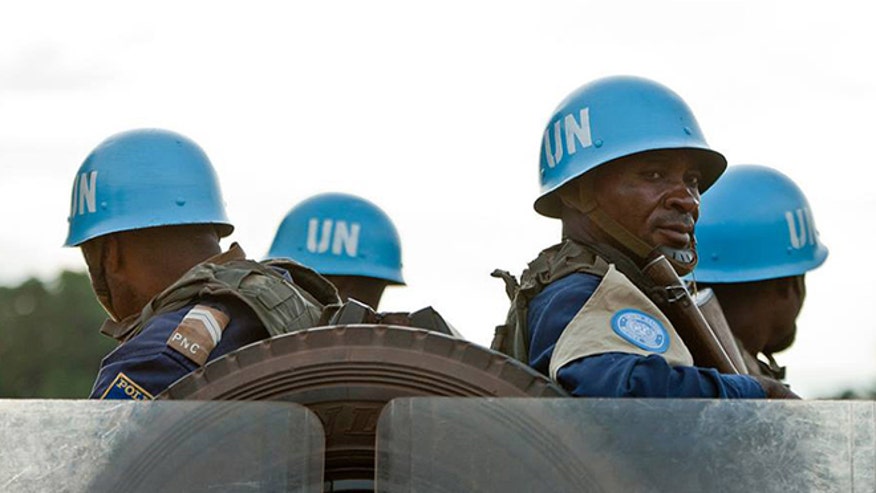 See bottom of story for update
United Nations officials up to the level of Secretary General Ban Ki-moon himself were scrambling to come up with statements Tuesday after new allegations of child rape by U.N. peacekeepers in the Central African Republic—this time followed by a welter of shooting that allegedly left at least two unarmed civilians as well as one peacekeeper dead in the capital of Bangui.
According to Ban's spokesperson, Stephane Dujarric, the U.N. leader was "personally dismayed and disappointed," not just at the latest reports involving international peacekeepers but at the "series of allegations" about peacekeepers–some wearing U.N. helmets and others not—that have plagued the battered African nation for the past two years.
"We would like to emphasize once more than no misconduct of this nature can be tolerated and that every allegation will be taken extremely seriously and investigated vigorously and thoroughly," Dujarric said.
The question apparently is when. The latest incidents took place on Aug. 2 and 3—more than a week ago—and the scramble came after the allegations against Rwandan and Cameroonian members of the CAR peacekeeping force were made public today by Amnesty International.
The human rights organization says it began probing the incidents on the ground within five hours of their occurrence in the capital of Bangui and then grew frustrated at the lack of U.N. response to their queries for more information about the incidents.
Amnesty has demanded that an "independent civilian investigation must be urgently launched and those implicated must be suspended immediately and for the duration of the investigation."
The human rights organization issued a press release about the alleged atrocities this week after repeated attempts in previous days to get more information from U.N. peacekeeping forces "really got no response whatever," a senior Amnesty official in London, Joanne Mariner, told Fox News.
The civilian organization's intent was not to form judgments but "just to get the full story," she said.
According to a peacekeeping official who spoke with Fox News today, the U.N.'s headquarters peacekeeping unit only became aware of Amnesty International's concerns on Aug. 10, while the peacekeeping commanders in Bangui had known about them since Aug. 4.
At the time of the Aug. 2-3 shooting, the U.N. issued a brief statement declaring that peacekeepers "were attacked by an armed group during a search operation" aimed at arresting a "suspected criminal" under a local prosecutor's warrant, and that one peacekeeper had been killed and eight were injured in the fight.
Back then, Ban said through his spokesman that he "deplores in the strongest terms attacks against United Nations peacekeepers and calls for swift action to bring the perpetrators of this crime to justice. He further calls on all armed groups to respect the impartiality of MINUSCA," the U.N. acronym for the 11,800 troops and police on mission in the battered country.
In talking with Fox News, Amnesty's Mariner emphasized that according to the evidence her organization had gathered—which included interviews with 15 witnesses on the scene–the shoot-out began only after the alleged rape of a 12-year-old girl during the night-time raid by African members of U.N. police forces in a heavily armed largely Muslim enclave of the city known as PK5 aimed at arresting a suspect on a local warrant. "The firefight began after the rape," she said.
As summarized in Amnesty's press release, "The girl had been hiding in a bathroom during a house search at approximately 2am on Aug. 2. A man allegedly wearing the blue helmet and vest of the UN peacekeeping forces took her outside and raped her behind a truck."
When the girl cried out, her assailant "slapped me hard and put his hand over my mouth," she related to her Amnesty interviewer.
The gunfire then exploded as self-defense groups in the heavily barricaded section of the city stiffened resistance to the U.N. incursion, driving off the peacekeepers—both soldiers and police were involved– after the U.N. forces made three arrests. One Cameroonian peacekeeping soldier was killed.
But hours later the U.N. forces returned—according to a peacekeeping official in order to "clear barricades and facilitate movement"– and according to Amnesty's witnesses, "began shooting indiscriminately in the street where the [earlier] killing had taken place."
Two unarmed civilians were slain: a 61-year-old man and his 16-year-old son. According to Amnesty, a witness told their investigator that "they were going to shoot at anything that moved."
Fox News spoke personally to Jonathan Pedneault, the Amnesty investigator who carried out the organization's interviews in Bangui, and who said he had no trouble entbering the beleaguered area and that he met several times with the rape victim's family and the victim herself, starting on the morning of August 4th, about 60 hours after the incident.
Pedneault related that five days after the alleged assault the girl was examined by "an independent medical organization by a specialist of sexual violence and the certificate concludes that she shows physical and psychological signs that concur with her claims."
By then, however, the girl's family "had sought to treat the 12-year-old traditionally, which includes sitting her in a pan of hot water. As such, to our knowledge, no DNA was collected."
Pedneault also said that witnesses told him that in the period after the rape when the shooting started, U.N. forces were faced with "very, very well-armed opponents who had grenades, rocket-propelled grenades and automatic weapons" when they drove off the U.N. police at around 3 a.m. on Monday, Aug. 3.
Around 10 a.m. that morning, the U.N. forces returned, he said—"the same contingents," he added—and witnesses later told him the peacekeepers fired "indiscriminately" up a series of four alleyways along their route as they proceeded toward a mosque in the center of the enclave.
"Everyone said there was no return of fire," he said—and in one of the alleyways, witnesses told him, the man and his son were killed. In another alleyway, an auto mechanic and his assistant were also fired on—possibly because their tools looked like weapons. When they threw up their hands, the firing stopped, Pedneault said witnesses told him.
Pedneault also said he "first informed a few relevant individuals at MINUSCA of the killing and the rape on Tuesday, August 4th." An official request for information was sent by Amnesty the following day.
He added that "we were not approached for a meeting with CDU [the watchdog Conduct and Discipline Unit that is part of every peacekeeping mission] but spoke at length yesterday and today with the mission's human rights division"—in other words, after Amnesty warned that its press statement was forthcoming.
By then, MINUSCA, was reeling from yet another violent spasm on Aug. 9, when a Rwandan peacekeeper apparently shot four of his fellow troops to death and wounded eight others before dying himself.
The Amnesty International allegations came just two months after the U.N. announced that another peacekeeper was under investigation for assault of an under-aged girl.
That, in turn, came two weeks after the medical organization Medicins Sans Frontieres told Fox News that it had testony from one underage victim of sexual abuse in 2014 who identified the abuser as a member of "international forces"—meaning a member of a U.N. or European peacekeeping force.
An even bigger and more enduring sex abuse scandal in CAR involving non-U.N. troops under U.N. auspices is still brewing.
In July, Ban named a three-person panel to look into the U.N.'s handling of allegations of child sexual abuse by French and African peacekeepers who did not wear the U.N.'s blue helmet in CAR but nonetheless were blessed with a U.N. Security Council mandate (the formal switch to MINUSCA forces took place in September 2014). The peacekeepers, who were not under U.N. command, allegedly engaged in sex acts with hungry children as young as nine during 2013 and 2014.
The scandal expanded after U.N. investigators interviewed the abused children and a U.N. human rights official, Anders Kompass, passed on the raw testimony to French diplomats whose government subsequently launched an investigation.
After much delay, the U.N. asked Kompass to resign, then launched its own investigation of his leaks, leading to criticism that the world body was more intent on hushing up leakers than protecting young and starving children.
The panel is slated to report in September.
————-
UPDATE: On Wednesday morning, U.N. Secretary-General Ban Ki-moon announced that he had accepted the resignation of the head of MINUSCA, General Babacar Gaye, and called for a special session of the U.N. Security Council on Thursday to discuss the sexual abuse issue. He also plans to tell all peacekeeping commanders faced with sex crime allegations to "report allegations immediately, investigate thoroughly and act decisively."
George Russell is editor-at-large of Fox News and can be found on Twitter: @GeorgeRussell or on Facebook.com/GeorgeRussell