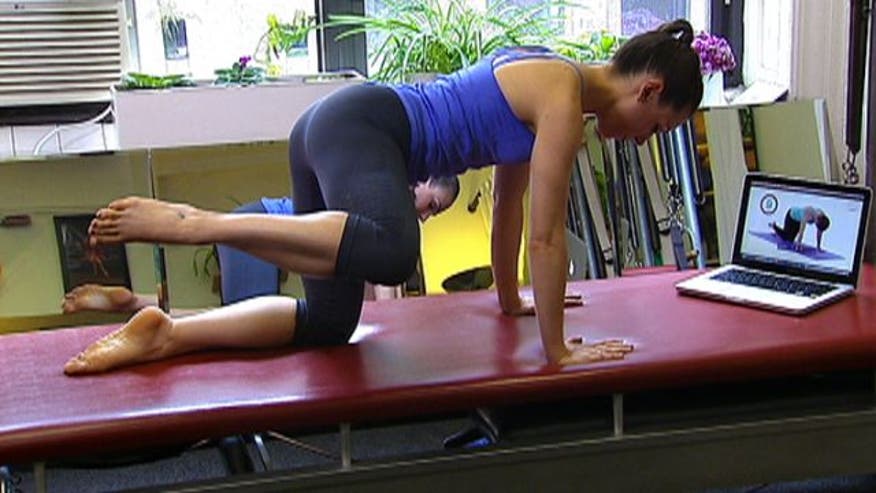 Mothers everywhere mostly agree that any negative side effect associated with pregnancy and childbirth is often forgotten after meeting their newborn for the first time. However, while new moms may mentally be able to forget or block out some of those pains and symptoms, some of the physical affects may last long after childbirth.
For Erin DeLucia-Benson, a 34-year-old mother-of-two, changes to her abdomen seemed irreversible despite added physical activity after the birth of her youngest child.
"My belly was sticking out more than it ever had before," Delucia-Benson told FoxNews.com. "And I also noticed a separation in my abdominal wall when I would try to do a little crunch or a sit up— I would see a gulley down the middle of my belly."
According to Dr. Manny Alvarez, chairman of obstetrics and gynecology at Hackensack University Medical Center in New Jersey and senior managing editor at FoxNews.com, changes in a woman's core and pelvic floor are common after pregnancy. Some mothers may even be left with a condition called diastatis recti.
"What happens is the rectis muscles that are right in front of the belly separate, and they end up with this separation afterward, almost like a hernia-type effect," Alvarez said.
Three years after the birth of her second child, Delucia-Benson, also a Pilates instructor, remained unhappy with her body. She had even tried a program that used a binder around her belly but saw no results.
It wasn't until she came across Mutu System, a 12-week course focused on engaging the core and pelvic floor that she saw results.
"More planks, more crunches, more boot camp, that's not what you need," Wendy Powell, founder of Mutu System, told FoxNews.com. Powell said the biggest misconception about getting back into shape after a pregnancy is you have to do more difficult ab exercises, but that isn't the case. "You need to do different ab exercises," she said.
Mutu System consists of 20 videos to help new moms get back in shape, providing coaching and nutritional advice along the way. Powell's goal, she said, is to help moms reconnect with their bodies.
"Tummy doesn't look or feel like you want it to, pelvic floor doesn't work like you want it to, so there's kind of an emotional shutdown with regard to that whole part of our body," she said. "You can't strengthen muscles or a group of muscles if they're not connected— if mind and muscle are not talking anymore," she said.
DeLucia-Benson said she started seeing results about halfway through the program, and continues to use the exercises today.
"It just brought me to a place where I could feel confident and strong, and gave me what I needed to move forward and get better," she said.
Before beginning any exercise program, new moms should consult their physician to be sure they are cleared for physical activity.
For more information, visit MutuSystem.com.