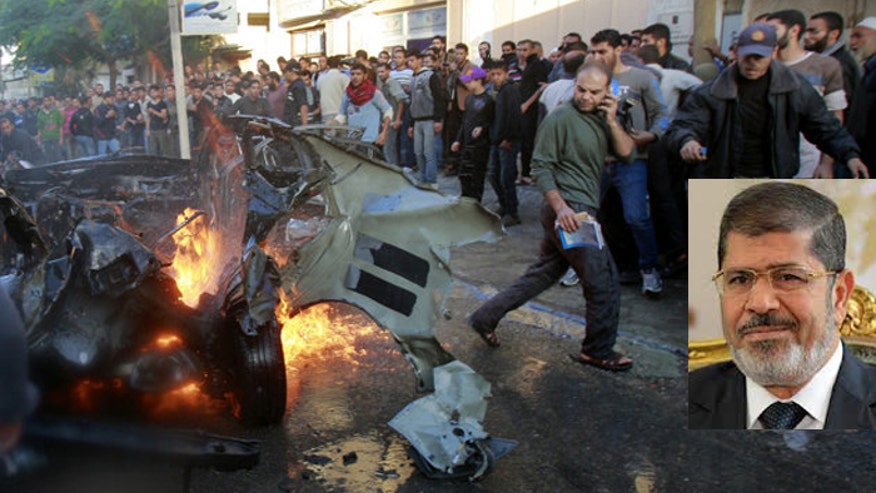 If Hamas thought provoking an Israeli crackdown by raining rockets down on the Jewish state would rally Arab nations to its side, it may have miscalculated badly, experts told FoxNews.com.
The Gaza-based terror group began a barrage of rockets on southern Israel on Nov. 10, which brought a swift reaction from Israel. Israeli air strikes have taken out several Hamas leaders and launch sites, and its military is now poised to rumble into the territory with tanks and soldiers, just as it did four years ago – with equally one-sided results.
As for Hamas' regional allies, including Egypt, the signs of solidarity have been strictly rhetorical. If Hamas' campaign was aimed at dragging regional allies into a widening conflict, many experts are skeptical that it will succeed.
"There is sympathy [in Egypt] for what is going on in Gaza, but going to war with Israel is not attractive to Egypt."

– Dennis Ross, Washington Institute for Near East Policy
"One of the things that may have affected Hamas' calculus in terms of being able to run more risk with Israel is that they sense there's a new Egypt," said Dennis Ross of the Washington Institute for Near East Policy. "There is sympathy [in Egypt] for what is going on in Gaza, but going to war with Israel is not attractive to Egypt."
Israel's Operation Pillar of Defense, aimed at stopping Hamas rockets – some fired from launch sites adjacent to hospitals, schools and playgrounds – has been moving closer to an all-out ground war in recent days. Israeli planes, tanks and gunboats have pounded militant positions in Gaza, and some 90 Palestinians, including senior leaders of Hamas, have reportedly been killed in Israeli air strikes.
The most populous of Arab nations, Egypt was a stable entity for decades under Hosni Mubarak. But with the Muslim Brotherhood having swept to power in elections earlier this year, Hamas may have been emboldened to provoke Israel, and in doing so, to challenge Fatah leader Mahmoud Abbas as representative of the Palestinian people.
Egyptian President Mohamed Morsi has condemned Israel's offensive, but he raised eyebrows when he only sent a deputy to meet with top Hamas officials.
Elliott Abrams, of the Council on Foreign Relations, said Hamas is not gaining the traction it hoped for with Israel's enemies.
"The regional picture now, with the Arab Spring, suggests that Hamas will have more support," Abrams said. "But it isn't working out that way. The key country is Egypt, which is talking about its support for Hamas but not giving much concrete support.
"I think Egypt sees itself, with 85 million people, as far more important than Hamas in Gaza with 1.5 million," he continued. "Morsi does not want the tail to wag the dog and threaten his own relations with the U.S. and even with Israel. He wants the fighting to stop, because a ground war would inflame opinion in Egypt and perhaps force his hand, and ruin relations with the U.S."
Israel and Hamas saw tensions boil over after the 2008 U.S. elections, when Israel sent tanks and bulldozers into the Gaza Strip to destroy a system of tunnels used by Hamas to smuggle weapons. Hamas responded with a barrage of mortar and rocket fire lasting several weeks, and Israel mounted Operation Cast Lead, which included seven days of air strikes, followed by a 15-day ground incursion. Israel Defense Forces figures showed that 10 IDF soldiers and three Israeli civilians died, while another 1,166 Palestinians were killed.
"The timing was all on the part of Hamas," said Daniel Pipes, of the Middle East Forum. "But the difference that I see [from Operation Cast Lead] is that the Israelis may well be saying, 'Enough is enough. This goes on year after year, and we just don't need to tolerate it.'"
Ross theorized that Hamas may be under pressure from jihadists within Gaza, and, by exacting a heavy price for the rocket attacks, Israel may be forcing the terror group to choose between serving the purposes of militants and attempting to govern responsibly.
It isn't just Egypt that is shrugging off the conflict. Most have harsh words for Israel, but that is nothing new. Turkish Prime Minister Recep Tayyip Erdogan on Monday even accused Israel of being a terrorist state. But the turmoil caused by the Arab Spring, in countries that have nascent leadership as well as those where the old guard is holding onto power, has them too preoccupied to offer full-blown support to Hamas.
"Egypt, Syria, Jordan and Lebanon are consumed with internal problems in a way they were not four years ago," Pipes said. Even Saudi Arabia's monarchy seems to recognize that Islamist political activism could threaten it, say observers, and the Kingdom has little interest in the Muslim Brotherhood encouraging Hamas' political rise.
Iran is believed to have supplied the Fajr-5s rockets Hamas is using against Israel. At least 121 rockets were fired at Israel from the Gaza Strip on Monday, down from 156 on Sunday and 230 on Saturday, Ynet reported. But one expert told FoxNews.com that Iran, reeling under crippling sanctions, is more likely looking to create a regional distraction to help its ally Assad quell a bloody revolution.
"Iran's influence in the region is declining, and Tehran would very much like to change that," he said. "But they're not going to let Hamas draw them into a war with Israel."