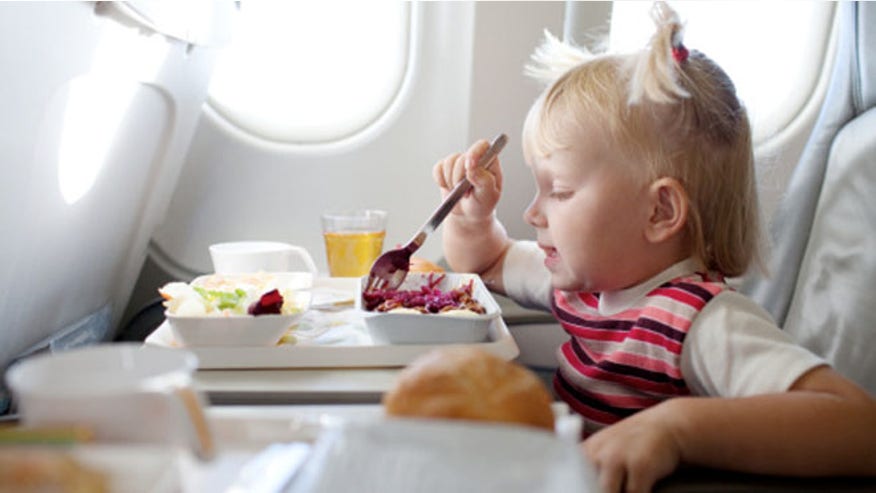 They may be little, but more airlines are placing big restrictions on kids.
Last week Singapore Airlines' budget carrier Scoot Airlines introduced its "ScootinSilence" section. For $14, travelers can sit in an area free of children under 12 years old, with legroom four inches greater than those in economy class. Two other airlines, Malaysian Airlines and AirAsia X, already ban kids on certain rows or sections on some flights.
"As a parent of small children, I wouldn't like that my tax dollars would subsidize an airline that would then ban my kids and thus me from taking a vacation. I also don't want to be banned from first class nor extra leg room seats."

– Doug Peterson, frequent flier and father of three
So far, no U.S.-based airlines have announced any plans to follow the trend in Asia. But as airlines introduce an ever-growing number of fees on everything from bags to beverages, the Scoot's fee-based quiet zone raises the question as to whether we could see airlines kicking kids and their families out of premium economy or first class seats here in the U.S.
Jami Counter, senior director for SeatGuru.com, a website that summarizes aircraft information for travelers, says he would be surprised to see a kid-free zone here in the States. He says the aircraft bodies that fly most domestic routes are too small, the public outcry would be too loud and government regulations likely wouldn't let the concept take off.
Frequent flier and father of three, Doug Peterson, travels weekly to New York City from Salt Lake City for business. He says he'd oppose airlines enforcing restrictions on where kids can sit on planes, and notes that in his travels, he rarely sees children misbehaving.
"As a parent of small children, I wouldn't like that my tax dollars would subsidize an airline that would then ban my kids and thus me from taking a vacation," Peterson said. "I also don't want to be banned from first class nor extra leg room seats."
Still, some people say they wish they had the option.
"This poor little kid kept crying and crying," said frequent traveler Blake Flow of California. "I felt terrible for him, but after one hour I said to myself, 'I would pay more to not have to hear this.'"
Even some parents think they could benefit from others upgrading.
"I think it's brilliant marketing," said Bonnie Overly, a mother of three from Salt Lake City. "I've spent some of the worst days of my life wrangling kids on a plane or a train, having them cry no matter what I do, and having all the people around me make flat-out rude, judgmental, and horrible comments about my lack of parenting skills. If these people had had the option of a kid-free cabin, we all would have been happier."
These attitudes reflect a growing consensus in the U.S. A recent Harris Interactive poll showed that 63 percent of people surveyed said they would rather sit next to a crying baby than a smelly adult.
Yet, the question remains if cost-conscious Americans would actually pay to sit in a kid-free zone.
Erin Gifford, family travel expert and the founder of Kidventurous.com, says she wouldn't pay for the upgrade if traveling without her four children because she doubts you'd get what you pay for.
"The airlines may then find themselves with a bigger headache in the form of a section of grumbling adults ringing their call buttons because they can still hear the crying baby just a few rows behind the kid-free zone," Gifford said.
CURRENT SEATING PROBLEMS FOR FAMILIES
The move by Scoot and other airlines reflects larger changes in the airline industry that are making it increasingly difficult for families to sit together on an aircraft.
Securing seats together for a family is almost as difficult as finding a deal on airfare these days, since many airlines offer preferred economy seating and planes are flying with fewer open seats.
"From a personal point of view, I can't believe people aren't more upset about this," said Suzanne Rowan Kelleher, the managing editor of family travel booking site, MiniTime.com. "On principle, I think you should be able to sit with your children without having to pay extra… It adds an incredible layer of stress for the parent and the child not to be seated with people they know."
DREAMS OF FRIENDLIER SKIES
As a solution, Counter says, instead of having a kid -free zone, airlines should create a family-friendly zone at the back of the plane, where they would be closer to restrooms and flight attendants if the kids need more snacks or drinks.
Now, families with younger children are forced to be proactive about getting seats together right when booking, or run the risk of having their 3-year-old sit with strangers. "Definitely shop ahead, look at seats early, look at the seat maps, and see where they can be together," Counter said.
Even if the airlines charged a fee for a family friendly flight experience, some parents say they'd be happy to buy a less stressful travel adventure.
"The irony of all of this is that if the airlines put a little more thought into the needs of flying families – more legroom, bassinets, snacks, especially a 'family zone' on an airplane – (then) more families would probably fly and be happily segregated from other travelers," said Shanna Farnsworth, a New York City resident and mother of two. "Everyone's annoyances would be solved."
While parents dream of kid-friendly seating, experts say a little bit of sensitivity and understanding can go a long way until their wish comes true.
"As a mother that's flown many times with babies and small children, I can tell you that moms and dads are doing their very best to keep their children from crying," Gifford said. "It's a hard situation, particularly when the seatbelt sign is on and you can't get up to try to bounce or soothe your child in the aisle."