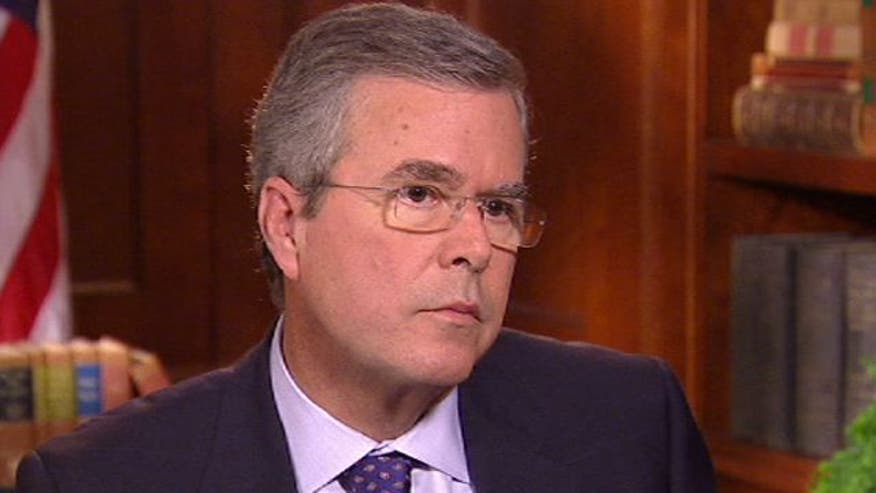 **Want FOX News First in your inbox every day? Sign up here**
Buzz Cut:
• First in Fox News First: Jeb answers Megyn on legacy woes
• Power Play: Meet Ted Cruz's data guru
• Poll: Rubio cracks the top tier in Granite State
• Clintons try to muzzle charity watchdog
• The buyers were in de-Nile
FIRST IN FOX NEWS FIRST: JEB ANSWERS MEGYN ON LEGACY WOES
In an interview with Megyn Kelly set to air tonight, Jeb Bush answers the charge from critics that he is "the worst possible candidate to put up against Hillary Clinton" because of his famous last name. "I haven't been in Washington over the last… ever," Bush said in a wide-ranging interview that airs tonight on "The Kelly File" at 9 p.m. ET. "I'm not part of Washington."
The electability argument is usually the ace in the hole for the establishment-backed candidate in the Republican Party, but it actually cuts the other way for Bush. Bush, who served as Florida governor from 1999 to 2007, has watched his former protégé, Sen. Marco Rubio, receive a surge in support, including from many establishment figures. Old GOP hands worry about whether the inability to prosecute Clinton on her weakest points – entitlement, exploitation of insider status and preservation of the status quo – could ever be offset by Bush's money, organization and political skills. Those concerns were highlighted by the first excerpts from the interview to emerge. Kelly asked Bush if he would have ordered the 2003 invasion of Iraq even "knowing what we know now." Bush said he would.
In the newly released clip, Bush said he would overcome the perception that "the country needs a fresh start" by running on his record in Florida: "I got to serve as a governor of a state, a purple state, and I was the most successful conservative governor probably during the time that I was there – I'd say Mitch Daniels and Jeb Bush are the two most successful governors. I can tell that story, and I can offer ideas that are about the future, not the past. And I'm energetic and passionate about the needs, the things we need to fix."
The interview, which touches on Bush's support for Common Core educational standards, religious liberty, the specifics of his policies on illegal immigration, racial tensions and other topics, was Bush's first sit-down session on television since December.
[National Journal explores what Bush's cash advantage will – and won't – do for him in 2016.]
2016 REPUBLICAN POWER INDEX: FIORINA PASSES PAUL
1) Jeb Bush; 2) Marco Rubio; 3) Scott Walker; 4) Ted Cruz; 5) Carly Fiorina [+1]; 6) Rand Paul [-1]; 7) Mike Huckabee; 8) John Kasich; 9) Rick Perry; 10) Ben Carson
On the Radar – Rick Santorum, Bobby Jindal, Lindsey Graham, Chris Christie
[Watch Fox: Chris Stirewalt joins "The Real Story" in the 2 p.m. ET hour with the latest on who's up and who's down in the 2016 Power Index.]
POWER PLAY: MEET TED CRUZ'S DATA GURU
In his drive to be the GOP's nominee, Ted Cruz is making a big bet on big data. Cruz's director of Research and Analytics, Chris Wilson, joins Chris Stirewalt to look at the campaign's forward-leaning approach and how it shapes campaign outreach and messaging. WATCH HERE.
Fighting words – While campaigning in South Carolina, Cruz went on the attack against his fellow GOP Sixteeners for failing to stand up for religious liberty, among other things. It was a shift in tone and strategy. Lucky for you, then, that David Drucker was there to tell you what it meant.
Cruz interrogated on culture – Bloomberg's Mark Halperin interviewed Cruz a few weeks ago on the Texas senator's 2016 campaign plan and events, but mid-interview things took a nasty turn. The interview flew under the radar last week​ until Ruben Navarrette, a friend of Cruz, wrote a column on the racist questions Halperin asked. Questions like Cruz's favorite Cuban dishes, and songs were fired like a cultural test rather than an interview. But Halperin really sealed the deal when he asked Cruz to welcome Sen. Bernie Sanders, I-Vt., to the race…in Spanish.
Poll: Rubio cracks the top tier in Granite State – Sen. Marco Rubio, R-Fla., more than doubled his numbers in a recent Bloomberg/Saint Anselm poll of New Hampshire primary voters. The Florida senator sits at 11 percent compared to 5 percent from the last poll, which was conducted in February, tying with Jeb Bush. He also ties Bush for the strongest matchup against Democratic contender Hillary Clinton with 42 percent support against Clinton's 44 percent.
But big numbers mean big scrutiny – On Sunday, the NYT scoured Rubio's relationship with auto-sales billionaire Norman Braman. The two have maintained a close personal and financial relationship since Rubio's early days in the Florida statehouse. The piece raises questions about Rubio's work to steer taxpayer funds to Braman's pet projects.
[Rubio defends the bulk surveillance program in a new USA Today op-ed. He writes, "…this program has been found legal and constitutional by at least 15 federal judges serving on the FISA Court on 35 occasions. There is not a single documented case of abuse of this program."]
Walker gets raves at S.C. summit – Madison State Journal: "The South Carolina Freedom Summit was reminiscent of a similar one in Iowa that launched [Gov. Scott Walker] into the top tier of White House contenders. Walker, in his trademark rolled-back shirt sleeves, eschewed the podium to tell personal anecdotes and divulge his desire to take a Harley tour across the state…Many attendees said they liked Walker's speech and prospects as a presidential candidate, but some raised doubts about whether he had Cruz's fire or Rubio's consistency on issues."
[Walker is in Israel this week. Today, Walker met with Israeli human rights activists after visiting Jewish and Christian holy sites on Sunday, including the Western Wall. Walker meets with Israeli Prime Minister Benjamin Netanyahu Tuesday.]
Rand: Hillary made Libya a 'jihadist wonderland' – The Hill: "Sen. Rand Paul (R-Ky.) argued Sunday that former Secretary of State Hillary Clinton's policies had created a terrorist utopia in Libya. 'Hillary Clinton's war in Libya, I think, made it less safe,' Paul told host John Catsimatidis on his New York radio show 'The Cats Roundtable.' 'It was a big mistake for us to go in there in the first place, because a lot of the times when we topple secular dictators, we've gotten chaos and then we've gotten the rise of radical Islam,' he said of Clinton's decision in 2011 to help oust then-Libyan leader Muammar Gaddafi. 'It made it a hotbed for jihadists,' Paul added. 'And, in fact, I Libya is now a jihadist wonderland.'"
"I managed Hewlett Packard through the worst technology recession in 25 years and yes, indeed some tough calls were necessary. There is nothing worse than laying someone off. On the other hand, many companies against which we competed are gone all together." –Carly Fiorina defending her record as CEO in an appearance on NBC News
Carson tries to clarify controversies – Ben Carson stood by his comparisons of ObamaCare to slavery and of the current political atmosphere to German during the rise of the Nazi Third Reich. Pressed by Chris Wallace on "Fox News Sunday," Carson tried to clarify his remarks. WashEx has the details.
[Carson is on the campaign trail in New Hampshire today]
The first time Kasich tried to get into the White House, it was a lot easier – Dayton (Ohio) Daily News: "On Dec. 2, 1970 future Ohio governor and presidential candidate John Kasich penned an earnest three-page letter to President Richard Nixon, praising the president and requesting a face-to-face meeting at the White House. … 'I would immediately pass up a Rose Bowl trip to see you. My parents would permit me to fly down and see you anytime and I know my grades wouldn't suffer,' Kasich wrote in neat cursive on personalized stationary. … The very next day, Nixon wrote back to Kasich: 'I would be happy to have the opportunity to welcome you to the White House at some time in the not too distant future…' Less than three weeks later, Kasich stood face to face with President Nixon in the Oval Office."
WITH YOUR SECOND CUP OF COFFEE…
Poet Robert Frost won his first of four Pulitzer Prizes on this date in 1924 for his collection "New Hampshire," some of which was inspired from his time in the decade before as a New England famer (by his own admission, a poor one) in the town of Derry, N.H. The volume includes "Stopping by Woods on a Snowy Evening," which includes some of the finest lines of American verse ever written: "The woods are lovely, dark and deep. But I have promises to keep; and miles to go before I sleep; and miles to go before I sleep." You can read more about Frost in New Hampshire at the historic site and museum at his former farm.
Got a TIP from the RIGHT or LEFT? Email FoxNewsFirst@FOXNEWS.COM
POLL CHECK
Real Clear Politics Averages
Obama Job Approval: Approve – 45.4 percent//Disapprove – 50.0 percent
Direction of Country: Right Direction – 27.7 percent//Wrong Track – 61.8 percent
CLINTONS TRY TO MUZZLE CHARITY WATCHDOG
The vigorous counterattack by the Clinton campaign to discredit the scandal prompted by "Clinton Cash" isn't the first such battle the Clintons have engaged in over the foundation donations, New York magazine reports. "After being the subject of a spate of negative newspaper accounts about potential conflicts of interest and management dysfunction this winter — long before Clinton Cash — the Clinton Foundation wound up on a 'watchlist' maintained by the Charity Navigator, the New Jersey-based nonprofit watchdog…. Navigator executives counter that the Foundation has demanded they extend the Clintons special treatment. They also allege the Foundation attempted to strong-arm them by calling a Navigator board member. 'They felt they were of such importance that we should deviate from our normal process. They were irritated by that,' says [former Navigator CEO, Ken Berger]."
Friends and family plan – NYT dives into why Tony Rodham's attempts to use his connections with sister Hillary and brother-in-law Bill Clinton invite scrutiny for the former first couple.
[Clinton's contention last week that "undocumented workers in New York pay more in taxes than some of the biggest corporations in New York" has earned four Pinocchios from WaPo's fact-check.]
Republicans close in on Hillary in N.H. – A new Bloomberg Politics/Saint Anselm New Hampshire Poll says Republican presidential hopefuls Sens. Rand Paul, R-Ky., and Marco Rubio, R-Fla., and former Florida Gov. Jeb Bush now tie Clinton within the margin of error in hypothetical general election matchups.
Hillary not master of her own domain – Buzzfeed: "Republican candidate [Carly Fiorina] has faced an onslaught of questions in media interviews about her failure to register the domain name for CarlyFiorina.org. Type HillaryClinton.net into your browser right now, though, and you'll be redirected to Fiorina's website. The person listed as the site's administrator did not immediately respond to a request for comment from BuzzFeed News, and a spokesperson for Fiorina said they had nothing to do with the URL trolling. But the Republican's campaign was quick to point to the dueling stunts as evidence of media bias. According to an adviser, Fiorina has answered 'well over 200 on-the-record questions' this week, and in virtually every interview she was asked about CarlyFiorina.org. … 'Of course, since Mrs. Clinton has only taken seven questions since April 12,' [Sarah Isgur-Flores said,] '[T]hey probably won't have a chance to ask her about it anytime soon.'"
Obama: Warren 'a politician just like everybody else' – President Obama took off the gloves, pounding criticism by Democratic Sen. Elizabeth Warren of his sought after trade authority as politically motivated. "Elizabeth is a politician just like everybody else and she has a voice that she wants to get out there," the president told Yahoo news. "I understand that and on most issues she and I deeply agree. On this one though her arguments don't stand the test of fact and scrutiny."
Feel the Bern! – 2016 Democratic candidate Sen. Bernie Sanders told CBS News his opposition to Obama's trade deal and the Keystone XL pipeline are among the reasons he'd make a better nominee than Hillary Clinton. The self-proclaimed socialist holds a "budget" Town Hall in in Charlottesville, Va., today, where he'll hit the Republican budget.
DIGNITY, IT TURNS OUT, IS HIGHLY OVERRATED
Some of the funniest people in public life will gather this evening to discuss one of the most serious topics of our time: The rightful role of fathers in American culture. It is hard to live purposefully without true humility. So every father has an automatic leg up on purposeful living since there's nothing so simultaneously as humbling and rewarding as the job of being a dad. The American Enterprise Institute is hosting a forum tonight for some of the authors featured in the new book, "The Dadly Virtues: Adventures From the Worst Job You'll Ever Love." Participants include Fox News colleagues Tucker Carlson, Jonah Goldberg and Steve Hayes as well as P. J. O'Rourke and moderator Rob Long. Register or watch online here.
THE BUYERS WERE IN DE-NILE
BBC: "Scientists say they have exposed a scandal at the heart of Ancient Egypt's animal mummy industry. A scanning project at Manchester Museum and the University of Manchester has revealed that about a third of the bundles of cloth are empty inside. … More than 800 mummies, ranging from cats and birds to crocodiles, have so far been analysed using X-rays and CT scans. About a third of those scanned contain complete animals, which have been remarkably well preserved. Another third contain partial remains – but the rest have been empty. … Unlike human mummies, which were created to preserve the body for the afterlife, animal mummies were a religious offering. … Scientists estimate that up [to] 70 million animals may have been mummified by the Egyptians."
Chris Stirewalt is digital politics editor for Fox News. Want FOX News First in your inbox every day? Sign up here
Chris Stirewalt joined Fox News Channel (FNC) in July of 2010 and serves as digital politics editor based in Washington, D.C. Additionally, he authors the daily "Fox News First" political news note and hosts "Power Play," a feature video series, on FoxNews.com. Stirewalt makes frequent appearances on the network, including "The Kelly File," "Special Report with Bret Baier," and "Fox News Sunday with Chris Wallace." He also provides expert political analysis for Fox News coverage of state, congressional and presidential elections.