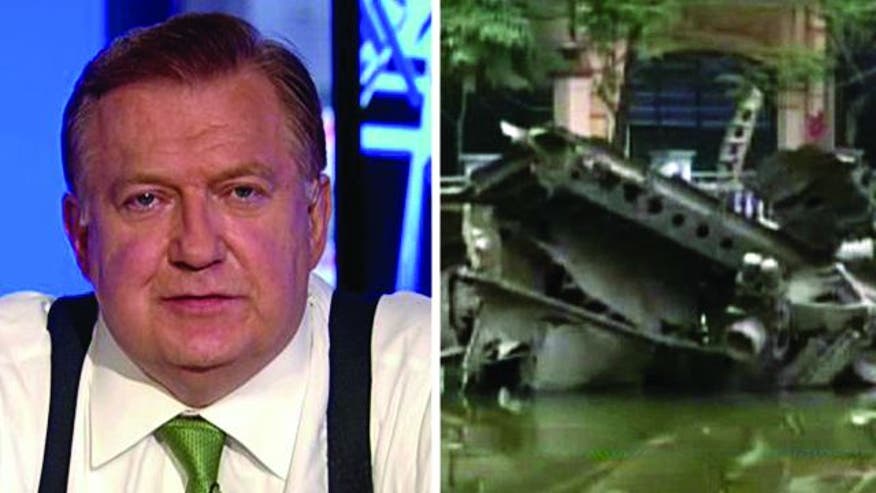 Better late than never.
That was "The Five" co-host Bob Beckel's take on CBS's apology for an "Amazing Race" episode set in Hanoi, Vietnam that many found abhorrent.
"I think it's belated to say the least," Beckel said on 'Fox & Friends' Monday morning. "[But] they did it at the right time… in prime time."
On the March 17 episode, the twisted metal of a downed American bomber was treated as any other prop, with a bright "Amazing Race" "Double-U-Turn" signed planted in front of it, signifying to contestants the next phase of their scavenger hunt.
The show also had contestants learn a song that was performed for them by children in front of a portrait of North Vietnam communist leader Ho Chi Minh, with subtitled lyrics that included "Vietnam Communist Party is glorious. The light is guiding us to victory."
"We want to apologize to veterans – particularly those who served in Vietnam – as well as to their families and any viewers who were offended by the broadcast," said the show's host, Phil Keoghan, at the beginning of Sunday night's episode. "All of us here have the most profound respect for the men and women who fight for our country."
The apology came a week after the episode ran, and days after many viewers and influential figures—including Beckel and Sen. John McCain–had repeatedly demanded an apology from the network.
Appearing on the "Fox & Friends" morning program Monday, Beckel reiterated how surprised he was that no one on the CBS production team anticipated that the episode may be offensive.
"It was amazing to me that somebody at CBS didn't catch it," he said.
Beckel said he believed viewers' responses on social media especially motivated the network to apologize.
"I appreciate now—which I never did before—the power of social media," he said, estimating that "millions of people" responded to the episode.
As of Monday morning, the apology was not however posted on the official CBS or "Amazing Race" Facebook and Twitter pages.