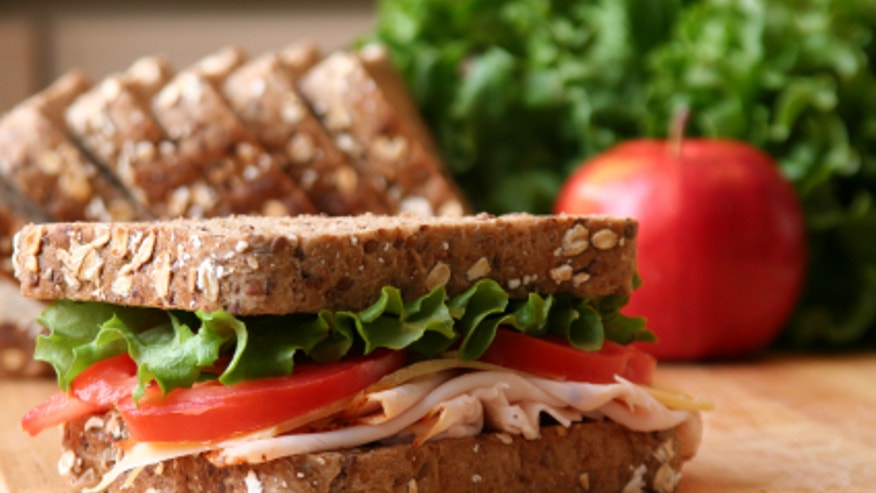 If you're interested in improving your memory (and let's face it, who isn't?), then these recipes are just what you need.
Whether you're improving your ability to remember names, your girlfriend's birthday or crucial facts you need for a job interview, keeping your brain in tiptop shape should be high on your agenda. Dietary choices play a major role in your brain's functioning: proper nutrition keeps it working to its fullest, protects its cells and helps it work efficiently and effectively.
Sandwiches are most men's favorite food, so how can we combine the perfect portable snack with brain-boosting nutrition? Start by making your own mayo. Eggs (in particular, their yolks) are rich in a substance called choline, which is part of two molecules responsible for brain health and cognitive functions.
Basic mayo
You can add whatever you like to this — wholegrain mustard and honey, cayenne pepper, chipotle, wasabi, horseradish, jerk seasoning, etc.
Ingredients
• 2 large eggs, preferably free range
• 1 tbs Dijon mustard
• 2 tbs white-wine vinegar
• 280ml peanut oil or other flavorless oil
• Salt and pepper
Method
Separate the yolks of the eggs from the whites. Save the whites, which can be frozen to make meringue or added to omelets.
In a blender, blitz the egg yolks, mustard, white-wine vinegar and salt and pepper. With the blender still running, add just a single drop of oil. Let this blend. Begin drizzling the oil in slowly in a steady stream. Carry on. If the mixture becomes too thick add a little water, no more than a splash. Continue until all the oil has been incorporated. Taste and season again before storing in the refrigerator until you are ready to use it.
Bread & Spinach
The other thing to think about is your bread; kick the white, pre-sliced stuff to the curb and try to get some artisan bread — preferably the kind packed with nuts and seeds. The regular breads you find in your grocery store are made with all kinds of additives. Nuts and seeds are rich in Omega-3 fatty acids, Omega-6 and folate, as well as vitamins B6 and E — all great for keeping you thinking clearly and quickly. (Also, handmade bread just tastes better.)
Also worth trying: swap your regular salad for spinach. The baby leaves are delicious, full of iron and rich in B6, B12 and folate, all of which help you with the recollection of information.
Recipe: Smoked mackerel with celery, spinach and wasabi-mayo sandwich.
Why: Smoked mackerel is a meaty, flavorful fish rich in Omega-3 fatty acids. Celery is rich in luteolin, which blocks the release of a chemicals that causes brain aging.
Ingredients
• 2 slices bread (rye would be great here)
• 1 smoked-mackerel fillet (you could use another oily fish such as sardines or salmon here)
• 1 tbs mayo
• Wasabi (as much as you like)
• 1 rib of celery, finely sliced
• A handful of baby spinach
• A squeeze of lemon juice
Method
Mix the wasabi and mayo together and spread the mix on both slices of bread. Flake the smoked mackerel, discarding the ski,n and lay it along one slice of bread. Place the celery on top, then the spinach, a good sprinkling of salt and freshly ground black pepper and, if you like, a squeeze of lemon juice. Put the other slice of bread on top, and it's ready to eat.
Turkey With Cranberry Slaw
Why: Cranberries are an essential addition to any turkey meal. They are packed with antioxidants, which slow down free-radical damage in the brain. Tests have shown that they also improve memory, balance and coordination.
Ingredients
• 1 cup shredded turkey
• ½ cup shredded red or white cabbage
• ¼ cup shredded carrot
• A few pecans, finely chopped
• 1 tbs finely chopped cilantro
• 2 tbs buttermilk
• 2 tbs mayo
• 2 tbs dried cranberries
Method
Mix together all the ingredients except the turkey. Put the turkey on the bread, then spoon the slaw onto your bread and top with spinach and arugula.
_________________________________________________________________________________________
More From AskMen.com:
Mental Health for Men ________________________________________________________________________________________
Roast Beef With Quick Pickled Onions
Why: Cold roast beef is a favorite left-over to find in the fridge. It's high in iron, and iron deficiencies can lead to a lack of concentration, a weakened memory state and lowered learning ability. You could also make this sandwich with a barbecued or broiled steak.
Ingredients
• 2 slices of bread
• 1 tbs mayo
• 1 tbs horseradish
• ¼ red onion, sliced as thinly as possible
• 2 tbs white-wine vinegar
• 1 tbs sugar
• Handful of spinach
• 3 slices cold roast beef
Method
Warm the sugar and vinegar together in a pan until dissolved. Pour over the finely sliced red onion and allow to cool, leaving for an hour or so if possible. Mix the horseradish with the mayo and some salt and pepper. Spread this on your bread before placing the beef on top. Drain the onions and scatter these over the beef. Place the spinach on top and cover with the other slice of bread.
Roasted Peppers With Mozzarella and Pesto
Why: Roasting peppers gives them a smoky flavor along with an improved texture. Like celery, peppers are high in luteolin, which blocks the release of certain chemicals responsible for brain aging.
Ingredients
• 1 red pepper
• 1 green pepper
• ½ ball mozzarella
• A large handful of fresh basil
• 2 tbs pine nuts, lightly toasted in a dry pan
• 2 tbs grated Parmesan
• 2 tbs good quality extra virgin olive oil
• 2 slices ciabatta or focaccia
Method
Grill the peppers over a flame on a gas cooktop or under the grill — either way, they're done when they're blackened all over. Place in a bowl and cover with plastic wrap before allowing them to cool. Once cool, scrape the skin off and discard it along with the seeds; keep the flesh to one side.
Make the pesto by blitzing the basil, pine nuts, Parmesan, and olive oil in a blender until you have a coarse paste. You may need more or less olive oil — add a bit at a time until the paste loosens. Add salt and pepper and spread onto the slices of bread. (If you don't have the time or ingredients to make your own pesto, store-bought will also do in a pinch.)
Slice or tear up the mozzarella and place it on the bottom half of your sandwich. Tear up the peppers and spread them on top. Drizzle with a little balsamic and top with a good grind of black pepper and the second slice of bread.
Roasted Beets With Cream Cheese, Celery and Pumpkin Seeds
Why: Beetroot is back in fashion — it has an earthy taste that goes well with cheeses. Recent studies have linked beetroots with increased blood flow to the brain
Ingredients
• 2 slices bread
• 1 medium beetroot or 5 baby beets
• 2 tbs cream cheese
• 1 tsp finely grated orange zest
• 1 tbs finely chopped tarragon, basil or parsley
• 1 tbs pumpkin seeds
• 1 rib celery, finely sliced
Method
Wrap the beet or baby beets in tin foil and roast at 180 degrees for an hour and a half (for a large one) or 40 minutes or so (for babies). Remove from the oven and allow them to cool for a few minutes; as soon as they are cool enough to handle, peel the skins and allow to cool completely. It is essential to peel them while still hot, since the skin slips off easily in that state.
Toast the pumpkin seeds in a dry frying pan until you hear them crack. Allow to cool. Mix the cream cheese with the chopped herbs, orange zest and salt and pepper, and spread evenly on both pieces of bread. Finely slice the beetroot into rounds and place these on one half. Scatter over the pumpkin seeds and celery before topping off the sandwich with a little spinach and the other half of the bread.