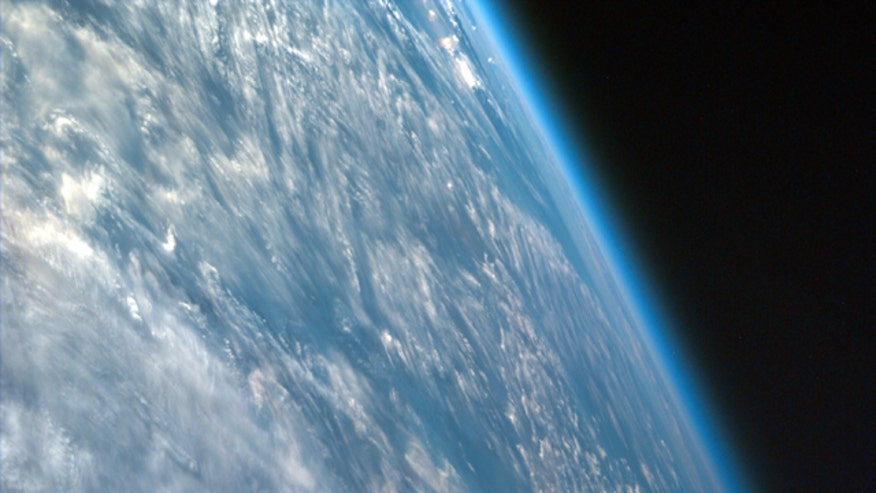 You might not have hundreds of thousands of dollars for a seat on Richard Branson's private shuttle, but one enterprising outfit is about to offer the next best thing: the chance to see the Earth from space, from the comfort of your couch.
With the aid of Russian space authorities, Vancouver-based UrtheCast (pronounced "earthcast") will launch two cameras into orbit Monday with the immediate goal of streaming images of the Earth back home in near-real time.
For free, Internet users will log on to UrtheCast.com anytime to see the beauty of the big blue ball we live on, as the cameras make the 90-minute revolution around Earth, 16 times a day. It's a sight few have ever seen before.
"Ten years ago it would have been incredibly difficult to do this," Scott Larson, CEO of UrtheCast, told FoxNews.com. But after three years of raising money and working with Russian and Canadian engineers and developers, the project is about to lift-off — literally. The cameras will ride a Russian Soyuz rocket on Monday at 3:53 p.m. EST from the Baikonur Cosmodrome in Kazakhstan. You can watch it live on FoxNews.com.
"I've never seen a launch before — we're all excited, there's no doubt about it," Larson said.
The cameras will orbit for a few days before docking at the Russian portion of the International Space Station (ISS). The largest artificial body in orbit, the ISS serves as a research laboratory and testing facility for future space missions. It will add streaming media to its long list of functions.
Once calibrated – and this could take several months, Larson said – the cameras will start beaming down images. For the first time, ordinary web surfers will see the Earth in space with a delay of only 45 minutes to a couple hours at the most (this accounts for the near-real time nature). The crisp resolution will let them see not only the Earth — with all the accompanying weather patterns and seasonal changes — but moving vehicles, large crowds, boats and buildings.
Not only will viewers get the greatest panoramic view of all but they'll be able to customize it too, locking on to their country, their state, their neighborhood when the cameras pan over that part of the world on rotation.
"Streaming video is a large amount of data that will have to reach Earth somehow, which will require a lot of bandwidth," noted Austin Bradley, a Washington, D.C.-area space enthusiast who hopes one day to hitch a ride to Mars. Until then, he says that accessible video from space will definitely whet his appetite.
"For a lower cost than training as an astronaut and taking a weeklong vacation on the [ISS], it's amazing that UrtheCast is bringing the opportunity to see Earth from the perspective that the few lucky astronauts in this world get to experience," Bradley told FoxNews.com.
Larson said the company will be sending 200 gigabytes a day down in "big chunks," which of course will create a bottleneck and thus the delay. But considering that the only other option for free space viewing – Google Earth – carries a delay of months if not years (Google superimposes pictures gleaned from various satellites), this "near-real time" opportunity is quite unprecedented.
And not inexpensive. to pay the bills, UrtheCast went public last July and raised $45 million in private funding. The company is striking numerous deals through partnerships too, including media companies like the Discovery Channel, which will have access to distribution once the cameras are up and running. UrtheCast is also marketing the images to private companies, and has already sold rights to the United Nations Institute for Training and Research's operational satellite applications program (UNOSAT), which will use the pictures to track natural disasters and humanitarian crises.
This is all in line with promoting the webcast on social, educational, environmental and commercial fronts, said Larson.
An engineering firm based in British Columbia helped to build the cameras for about $15 million. The Russians will not only help deliver and stage the equipment, but will transmit the images too. This saves the project a lot of money. In return, UrtheCast will share the data with their Russian partners, who in the meantime get a payload of positive publicity for their space program.
Larson, who is Canadian, said it was the Russians that approached him several years back. They wanted to put cameras into space.
"It landed on my desk," he recalled. "It was their idea frankly."
Aerospace engineer and author Robert Zubrin said NASA should have been doing this kind of thing years ago. Currently, only major corporations and government agencies can afford to buy satellite images from space, and it's very expensive. A project like this not only makes space accessible to regular people, he told FoxNews.com, but it re-ignites a fascination with space travel that has been dormant in recent years.
Private programs like SpaceShipTwo, the shuttle owned and developed by Virgin Galactic billionaire Richard Branson, which is selling tickets on board future spaceflights at $250,000 a pop, are tickling the imagination, but still represent a view that space is only for an elite segment of the population.
"We have all these instruments up there, so why didn't we have the opportunity to log on to the Internet to see the Earth spinning? Why not? It's about time," Zubrin said.