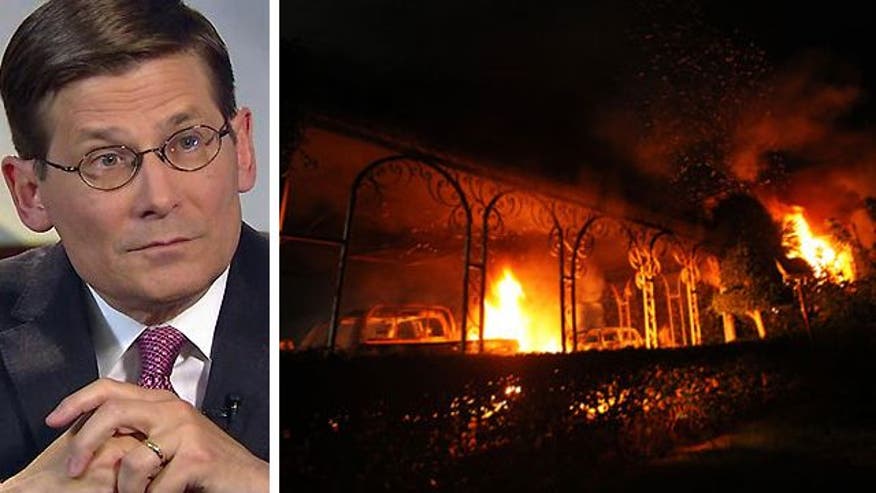 A majority of voters wants Congress to continue to investigate the Obama administration's handling of the attack on the U.S. consulate in Benghazi that killed four Americans. They also assign some appreciable blame to former Secretary of State Hillary Clinton for what happened there, according to a new Fox News poll.
Some 55 percent of voters blame Clinton a "great deal" (28 percent) or "some" (27 percent) for what happened at the U.S. consulate in Benghazi. While that's unchanged from last April, it's down a touch from 60 percent who felt she was at least somewhat to blame in January 2014.
CLICK TO READ THE POLL RESULTS
In addition, 29 percent of Democrats feel Clinton was at least somewhat responsible. Nearly twice as many independents feel that way (55 percent) — as do almost all Republicans (83 percent).
The poll, released Thursday, finds 56 percent want Congress to keep investigating the situation. That's down from 60 percent who said the same last year (April 2014).
Thirty-eight percent of voters oppose continuing the investigation.
Among voters who blame Clinton for Benghazi, 76 percent want lawmakers to keep looking into it.
The Fox News poll is based on landline and cell phone interviews with 1,006 randomly chosen registered voters nationwide and was conducted under the joint direction of Anderson Robbins Research (D) and Shaw & Company Research (R) from May 9-12, 2015. The full poll has a margin of sampling error of plus or minus three percentage points.