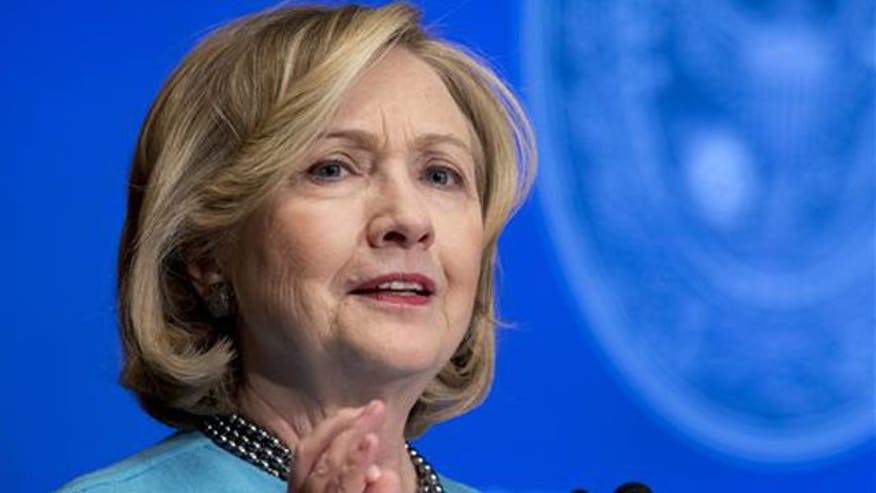 Hillary Clinton wins! Except this is one race she'd rather lose. The former secretary of state and current presidential aspirant tops the list as being "less ethical" than other politicians.
GOP candidate and former Arkansas Gov. Mike Huckabee is on top as being "more ethical" than others.
That's according to the latest Fox News poll that asks voters to rate several announced and unannounced 2016 contenders as being more or less ethical than "most other politicians."
CLICK TO READ THE POLL RESULTS
Some 44 percent of voters think Clinton is less ethical than the typical politician. She's followed by New Jersey Gov. Chris Christie at 37 percent "less ethical."
On the other side, Huckabee (36 percent "more ethical") and Kentucky Sen. Rand Paul (33 percent "more ethical") are each considered more ethical than the average politician by about one third of voters.
The poll also finds that more than a third of voters (37 percent) are "very" concerned scandals would disrupt a Hillary Clinton administration if she were to win. That's about twice as many as feel that way if a Republican were to win the White House (19 percent).
Still, more than half are at least somewhat worried scandals would have a "serious effect" on either a Clinton (61 percent) or a Republican administration (51 percent).
Just over half of voters are following news about the Clinton Foundation accepting financial donations from foreign governments while Clinton was secretary of state. Among only those following the news, 74 percent are worried about scandals if Clinton wins.
Overall, a 57 percent majority says it is likely Clinton was influenced by foreign contributors while she was at the State Department.
Thirty-three percent of Democrats say Clinton was influenced by foreign contributors. Compare that to 65 percent of independents and 82 percent of Republicans who say the same.
Views on what that means for her presidential run are mixed: 29 percent think it's a big enough problem to disqualify her from running, another 31 percent says it's a serious problem, but not a disqualifying one, and 33 percent say it's nothing more than people picking on the Clintons.
A 57 percent majority of Democrats thinks the foundation scandal isn't a big deal — it's just people picking on the Clintons.
Despite 42 percent of Democrats saying they are worried about scandals in a Hillary Clinton administration, it hasn't hurt the level of support she receives for the nomination. Currently 63 percent of self-identified Democratic primary voters back her, unchanged from 62 percent last month. Her support has ranged from 55 to 69 percent since December 2013.
Vermont Sen. Bernie Sanders, the only other announced Democratic candidate, receives 6 percent support. That puts him behind Mass. Sen. Elizabeth Warren who comes in at 13 percent and ties him with Vice President Joe Biden.
In the race for the GOP nomination, former Florida Gov. Jeb Bush and neurosurgeon Ben Carson come out on top with 13 percent each among self-identified Republican primary voters. Wisconsin Gov. Scott Walker is close behind with 11 percent and Huckabee gets 10 percent.
Support for Carson, who formally announced his candidacy May 4, is up 7 percentage points. He had 6 percent support last month.
Florida Sen. Marco Rubio — who lost most of his post-announcement bump — is next at 9 percent. Paul receives 7 percent support and Christie – who has not yet announced – and Texas Sen. Ted Cruz each garner 6 percent.
All others receive less than six percent.
The top four among those who are part of the Tea Party movement are Carson (24 percent), Walker (14 percent), Cruz (12 percent) and Paul (10 percent).
Hypothetical Matchups
For the first time, Bush has the edge over Clinton, albeit by just one percentage point (45-44 percent). Even so, in the head-to-head match-ups it generally looks like Clinton is weathering the "Clinton-cash" storm as she bests all other Republicans tested, topping Huckabee by 3 points, Rubio by 4, Cruz by 5, and Walker and Carson each by 6. She tops Ohio Gov. John Kasich by 8 points and business woman Carly Fiorina by 12.
Independents are more likely to back the GOP candidate over Clinton in each of the hypotheticals, except in match-ups against the two lesser knowns — Kasich and Fiorina.
Bush now tops Clinton by 45-32 percent among independents. Last month they split 34-34.
Men, married voters, whites and working-class whites prefer Bush over Clinton. Women, blacks, moderates and voters with a college degree favor Clinton over Bush.
Women prefer Clinton over the Republican in each match-up, including Fiorina (55-32 percent).
Pollpourri
Among Republicans, 59 percent think Huckabee is more ethical than other politicians and 51 percent feel that way about Paul. None of the other GOP hopefuls hit the 50 percent mark.
For Clinton, 55 percent of Democrats see her as being more ethical than other politicians, 8 percent say less ethical and 33 percent say about the same.
Who does best among independents? Paul and Huckabee. Over a third of independents think they each have higher standards than other politicians (37 and 36 percent respectively). Clinton does worst, as nearly half of independents — 48 percent — say she is less ethical than most others.
The Fox News poll is based on landline and cell phone interviews with 1,006 randomly chosen registered voters nationwide and was conducted under the joint direction of Anderson Robbins Research (D) and Shaw & Company Research (R) from May 9-12, 2015. The full poll has a margin of sampling error of plus or minus three percentage points. The margin of error is higher among the subgroups of Democratic (+/-5%) and Republican (+/-4.5%) primary voters.