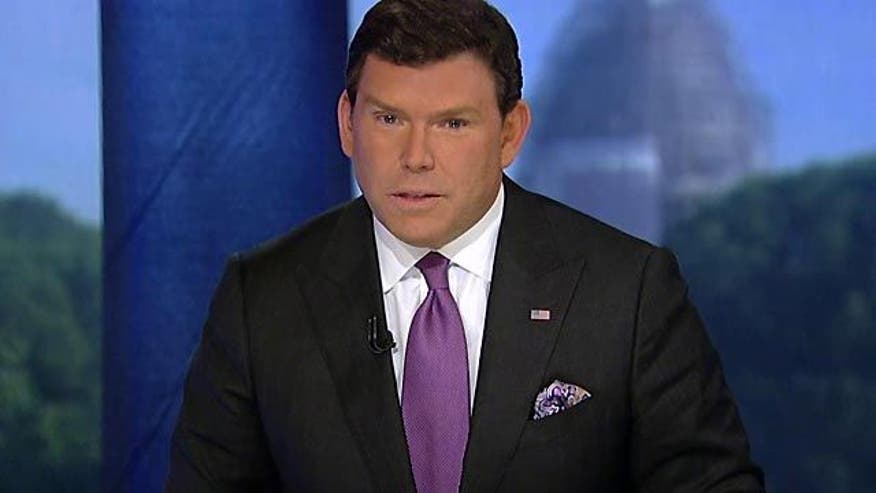 **Want FOX News First in your inbox every day? Sign up here.**
Buzz Cut:
• GOP gets down to business with debates
• Emails show Blumenthal deep in Benghazi spin cycle
• Straw poll sucking wind
• Paul-ibuster shows Rand stands with his base
• Master crane strikes
GOP GETS DOWN TO BUSINESS WITH DEBATES
The first debate of the 2012 presidential cycle was held on May 5, 2011 with five participants, only one of whom was an elected official, Rep. Ron Paul, R-Texas. Only two on the stage, Paul and former Pennsylvania Sen. Rick Santorum, would still be in the race by the time of the Iowa Caucuses.
The first presidential debate of the 2016 cycle will be held on Aug. 6 and will likely include at least three sitting senators and two sitting governors, and quite possibly more of both. The non-office holders in the top flight are clouty, too. The average polling share for the participants in the debate four years ago was less than 4 percent. Now, the average for the top 10 candidates and crypto-candidates is more than double that.
Republicans were right that their 2012 nominating process was too long and too damaging to their already disadvantaged eventual nominee. But their problem in 2016 is the opposite. Rather than having too few candidates, they have too many. That was a cycle in which many Republicans contemplated nominating a reality show host. This is a cycle in which the two-term governor of a state with a population of 10 million couldn't make a ripple in the pond.
As Hillary Clinton starts building out her swing-state operation and assembling a war chest that would make Suleiman I blush, the Republicans lack a clear frontrunner and are poised instead to set off this fall what promises to be a very bloody, very costly period of civil strife. It might have made sense for Republicans to have done for Mitt Romney what Democrats are doing with their own fragile frontrunner this cycle and have carried him on a stretcher to the convention. This time, though, the party still has to find out who the real frontrunners are.
The first debate is 11 weeks from today. The Iowa Caucuses are six months after the first debate. There is no guarantee that the Iowa winner or the eventual nominee will be on the stage when the Fox News team first grills the frontrunners.
Moreover, there's no guarantee that the best candidate for president will be on the debate stage – or is even in the race. (Most Americans of both parties probably think that someone outside of politics would make a better president than anyone who is running.) But Americans do not select their presidents based on merit but rather by contested elections. To lead the government you have to win a hard, complicated, expensive game. And now the game is afoot.
Iowa GOPers worry about Jeb's electability, open to outsiders – Part two of Bloomberg's focus group in Iowa, but this time with Republicans. The members of group say they are overwhelmed by the number of candidates, and fear the despite Jeb Bush's deep pockets, he will not run well against Hillary Clinton. The group also agreed they would be open to considering candidates with less political experience if they had other strong attributes.
EMAILS SHOW BLUMENTHAL DEEP INTO HILLARY'S BENGHAZI SPIN
A NYT report says soon-to-be-released emails from Hillary Clinton's secret server reveal that in 2011 then-Secretary of State Clinton "was circulating information about the attacks in Benghazi that contradicted the Obama administration's initial narrative of what occurred."
NYT also detailed several emails on Libya from Clinton retainer Sidney Blumenthal, who initially blamed the Benghazi attack on demonstrators: "[two days after the Benghazi attack] Mr. Blumenthal sent Mrs. Clinton a more thorough account of what had occurred. Citing 'sensitive sources' in Libya, the memo provided extensive detail about the episode, saying that the siege had been set off by members of Ansar al-Shariah, the Libyan terrorist group. Those militants had ties to Al Qaeda, had planned the attacks for a month and had used a nearby protest as cover for the siege, the memo said. 'We should get this around asap' Mrs. Clinton said in an email to [Clinton policy adviser Jake Sullivan]. 'Will do,' he responded. That information contradicted the Obama administration's narrative at the time about what had spawned the attacks."
Sid who?- Free Beacon: "Controversial Clinton pal Sidney Blumenthal is no longer on the Clinton Foundation payroll, but it is still unclear when he left and under what circumstances. A spokesperson for the foundation told the Washington Free Beacon that Blumenthal "hasn't worked here in a while," but did not confirm when he left or why."
Your LinkedIn candidate – The presumptive 2016 Democratic nominee for president is covering her professional bases. Clinton has joined the business-oriented social networking service, LinkedIn.
Needs Bubba's agent – Sen. Bernie Sanders, I-Vt., netted a total of $1,867.42 for two paid speeches and a television appearance last year, according to financial disclosure documents, The Hill reports.
WITH YOUR SECOND CUP OF COFFEE…
The rise of the machines may be a lot closer than we think. New York magazine takes a dive into IBM's journey to build, not only an intelligent robot, but one that can express emotion. Their major success, named Watson, won jeopardy when he was just four years old. The robot picks up behavior from mimicking those around it, and can put together connections to make its own 'thoughts.' For example, Watson could diagnose a patient after hearing the symptoms, but Watson couldn't understand the patient's suffering. So why do we care about smart robots? Well, researchers suggest that if robots can do and think for themselves they could take away some of the work from the rest of us.
Got a TIP from the RIGHT or LEFT? Email FoxNewsFirst@FOXNEWS.COM
POLL CHECK
Real Clear Politics Averages
Obama Job Approval: Approve – 45.0 percent//Disapprove – 50.0 percent
Direction of Country: Right Direction – 29.7 percent//Wrong Track – 62.1 percent
STRAW POLL SUCKING WIND
Gov. Mike Huckabee, R-Ark., will not participate in the Iowa Republican Straw Poll and will instead focus on the caucus. Huckabee explains his decision in a Des Moines Register op-ed out today, "…to win in 2016, it's important to learn from the mistakes of the last few election cycles…One of the decisions each Republican candidate for president will have to make leading up to the caucuses is whether to invest the resources to participate in this year's August straw poll…I have decided to forgo taking part in the Iowa straw poll — or any other straw poll — and will instead focus our campaign's attention and resources on the Iowa caucuses."
Walker wins influential Chicago endorsement – Chicago Sun-Times: "Todd Ricketts, the Chicago Cubs board member who runs an influential super PAC, hosted a Wednesday night barbecue at his Wilmette home to benefit likely Republican presidential hopeful Wisconsin Gov. Scott Walker…Walker was in Chicago on Wednesday for two events for his political action committee, named 'Unintimidated,' which is financing Walker's run until he officially declares that he is in the 2016 race."
Jeb on climate change, says human role 'convoluted' – Reuters: "Republican Jeb Bush said on Wednesday that the Earth's climate is changing but that scientific research does not clearly show how much of the change is due to humans and how much is from natural causes. Bush delved into climate politics during a campaign-style house party in New Hampshire at which he took questions from voters on his viewpoints as he considers whether to seek the Republican presidential nomination in 2016."
Cruz picked up a few endorsements of his own – Texas Tribune: "Republican U.S. Reps. Michael Burgess of Lewisville, John Culberson of Houston, Louie Gohmert of Tyler and John Ratcliffe of Heath are all backing the state's junior senator on Thursday, according to a Cruz campaign news release obtained by The Texas Tribune."
[Sen. Ted Cruz, R-Texas, attends Watchmen on the Wall, an event for pastors, in Washington today.]
Sooner or later – Republicans head to Oklahoma this week for the Southern Republican Leadership conference. On today's agenda: Scott Walker, Rick Perry, and Rick Santorum. The conference kicks off with an introduction from Gov. Mary Fallin, R-Okla.
PAUL-IBUSTER SHOWS RAND STANDS WITH HIS BASE
After more than 10 hours holding the Senate floor Sen. Rand Paul, R-Ky., made at least one thing clear: he hasn't forgotten where he came from. Since his presidential campaign began, Paul has spent much of his time trying to ingratiate himself with mainstream GOP voters – and seeming to shift stances on key issues. For example, Paul said on "Fox and Friends" last month that "there is a valuable use for drones" and added an amendment to the budget this year that would have increased Defense spending by $76.5 million.
But getting in the mainstream flow means losing some of his own loyal supporters. Those supporters want the guy who filibustered CIA Director John Brennan's nomination over Brennan's support of the drone program, and proposed a budget that eliminated four federal agencies and slashed military spending. This filibuster is a nod to his supporters that he is still their guy.
Book calls for GOP overhaul – In his new book, of which AP got an advance copy, Paul writes, "My party has let the bond it once enjoyed with minorities fray to the point that it is near beyond repair…My Republican Party, the Republican Party I hope to lead to the White House, is willing to change."
[David Drucker talked with Sen. Tom Cotton, R-Ark., about his position on the NSA. Cotton said, "I disagree with Rand on both points, the constitutionality and the effectiveness." Read the full interview here.]
Huckabee tips cap – "We've got three options when it comes to the Patriot Act, restore it like it is, completely repeal it, or we can revise it. Put me down us someone who thinks it needs to be revised, not just immediately restored because I think that the senator has made some valid points." – Former Gov. Mike Huckabee, R-Ark., on "Fox and Friends"
The Judge's Ruling – Pondering government erosion of Constitutional limits and prohibitions written to uphold the rights of the citizenry, Fox Senior Judicial Analyst Judge Andrew Napolitano asks: "What if those who love power defeat those who love liberty in a government election? What if there is no one left to enforce the Constitution against those in power? What if all this is happening right under our noses? What do we do about it?" Read here.
MASTER CRANE STRIKES
The situation looked dire for a red-crowned crane that fell into a tiger enclosure at a Chinese zoo, UPI reports. "Witnesses at the Fuyang Wildlife Park in Hangzhou said the crane was carried into the enclosure by strong winds Saturday and appeared to be in danger of becoming a meal for the zoo's three tigers." But as Sun Tzu said, "He who is skilled in attack flashes forth from the topmost heights of heaven." With the cats circling, the crane employed a fighting technique that would make any kung fu master proud, chasing his attackers around the cage at times. To the delight of onlookers the crane was eventually rescued by zookeepers and treated for minor injuries.
AND NOW, A WORD FROM CHARLES…
"Think about the administration when the president said in an NPR interview in December that he wants to see Iran become a successful regional power. The Saudis have their hair standing on end as a result. But imagine how Americans would react if we hear that and that's the reason that they want to conclude the deal with Iran." –Charles Krauthammer on "Special Report with Bret Baier." Watch here.
Chris Stirewalt is digital politics editor for Fox News. Want FOX News First in your inbox every day? Sign up here.
Chris Stirewalt joined Fox News Channel (FNC) in July of 2010 and serves as digital politics editor based in Washington, D.C. Additionally, he authors the daily "Fox News First" political news note and hosts "Power Play," a feature video series, on FoxNews.com. Stirewalt makes frequent appearances on the network, including "The Kelly File," "Special Report with Bret Baier," and "Fox News Sunday with Chris Wallace." He also provides expert political analysis for Fox News coverage of state, congressional and presidential elections.