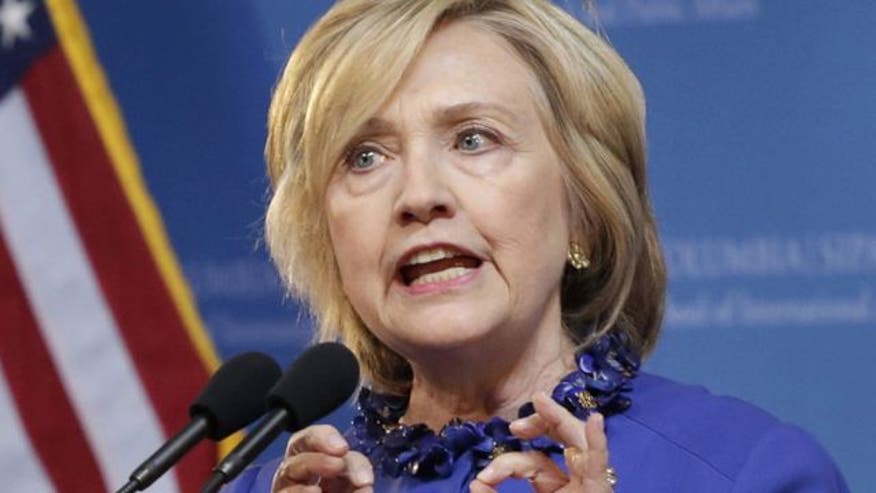 **Want FOX News First in your inbox every day? Sign up here.**
Buzz Cut:
• Hillary flips for amnesty
• Rubio rocket ride continues, Walker has room to grow
• Huckabee's entry sets up Cruz duel
• Carson, Fiorina still largely unknown
• Go soak your head
HILLARY FLIPS FOR AMNESTY
Hillary Clinton is looking to unload some more baggage from her campaign van today. The presumptive Democratic nominee campaigns in Nevada where her campaign told several news outlets that she will embrace "a full and equal path to citizenship" for illegal immigrants. In 2008, Clinton wasn't even a supporter of the mainstream Democratic position of allowing illegal immigrants to have driver's licenses. Now she is ready to go for a full amnesty. USA Today reports that Clinton is embracing President Obama's immigration policy and campaign style today: "She will chat with Rancho High School students who are DREAMers, the term used for young undocumented immigrants who were brought to the United States as children."
[Stephen Dinan points out that Clinton isn't just reversing herself, but the tough immigration policies put forward by her husband.]
This latest reversal follows Clinton flips on tough-on-crime drug laws and gay marriage. Presumably more will follow. Remember that this is the woman whose former fellow cabinet member Robert Gates said admitted opposing the Iraq surge to win support among anti-war Democrats. Despite a new poll that shows that a stout majority of Democrats think a Clinton coronation will be just fine, she's not taking any chances this time, either. One supposes that the major threat for Clinton now is not an external foe but the ongoing self-destruct sequence as the campaign tries and fails to put to rest mounting allegations of corruption against the candidate and her family. The same poll from the WSJ and NBC News that shows Democrats taking a submissive posture shows Clinton crashing with the general electorate. She's seen as untrustworthy by a 2-to-1 ratio.
RUBIO ROCKET RIDE CONTINUES, WALKER HAS ROOM TO GROW
The same WSJ/NBC News poll shows Sen. Marco Rubio, R-Fla., continuing his post announcement surge. As Republicans increasingly tune in to the wide-open race, Rubio may trail bush by 5 points, but his 41 percent combined first and second choice is very impressive. He's drawing from two wings of the party while Jeb Bush's support remains in an establishment Republican stovepipe. Everyone knows him and most don't like him. But Scott Walker is hovering in deep water waiting for his moment. While Rubio is well known from his time in the Senate and frequent national television appearances, Walker still has very low name identification, even among Republicans. He's in third place, but 21 percent of GOP primary voters don't even know his name compared to 9 percent for Rubio and 1 percent for Bush. Those that know him seem to like him and he has not yet announced. Walker, as Bush might say, has a right to rise.
Jeb's wife, son head to Chicago – Chicago Sun-Times: "The wife and son of all but declared presidential hopeful Jeb Bush hit Chicago on Thursday for a fundraiser where the ask ranges from $2,500 for one ticket to $250,000 to give or raise. The money is for the Bush super pac, 'Right to Rise,' which is underwriting the initial stages of the former Florida governor's 2016 presidential run. The headliners for the Chicago event are Columba Bush and Jeb Bush Jr. who will appear at a luncheon at the Union League Club…"
Rubio to speak at annual Florida GOP dinner, no invite to Jeb yet – Miami Herald: "Don't expect the Miami-Dade Republican Party to take sides in the 2016 presidential primary. But the GOP is giving contender Marco Rubio top billing at its Lincoln Day Dinner in June. There's no mention of the other likely candidate from Miami, Jeb Bush, on the party's invitation. Rubio will be the keynote speaker for the June 20 event, with Lt. Gov. Carlos Lopez-Cantera listed as a 'special guest.' Lopez-Cantera, a close Rubio friend, could jump into the U.S. Senate race to replace him."
[Rubio will deliver his first policy speech as a presidential candidate in on May 13. He will address the Council on Foreign Relations in New York to outline his national security framework.]
Walker scorches Obama, Clinton on Islamist threat – The Hill: "[Wisconsin Gov. Scott Walker] said he was "disturbed" that Clinton spent four years as Obama's closest advisor on foreign policy matters. "We need a president for this country who will look the American people in the eye and have the courage to tell them the truth," Walker boomed. "It could be a day, a week, a month or a year, but we know it's not a question of if there will be another attempt on American soil, it's question of when there will be another attempt on American soil…and I'd rather take the fight to them than let them bring the fight to us." … "Now more than ever America needs a commander-in-chief that will stand up and declare radical Islam is a threat to us all," he said to a standing ovation. "We need a president who identified for once and for all that Israel is an ally and actually starts acting like it."
Rand advocates for racial fairness in drug laws – Detroit Free-Press: "U.S. Sen. Rand Paul of Kentucky drew loud applause in the heart of western Michigan Monday when he delivered a key plank of his Republican presidential campaign – that the nation's drug policy is disproportionately putting blacks behind bars. Paul delivered a similar message when he opened a GOP office in Detroit in December of 2013."
WITH YOUR SECOND CUP OF COFFEE…
Ever marveled at those nighttime satellite views that show a dark North Korea while an electrified South Korea glows with lights? Slate invites you to take a gander at a 1910 map of the 5.8 million places in the U.S. where you could place a call via the Bell Telephone System. "By the time this map was printed, Bell had tried several different strategies, clean and dirty, to fight back against its competition…Theodore N. Vail, who took over in 1907, changed strategies, accepting limited government regulation while buying competitors or bringing them into the Bell system…. Some rural areas—Oklahoma, Iowa, northern and eastern Texas—are surprisingly well-covered, while others in the Southeast remain empty. The discrepancy between coverage in the East and the West is perhaps the most striking aspect of the map. California remains sparsely served, and no long-distance lines reach all the way from coast to coast."
Got a TIP from the RIGHT or LEFT? Email FoxNewsFirst@FOXNEWS.COM
POLL CHECK
Real Clear Politics Averages
Obama Job Approval: Approve – 45.9 percent//Disapprove – 49.9 percent
Direction of Country: Right Direction – 29.8 percent//Wrong Track – 61.2 percent
HUCKABEE'S ENTRY SETS UP CRUZ DUEL
Mike Huckabee officially joins the GOP field today with a big kick-off in his native Hope, Ark. and a primetime interview with Megyn Kelly. The former governor of Arkansas is a populist favorite, but that does not mean he will have an easy time cracking into the top tier. A new WSJ/NBC News poll shows Huckabee in sixth place among GOP presidential hopefuls, trailing Sen. Ted Cruz, R-Texas, by 5 points. Both have the same aim: to unite tea party and evangelical voters. Huckabee's challenge, both nationally and in the conservative crucible of the Iowa caucuses, is to change perceptions of himself and his candidacy – to remind voters that he can be a fighter and a champion for social conservatives and blue-collar voters. With Cruz's high profile and deep pockets, he and Huckabee are set up for a duel across Iowa's 99 counties for the support of true believers.
Huckabee vital statistics
* 59 years old, born in Hope, Ark.
* Parents Mae and Dorsey Wiles Huckabee
* Ouachita Baptist University, B.A. 1975
* Lost bid to unseat Sen. Dale Bumpers, D-Ark., 1992
* Lieutenant governor of Arkansas, 1993-96
* Governor of Arkansas, 1996-2007
* Presidential candidate, 2008
* Married Janet McCain, 1974
* Three children
* Southern Baptist, ordained minister
[Watch Fox: Chief National Correspondent John Roberts reports on Huckabee's 2016 presidential announcement from Hope, Ark.]
How to? – Eliana Johnson looks under the hood of Huckabee's campaign strategy: "Of the five Republicans who have announced their candidacies, three…are freshman senators, and two…have never held elected office…His advisers also believe he can expand his appeal beyond Evangelicals, his 2008 base, by assembling a coalition of what one describes as 'Americans who earn less than $65,000 a year; seniors; and people in the middle of the country.'"
CARSON, FIORINA STILL LARGELY UNKNOWN
Two other new additions, Carly Fiorina and Ben Carson, struggle with low name recognition and low favorability among Republican primary voters in the WSJ/NBC News poll. 52 percent of voters do not know Fiorina and 25 percent would not support her. Carson does worse with 36 percent not knowing who he is, but 22 percent certain they wouldn't vote for him.
"I have lived all over the world, traveled and worked all over the world. And I know that it is only in the United States of America that a young woman can start as a secretary and go on to become the chief executive of the largest technology company in the world. That is only possible here."- Carly Fiorina on "The Kelly File"
Iowans skeptical of Carson – Des Moines Register: "Iowans who have heard of Ben Carson know the broad strokes about his life…But they're less certain about where he stands on important issues, or if there's an avenue for victory for him in Iowa…On Tuesday, Carson intends to hit the campaign trail hard, with several public and private events in Iowa…Expect Carson's message about opportunity to draw the most diverse audiences of any Republican contender in the race, his Iowa strategist, Ryan Rhodes, said."
[Carson resumes his Iowa schedule after cancelling events to spend time with his ailing mother. Today, Carson has a town hall meeting with Rep. Rod Blum, R-Iowa.]
He's going to Jackson – New Jersey Gov. Chris Christie heads to Jackson, Miss. and Baton Rouge, La. meet and greets today on behalf of his super PAC. Given thenews back home, Christie probably could use a little Southern hospitality.
SOUND OFF: READERS RESPOND TO 2016 POWER INDEX
"Kasich came out strong and ready on Sunday, elevating him to the top spot for me. Likewise, Carly Fiorina, comes over as a strong contender, although not for number 1. Kasich and Fiorina in 2016 will win it." – Charlie McCartan
"Only ONE ('potential') candidate has served as a Governor of a large state, AND is the ONLY one to have served in the Armed Forces of the United States, as far as I know – Governor Rick Perry. We need someone who has run a government (Texas for 14 years) and has a strong understanding of what it will take to solve our national security problems. Remember how Gov. Perry handled the border issue when Obama wouldn't." – Doug Mathes
"Democrats have got to be confused. Running for President as Republicans are a woman, an African-American, and two Hispanics, constituencies which are supposed to belong to the Democrat Party. Maybe the Republican Party is more 'big tent' than some would have us believe."– Mary Heller
DECISION TIME FOR MCCONNELL ON IRAN NUKE BILL
The bill giving Congress the power to review a nuclear deal with Iran is at a critical stage in the Senate as Majority Leader Mitch McConnell decides whether to shut down debate on the measure, The Hill reports. "McConnell is seeking an agreement to allow votes on several controversial amendments backed by conservatives that supporters of the bill say would kill it…The full [Republican] conference is expected to talk about the Iran bill at their Tuesday lunch….[S]ome Republicans predicted McConnell may have no choice but to file cloture to end debate…While this could anger conservatives, it would also save a carefully crafted compromise drawn up by Senate Foreign Relations Committee Chairman Bob Corker (R-Tenn.) and reluctantly endorsed by the White House."
Reid threatens Obama trade pact – Minority leader Harry Reid says Senate Democrats will block Senate consideration of President Obama's top trade priority until a transportation funding measure and reforms to the Foreign Intelligence Surveillance Act are passed first. Reid, who has been openly opposed to the president's Trans-Pacific Partnership authority, told HuffPo he's confident Democrats will stick together on the demand. "'I'm not willing to lay over and play dead on trade until we have some commitment from them on surface transportation,' he said. The same goes for FISA, he said."
No hot towels – The Hill: "A bipartisan group of lawmakers has introduced legislation to prevent members of Congress from using official funds for first-class airfare. Reps. Paul Gosar (R-Ariz.) and Raul Ruiz (D-Calif.) said that luxury air travel is 'especially wasteful' while Congress has yet to eliminate the federal deficit….The bill from Gosar and Ruiz, titled the Coach-Only Airfare for Capitol Hill (COACH) Act, would mandate that lawmakers and staffers can only fly first-class with personal funds…."
GO SOAK YOUR HEAD
However annoying last year's "Ice Bucket Challenge" was for you, it's nothing compared to the experience of one California police officer who finds herself, ahem, in hot water. AP reports: "Los Angeles County prosecutors say a video posted online in July showed Pasadena police officer Jaime Robison pick up a 5-gallon bucket of ice water and pour it over a fellow officer while she was receiving disability benefits. The case also alleges the 39-year-old Robison exaggerated injuries in 2012 to receive disability pay. Robison pleaded not guilty Friday to four counts of insurance fraud. She is scheduled to return to court June 10. If convicted, she could face up to six years and four months in jail."
AND NOW A WORD FROM CHARLES…
"[Ben Carson] does not speak like a politician. But I think he is. This is really hard to do what he is trying to do. And I think the reason he stumbled in last few months over certain issues is because it is really hard to go from being a top college player to being only not only in the major leagues but immediately in the world series. It takes a lot of experience." – Charles Krauthammer on "Special Report with Bret Baier." Watch here.
Chris Stirewalt is digital politics editor for Fox News. Want FOX News First in your inbox every day? Sign up here.
Chris Stirewalt joined Fox News Channel (FNC) in July of 2010 and serves as digital politics editor based in Washington, D.C. Additionally, he authors the daily "Fox News First" political news note and hosts "Power Play," a feature video series, on FoxNews.com. Stirewalt makes frequent appearances on the network, including "The Kelly File," "Special Report with Bret Baier," and "Fox News Sunday with Chris Wallace." He also provides expert political analysis for Fox News coverage of state, congressional and presidential elections.