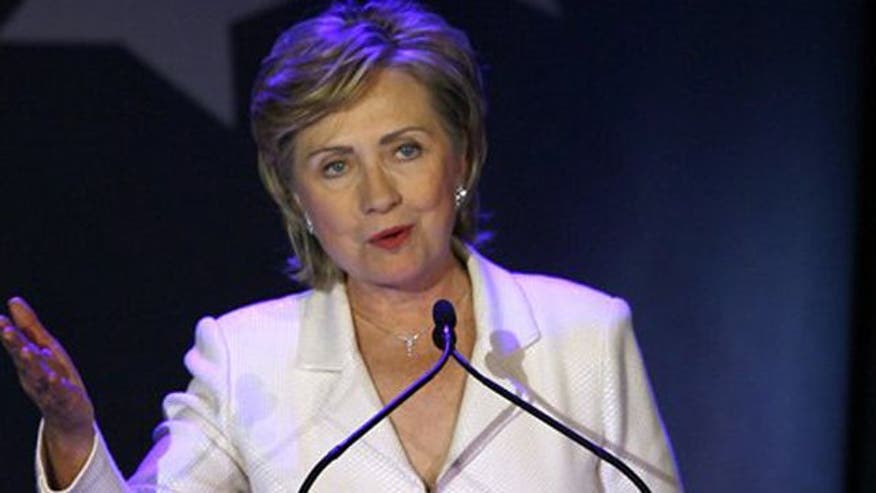 **Want FOX News First in your inbox every day? Sign up here.**
Buzz Cut:
• Hillary has Iraq woes like no other
• 2016 GOP Power Index: Carson's climb a challenge for Cruz
• Fiorina en fuego
• Power Play: Convention push gains traction
• Great moments in government
HILLARY HAS IRAQ WOES LIKE NO OTHER
Of all of the questions Hillary Clinton will evade on the campaign trail this week, none are more important than those she will not answer on Iraq. Clinton holds the unique distinction in the 2016 field of having supported the unpopular Iraq policies of both George W. Bush and Barack Obama.
She supported Bush's invasion and Obama's withdrawal, and in both cases was tracking with public opinion when she started. After Bush's war got unpopular, Clinton recanted. And one supposes that as Obama's policy for that woe-begotten nation and its region continues to displease voters, Clinton will be tempted to recant her support for the Obama doctrine too. The fall of Ramadi to Islamist militants will no doubt hasten Clinton's consideration of a political exit strategy.
Clinton might be expected to lay out her vision for the future. After all, she argued for an earlier intervention against the Syrian dictator Obama is now helping to stay in power. There's some inventory to move here. We have learned in detail the thoughts of Bush's younger brother, Jeb, on the war, as well as what other Republicans think about what the Bushes think and so on. But as for Clinton we do not know even the slightest inkling of her current thinking.
The WaPo points out today that Clinton's NASCAR-length series of left turns is designed to reconstruct the winning Obama coalition. But missing is the most important ingredient in Obama's original recipe: foreign policy. Obama beat her with his opposition to the Iraq war, so she certainly knows it. But Clinton also knows that all of her potential general election foes will be ready to rip into the Obama record on foreign affairs and national security.
When Gov. Scott Walker, R-Wisc., goes after Clinton, for instance, it's not on domestic issues but on foreign policy. Walker told CBS News on Sunday that every region that Clinton focused on "is largely a failure, a mess." His critique foreshadows the attacks that will come from the Republican nominee regardless of who survives the 2016 GOP Thunderdome.
But Clinton can't jump too hard away from Obama since the base voters she is working so hard to woo with her domestic policy reversals believe the current president has been, if anything, too bellicose – he of the flying killer robots, domestic spying and desk-drawer kill lists.
Will the domestic sprint leftward give Clinton the chance to duck on foreign policy long enough to lock up her nomination and then reinvent herself as a McCain-style interventionist in the general election? That depends on how long she can stonewall the press.
[Watch Fox: Chief White Correspondent Ed Henry reports from Iowa on the Clinton campaign.]
"She has to do it quickly and she has to get into the rhythm of a campaign where she's out there, she's answering questions, she's making speeches. It would be a terrible mistake to not do that." – Top Obama strategist David Axelrod to NBC News on Clinton's press avoidance strategy.
2016 DEMOCRATIC POWER INDEX: WARREN WARNING
1) Hillary Clinton; 2) Martin O'Malley; 3) Bernie Sanders; 4) Joe Biden; 5) Elizabeth Warren [+2]; 6) Jim Webb [-1]; 7) Lincoln Chaffee [-1]
It's not like Elizabeth Warren is getting ready to launch a campaign, but she showed in clear relief last week how she generates passion among Democratic activists. Liberals, including one Senate colleague, accused the president of sexism for his attack on her as "a politician like everybody else." Whatever arrangement Warren has made with Hillary Clinton about 2016 and policies and personnel in another Clinton administration is only as durable as the two politicians' relative standings. Warren's totemic status for the left of her party and, evidently, unassailable positions shows how difficult she could yet make life for Clinton. So far, though, Clinton is saying all the right things to please her party's liberal base.
[Watch Fox: Chris Stirewalt joins "The Real Story" in the 2 p.m. ET hour with the latest on who's up and who's down in the 2016 Power Index.]
WITH YOUR SECOND CUP OF COFFEE…
For those who watched Don Draper end "Mad Men" as he began it – surfing the zeitgeist riptide – you might wonder about the actual story of the iconic Coca-Cola campaign that taught two generations a tune about living in "perfect harmony." It used countercultural ideas and images appropriated for mainstream the same way that shows like "The Partridge Family" and other groovy '70s offerings did. Coca-Cola, no doubt happy for this second flash for one of the most successful campaigns in history, offers the true history of the spot: "Five hundred young people were hired for the chorus from embassies and schools in Rome. This was a substantial reduction from the original rained-out chorus. A British governess … found pushing a baby carriage in the Piazza Navona was hired for the lead female role. … Some of the distinctive camera angles were forced on the crew as they tried to avoid power and telephone lines."
Got a TIP from the RIGHT or LEFT? Email FoxNewsFirst@FOXNEWS.COM
POLL CHECK
Real Clear Politics Averages
Obama Job Approval: Approve – 45.7 percent//Disapprove – 49.8 percent
Direction of Country: Right Direction – 29.6 percent//Wrong Track – 62.0 percent
2016 GOP POWER INDEX: CARSON'S CLIMB A CHALLENGE FOR CRUZ
1) Jeb Bush; 2) Marco Rubio; 3) Scott Walker; 4) Ted Cruz; 5) Carly Fiorina; 6) Rand Paul; 7) Ben Carson [+3]; 8) Mike Huckabee [-1]; 9) John Kasich [-1]; 10) Chris Christie [not ranked last week]
On the Radar – Rick Perry, Rick Santorum, Bobby Jindal, Lindsey Graham
The doctor is in, and he's got a tough diagnosis for Sen. Ted Cruz, R-Texas. As the latest Fox News poll shows, Ben Carson's campaign kickoff vaulted him into a tie with frontrunner Jeb Bush. Adding to his momentum, Carson's Facebook interactions, meaning comments, shares, or likes, were nearly double that of the rest of his competitors. Cruz, who has positioned himself as the leader of the most conservative wing of the party, needs to see the right wing solidifying not adopting the boom and bust cycle that plagued the movement in 2012. As Charlie Cook points out, in a field this volatile and with deep-pocketed donors making big plays it will be tough for well-known candidates like Cruz to crowd out upstarts like Carson.
What would you say? – Give us your take on the 2016 Power Index we will share the best and brightest with the whole class. Send your thoughts to FOXNEWSFIRST@FOXNEWS.COM
[Cruz purchased a private healthcare plan from Texas Blue Cross Blue Shield, reports WaPo. The senator came under fire recently for saying he would consider purchasing insurance through ObamaCare.]
Jeb goes all in against same-sex marriage – In an interview with David Brody Bush defended "the sacrament" of marriage saying, "We need to be stalwart supporters of traditional marriage."
[NYT: "A remarkable 25 percent of Americans born after 1980, the group often known as millennials, are not religious, compared with 11 percent of baby boomers and 7 percent of the generation born between 1928 and 1945."]
Rubio rallies in Iraq answer – Fox News: "Sen. Marco Rubio, the freshman senator from Florida and White House hopeful, defended his tougher rhetoric on foreign policy and said Americans 'have to recognize the balance of power in the world is shifting.' Rubio said on "Fox News Sunday" that the 'rise of rogue states like North Korea and Iran,' as well as non-state groups like the Islamic State, have shifted the priorities for the U.S. 'They are all different threats,' he said. During the exclusive interview, Rubio also defended former President George W. Bush's decision to invade Iraq based on the information known at the time."
[The Florida GOP raised the stakes for the state's two GOP presidential hopefuls this weekend. The party moved to a winner-take-all contest on March 15 meaning both Marco Rubio and Jeb Bush will have to compete there for a cache of 99 delegates.]
Christie: NSA fears are 'baloney' – TIME: "New Jersey Gov. Chris Christie will call for an expanded military and defend American intelligence programs Monday in a speech laying out his foreign policy vision in New Hampshire…Christie will issue a full-throated defense of American spying efforts, seeking to draw contrast with more dovish members of his own party, as well as many Democrats, who have unified against the National Security Agency since the Edward Snowden revelations in 2013. 'They want you to think that there's a government spook listening in every time you pick up the phone or Skype with your grandkids,' Christie will say. 'They want you to think of our intelligence community as the bad guys, straight out of the Bourne Identity or a Hollywood thriller. And they want you to think that if we weakened our capabilities, the rest of the world would love us more…Let me be clear: all these fears are baloney,' Christie will add."
[Watch Fox: Megyn Kelly interviews Gov. Chris Christie today in Portsmouth, N.H. on the heels of his foreign policy speech. Watch the "The Kelly File" tonight at 9 p.m. ET.]
Paul keeps up tough talk on NSA – The Hill: "Sen. Rand Paul (R-Ky.), a top critic of the National Security Agency, said Sunday that if he were elected to the Oval Office he would not eliminate the agency but refocus its bulk collection of phone records…His answer came in response to a question from host Chuck Todd, who referenced Paul's very 'critical' comments on the NSA in his forthcoming book Taking a Stand: Moving Beyond Partisan Politics to Unite America, due out May 26…Paul's father, former Rep. Ron Paul (R-Texas), has maintained the NSA be abolished, along with other intelligence agencies."
Fiorina en fuego – Des Moines Register: "Republicans exulted in what they see as a smorgasbord of good choices in their 2016 presidential lineup, but former CEO Carly Fiorina seemed to steal the show at the Iowa GOP's Lincoln Dinner on Saturday night. The audience of 1,400 stopped just short of booing when dinner organizers cut the sound to her microphone when she reached the strict 10-minute speaking limit set for all 11 presidential hopefuls.
[Watch Fox: Senior Political Correspondent Mike Emanuel has an inside look at the Fiorina campaign.]
ANNOUNCING ANNOUNCEMENTS
Walker targets 'end of June' – "My state budget will be completed by the end of June. It's something I'm focused on every day…Once that's complete at the end of June, we will announce our intentions to our state, to our country and the world." – Gov. Scott Walker, R-Wis., on CBS News.
Graham: 'I'm running' – Republican Sen. Lindsey Graham told CBS News he was saving a formal presidential campaign announcement until June 1 in his home state of South Carolina, but then went on to add: "I'm running because of what you see on television, and I'm running because I think the world is falling apart."
Perry to announce plans June 4 – Former Gov. Rick Perry, R-Texas, set his announcement for June 4 in Dallas. Perry has made numerous trips to early-voting states like Iowa and South Carolina the past few months leaving little doubt what his 'special announcement' might be.
CAMPAIGN DAYBOOK
* Former Florida Governor Jeb Bush will make a stop in South Florida Monday night for a Right to Rise PAC fundraiser in Sweetwater.
* Gov. Scott Walker, R-Wis., is the keynote speaker at the American Federation for Children's National Policy Summit in New Orleans.
* Sen. Rand Paul, R-Ky., participates in a round table discussion on WPHT radio in Philadelphia and holds an afternoon press conference on the Independence Mall.
* Former Gov. Mike Huckabee, R-Ark., and former Sen. Rick Santorum, R-Pa., will speak at the Family Leadership Regional Summit in Cedar Rapids, Iowa.
* Former Gov. Rick Perry, R-Texas, has series of events in northwestern Iowa today ending with a Town Hall in Holstein
* In New Hampshire, Ben Carson speaks to the House Republican Majority Caucus State.
POWER PLAY: CONVENTION PUSH GAINS TRACTION
Can states gain ground after a decades-long losing battle against the federal government? There's a little known Constitutional clause some people want to trigger to do just that. Mark Meckler of Citizens for Self Governance joins Chris Stirewalt to discuss the mechanism and the movement. WATCH HERE.
GREAT MOMENTS IN GOVERNMENT
AP: "[Florida] environmental officials are undertaking a massive two-year project to remove 90,000 tires from the bottom of the ocean floor in Fort Lauderdale. … An estimated 700,000 tired were dropped into the ocean in hopes of attracting fish and providing a foundation for corals to grow. The project kicked off with great fanfare in 1972 when more than 100 boats full of tires were dumped into the water while the minesweeper USS Thrush looked on. But few corals grew and, even worse, the tire bundles broke apart and drifted onto the natural reefs and kill coral. Now the lifeless vista of tires stretches across 35 acres. … The Florida Department of Environmental Protection budgeted $1.6 million for the work and the Sun Sentinel reports divers started cleaning up the mess this past week. Military divers removed 72,000 tires several years ago, meaning half a million tires will still be left on the ocean floor after the project is completed."
Chris Stirewalt is digital politics editor for Fox News. Want FOX News First in your inbox every day? Sign up here.
Chris Stirewalt joined Fox News Channel (FNC) in July of 2010 and serves as digital politics editor based in Washington, D.C. Additionally, he authors the daily "Fox News First" political news note and hosts "Power Play," a feature video series, on FoxNews.com. Stirewalt makes frequent appearances on the network, including "The Kelly File," "Special Report with Bret Baier," and "Fox News Sunday with Chris Wallace." He also provides expert political analysis for Fox News coverage of state, congressional and presidential elections.