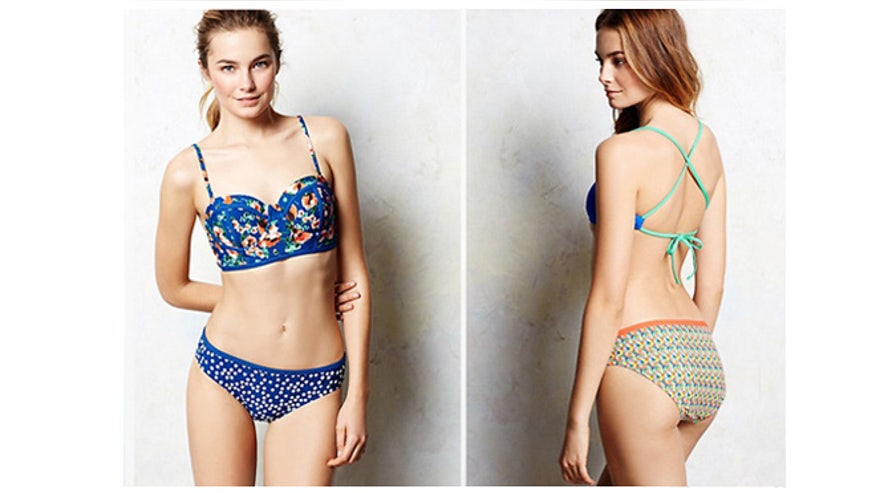 Beach season is almost here. That means its time for a brand new suit to really strut your stuff. This year, retro, bold and sheer are just some of the looks fashion experts and personal stylists say will take your vacation look to the next level. ;
Click through our slideshow for the latest women's and men's pieces. Don't forget a hat and sunblock.
You've been dreaming for months about your tropical trip or even warmer weather to come, the sun kissing your skin and the waves lapping at your feet. But what are you going to wear? Get ready for upcoming spring or summer beach vacations with the latest styles in water-friendly wear.
Retro, bold and sheer are just some of the looks fashion experts and personal stylists say you'll want for your trip to paradise.
"Other big trends for women are cutouts, high-waisted bottoms, bustier tops and mixing and matching tops and bottoms," said Natalie Tincher, owner of Buttoned Up, a New York City-based personal styling and shopping firm.
Besides deciding on the cut of the suit, pick out a bikini or one-piece with a pattern that will set the mood for a fun-filled vacation.
"One of the hottest trends is bright color and bold prints – from floral to animal to stripes and plaids," Tincher said.
For those who are self-conscious about showing too much skin, there are fashionable options for every body type – and they're even in style.
"The strapless one-piece is perfect for the woman who loves the beach, but wants to cover up a bit," said Josh Saterman, Macy's vice president and fashion director of millennial. "She can still be flirty and fun in (an) amazing silhouette."
And it isn't just the swimsuit that can help women feel sexy on the sand. Cover-ups can complete an outfit for any hour.
"All the newness in bottoms is exciting and can take you from day to night," Saterman said. "Soft pants, printed shorts and flirty skirts all can serve as both daywear as well as cover-ups – maximizing your suitcase."
As for the men, it's time to say goodbye to oversized trunks.
"Shorter and tailored cuts are reigning supreme over the baggy board shorts of our youth," Tincher said.
But stylists admit this trend isn't for everyone.
"Some guys hate this completely," said celebrity stylist and fashion expert Dawn Del Russo. "They're not a super wide leg."
Even if your man can't step into this idea, Del Russo suggests trying a bolder color – such as orange or pink.
No matter which style you want, nearly every fashion expert agrees that you should try on the swimsuits in the store.
"Fit is important for look and comfort factors – not too loose or tight," says Durand Guion, Macy's vice president and fashion director.
If possible, wear your favorite shades or beach shoes in the dressing room to get the whole look.
"Put waterproof mascara on," Del Russo said. "It makes you feel better. Big sunglasses are always good, too. They're a great way to look mysterious, but it looks great on everyone. As soon as you throw on sunglasses, who are you? You styled yourself a little bit more."
And don't forget: Your swimsuit and cover-up won't protect all your skin from the sun.
"For sunscreen, I always use a different formula for the body and face," Tincher said. "My favorite face sunscreen is Skinceuticals Ultimate UV Defense."
For those who want their skin protection to help clean up the beaches, the city of Miami Beach has marked its 100th birthday by launching a line of products called The Miami Beach Suncare line. They include sunscreen lotions, gel and sprays up to a sun protection factor of 50. A portion of the proceeds will go to beach cleanup efforts in Florida.
Now, grab your towel and sunglasses!