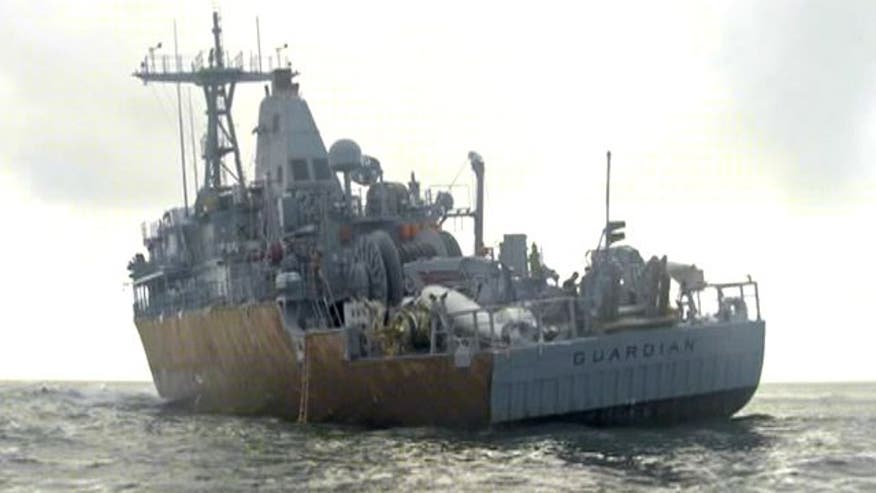 The commanding officer and three crewmembers aboard a U.S. Navy minesweeper have been relieved of their duties amid an investigation into how the $300 million ship got stuck on a reef near the Philippines and had to be scuttled.
The USS Guardian became stuck on a reef in the Tubbataha National Marine Park, a World Heritage Site in the Sulu Sea some 400 miles southeast of Manila in January.
The Navy said in a statement that the officer and crewmembers were relieved because the ship's grounding did not comply with its navigation procedures and accountability standards.
Last week, the Navy chopped the ship up into sections and removed it, turning a valuable ship into scrap metal.
"We're paid to make sure that both the crew and that ship comes through harm's way alright," said Joe Sestak, a former Democrat Congressman from Pennsylvania and retired three-star admiral. "A mistake was made here."
On Sunday, workers removed the last major part of the ship, and experts there are now assessing possible damage to the reef. Meanwhile, Navy investigators want to know what went wrong on Jan. 17. Initially the ship sustained minor damage, but before it could be towed off the reef, waves pushed the hull further onto the coral.
The guardian is one of only eight sweepers in the U.S. fleet. So far, the Navy blames faulty navigational maps for causing the ship to run aground. Its captain, Mark Rice, took command of the ship just three months before the accident.
The doomed ship's parts are being transported to a Navy facility in Sasebo, Japan, to determine which ones can be reused and which will be junked, Philippine coast guard Commodore Enrico Efren Evangelista said.
An initial estimate showed about 4,780 square yards of coral reef were damaged by the ship grounding, according to Tubbataha park superintendent Angelique Songco. The U.S. could be facing a fine of more than $2 million.
Asked if the Philippine government would press charges against U.S. Navy officials, Philippine Secretary Herminio Coloma Jr., a spokesman for President Benigno Aquino III, did not reply directly, but said, "There must be accountability and we will enforce our existing laws."
The warship's removal closes an embarrassing episode as Washington reasserts its presence in Asia amid China's rise. The Navy and the U.S. ambassador to Manila, Harry Thomas, have both apologized for the grounding and promised to cooperate with America's longtime Asian ally.
"As we have stated in the past, we regret this incident and the United States is prepared to pay compensation for the damage to the reef," the U.S. Embassy said in a statement, adding that it was cooperating with a Philippine government investigation of the incident.