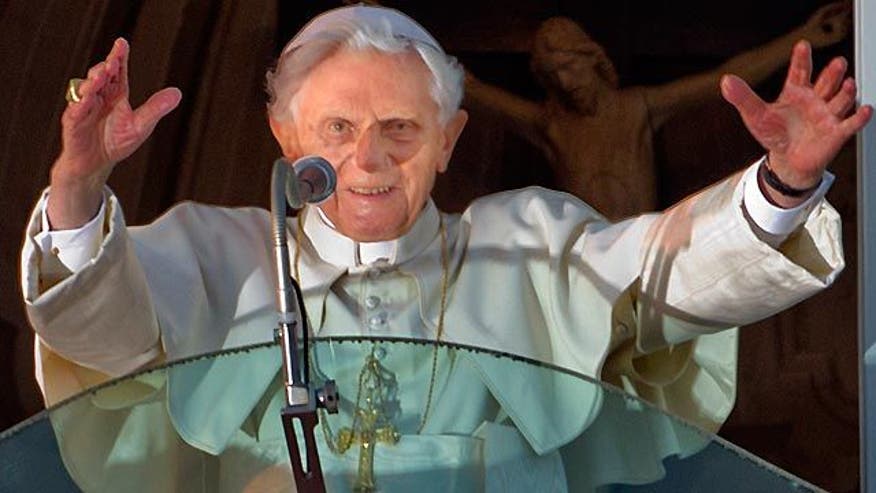 Editor's note: Roman Catholic priest and Fox News contributor Father Jonathan Morris will be contributing reporting and analysis of the events in Rome for the next few weeks. He will also be providing updates on Facebook at Facebook.com/Father-Jonathan Morris and on Twitter@FatherJonathan.
Today the Vatican is without a pope. At 8 o'clock on February 28th, Pope Benedict XVI officially abdicated the office of supreme pontiff of the Roman Catholic Church. He is now living, temporarily, in a small town about 15 miles outside of Rome. As he has chosen to live a secluded, monastic life of prayer and study, it is unlikely we will hear him speak publicly again.
The ordinary management of the Church is now in the hands of the college of Cardinals. On Monday, March 4 they will gather officially for the first time. Their first priority will be to set a date for the beginning of the papal conclave where 115 electors will choose the next pope.
Then the Cardinals will begin to discuss the business facing the Church. That is expected to take several days. Once the conclave begins they will vote 4 times a day until they reach a two-thirds plus one majority decision. In my estimation the conclave is likely to begin on or near March 10.
Benedict was unafraid to say that he is old and weak.
If the conclaves of the last 100 years are indicative of what will happen now, this conclave will last between 2 and 5 days. The installation of the new pope will then take place on or around March 17.
In the coming days, I will write more specifically about the upcoming conclave and what the most likely candidates for pope would bring to the table. For now, however, I wish to reflect on the reasons and significance informing Benedict's choice to leave the office — something that no pope has done in the last 600 years.
On February 11, Pope Benedict surprised the world by announcing he will abdicate his office at the end of the month. He explained, very simply, that he believed, at this time, the church would be better served by someone of greater strength of mind and body. He was unafraid to say that he is old and weak. ;
While there has since been wild, and often irresponsible speculation, about an ulterior motive for his decision, we need only look back at an interview he did with his official biographer Peter Seewald a few years ago, in which he said he believed a pope could, and in some cases even should, resign if he is no longer able to carry out his duties. Pope Emeritus Benedict took his own advice seriously.
To understand how Benedict came to his decision, we should recall that during the long sickness and eventual passing of John Paul II then-Cardinal Ratzinger, who later became Pope Benedict, headed the Vatican department that oversaw cases of clerical sexual abuse. ;
Cardinal Ratzinger would have witnessed — first hand — the consequences of a long-suffering pope without the full use of his faculties. He would have witnessed the dysfunctional handling of sensitive and urgent issues with far-reaching effects on the life of the church and on its members. ;
In many cases these issues were left in the hands of his personal secretaries and other Vatican officials without the power or the courage to act.
One of the sensitive and urgent matters he saw tragically mishandled was the case of Fr. Marcial Maciel, the founder of the once powerful and fast-growing religious order, the Legion of Christ.
When Ratzinger became pope he immediately removed Maciel from public ministry and sentenced him to a private life of prayer and penance for misbehavior that included the abuse of minors, drug abuse, misappropriation of funds, and the fathering of multiple children. ;
This case is especially present to me, since at the time I was a member of this religious order.
Four years ago, after Pope Benedict acted, and then when I eventually found out the truth about Fr. Maciel, I left the order and applied to join the Archdiocese of New York, where, thank God, I am very happy.
For many years, I had heard accusations against Fr. Maciel, but in great part because Vatican officials continued to praise Fr. Maciel, publicly, I assumed these accusations were patently false. ;
I now know that during the prolonged sickness of John Paul II the Vatican already had sufficient evidence against Fr. Maciel. But John Paul II's handlers, and other Vatican officials, who were running the shop as John Paul II grew increasingly weak, succeeded in keeping the case quiet. ;
In practice, this meant many young men and women, who thought they were devoting their lives to a religious order led by a saint, were in fact continuing to live in ignorance of the reality that their leader was in fact a sociopath.
Pope Emeritus Benedict XVI has made a humble decision to step away from an office of great authority and responsibility. He has done so, fully aware, that the Church will be best served by a man capable of making tough choices. Most of these important decisions, thank God, have nothing to with sexual abuse. ;
Important and urgent however, they are. ;
Thank you, Benedict.
Father Jonathan Morris, who joined Fox News Channel (FNC) in May 2005, currently serves as a contributor and also writes for FoxNews.com.