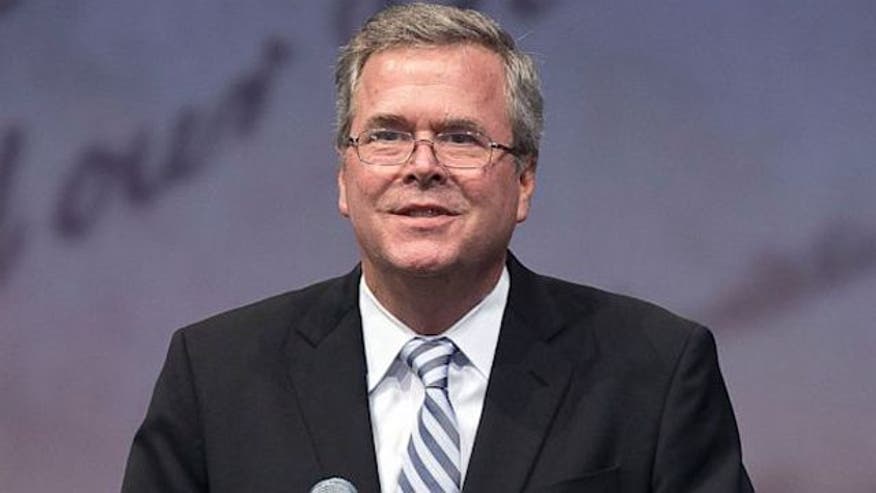 As former Florida Gov. Jeb Bush mounts an increasingly likely presidential campaign, he'll first have to weather some brutal attacks from within his own party.
"You know what Jeb Bush is? He's an old-time liberal Republican. That's what he is," said influential conservative radio talk show host Mark Levin on a recent show.
Anti-tax advocate Grover Norquist also is targeting Bush in a strategy that attempts to link the former Florida governor to what opponents used to help bring down his father's presidency – tax hikes.
Jeb Bush is one of a very few likely 2016 GOP presidential candidates who have refused to sign Norquist's "no new taxes" pledge, which Gov. Scott Walker of Wisconsin, Gov. Rick Perry of Texas, Sen. Marco Rubio of Florida, Sen. Rand Paul of Kentucky, and others have already signed.
"Jeb Bush won't put it in writing, and he won't say it," Norquist told Fox News. "I think at some point you need to ask Jeb Bush what taxes do you plan to raise."
Bush has not yet formally declared a bid for president, but has confirmed he is exploring a run. The announcement has made him an early target from the left, and the right.
Some suggest the Republican accusations are unfair.
"I think that is kind of nonsense," Florida International University political scientist Dario Moreno told Fox News in response to Norquist's accusation.
Moreno notes that in Florida political circles, the term "Jeb Bush Republican" refers to anyone with unquestioned conservative credentials.
"Jeb's record in Florida was as very much a tax cutter and as a fiscal conservative. He got rid of Florida corporate tax and he reduced Florida intangible tax, which is a tax on investment," Moreno said.
The record bears that out. Bush cut $19.3 billion in taxes over eight years, while growing the state's reserves to $9 billion — up from $1 billion when he took office. That, in a state with no state income tax.
Bush, in a 2012 interview, explained his refusal to take Norquist's pledge. "I don't believe you outsource your principles and convictions to people," he said.
Bush also has been criticized in some far-right circles for being too liberal on social issues. He supports Common Core education standards and immigration reform, once describing illegal border crossings by young Central Americans as "an act of love" by desperate parents.
But Moreno said Bush's credentials as a social conservative while serving as Florida's governor were impeccable. Bush is pro-life and was on record supporting Terry Schiavo's right-to-life case. The Florida woman was the subject of an emotional national debate over death with dignity; she had collapsed from a heart attack and remained in a vegetative state for years. Her husband ultimately won the right to remove her feeding tube against the wishes of her parents. An autopsy finally revealed that Schiavo had been brain dead throughout the ordeal.
Bush also strongly supports Second Amendment rights, as well as Florida's controversial "Stand Your Ground" law. And he defends traditional marriage.
Plus, said Moreno, he polls well in a diverse state. "Jeb Bush is probably the most popular governor in the history of the state of Florida," he said.
Census figures show that this December, Florida surpassed New York as the third-most populous state. Bush's popularity there could be a huge factor in the 2016 presidential election given its bellwether role in earlier national races.
Fox News' Serafin Gomez contributed to this report.
Doug McKelway joined Fox News Channel (FNC) in November 2010 and serves as a Washington-based correspondent. Click here for more information on Doug McKelway.