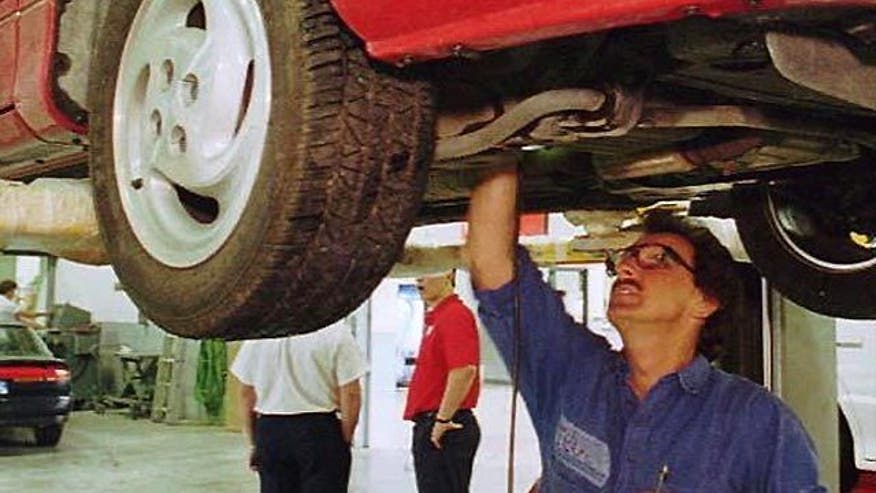 Barry Steinberg opened his auto repair shop in Watertown, Mass., in 1974, and for decades he says his mechanics could fix any problem on any car.
"We have a great group of guys," he said as he walked the floor of Direct Tire on Galen St.
All that changed in the 1990s, when automakers installed computers in their cars and refused to give Steinberg and other smaller repair shops their diagnostic information.
Keep tabs on the candidates in the Massachusetts state races on FoxNews.com
"The cars went from mechanical to technical," said Steinberg, "and we weren't getting the full book of knowledge like the dealers."
Unfortunately, he said, he ended up having to send many of his clients to dealers, where they had to pay exorbitant dealer prices.
"The [dealers and automakers] held back crucial information," he said. "We just didn't have the information to fix the cars."
"It's your car. You bought it. You have the right to get it fixed wherever you want."

– Barry Steinberg, car repair shop owner
It's something most car owners have been told by their favorite neighborhood mechanic.
"I just don't have the information. You have to go to the dealer."
Last year, Steinberg proposed a ballot measure that would require automakers to make all repair information available to the public.
It was named "Right to Repair."
"It's a consumer issue," explained Steinberg. "It's your car. You bought it. You have the right to get it fixed wherever you want."
The proposal included a threat of punishment for automakers.
"The threat is very simple," he explained. "It is that if they don't comply with the law the way it is written, they will not be allowed to sell cars in Massachusetts."
The measure was an instant hit with beleaguered car owners tired of having to go to dealerships — which sometimes charge double what non-dealerships charge.
"We got over 113,000 signatures," said Steinberg.
In fact, it's overwhelming popularity scared automakers so much, they immediately agreed to a deal with the Massachusetts State Legislature. The resulting bill, passed by the legislature this summer, essentially uses the same language as the "Right to Repair" ballot measure, only without the threat of punishment.
In fact, the automakers' main lobbying group, the Auto Alliance, is now scrambling to convince Massachusetts voters not to vote for Question 1 on Nov. 6, in an effort to avoid Steinberg's threatening language.
Even so, Dan Gage, spokesman for the Alliance of Automobile Manufacturers, refused an interview with Fox News, claiming "there are no longer two sides" to the ballot measure. Instead he provided a statement urging Massachusetts residents not to vote for the "Right to Repair" on the ballot.
"Despite the fact that Right to Repair is now law and the ballot initiative is no longer necessary, it is too late to take the question off the November ballot," read the statement from the Alliance of Automobile Manufacturers, which gets a large chunk of its funding from General Motors.
"Voters can support the Right to Repair law by skipping Question 1 altogether on Election Day."
Not so fast, said Steinberg, who says he's not telling anyone to vote no.
"It would be extremely presumptuous on my behalf to tell the citizens of Massachusetts how they should or shouldn't vote.
"A lot of people in the state wanted this ballot measure. It's up to them to vote on it."
Douglas Kennedy currently serves as a correspondent for FOX News Channel (FNC). He joined the network in 1996 and is based in New York.