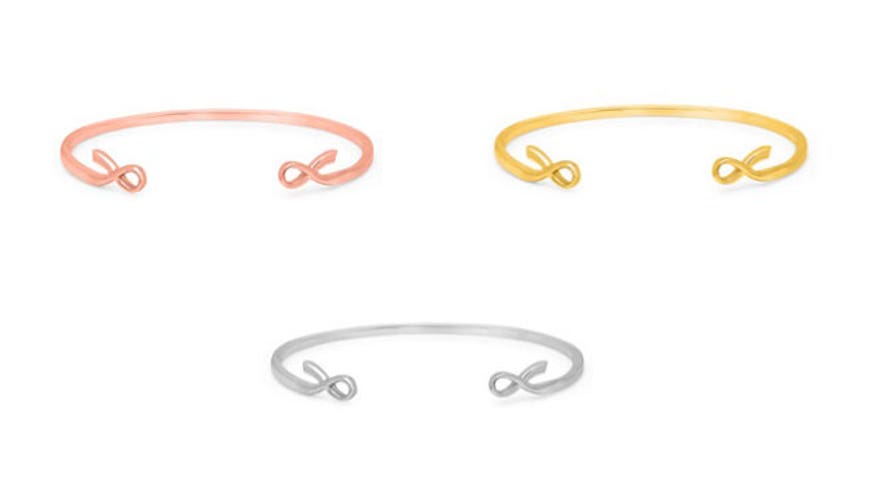 Sunday, June 7, is National Cancer Survivors Day. Just when you thought all of the days of the year were taken up by obscure organizations, this day has been around for 28 years. The purpose of this day is to honor those you know who are living with cancer.
Almost everyone knows someone living with cancer. Please take this day to reach out to them. I can say for myself that I don't like to talk about my cancer because I think I sound like a broken record, but on this day, I wouldn't mind hearing from family and friends who just want to let me know they are thinking about me.
In honor of this day, my friend Beth Yorn, creator of Elisabeth Bell Jewelry, has created a gorgeous collection of bracelets. For a limited time, these beautiful bracelets are available at a discounted price. All of the proceeds will go to The Noreen Fraser Foundation. Beth's mom died of breast cancer seven years ago, so this is a tribute to her as well. Visit elisabethbelljewelry.com to learn more.
Cancer is a huge nut to crack. It is insidious, and it outsmarts chemo and any other way you try to kill it.
The only way to prevent cancer is through early detection, and I cannot state loud enough the importance of breast self-exams. If you are able to catch it early, you have a significant chance that, after treatment, the cancer will not come back.
We are funding research to find non-toxic drugs that will make cancer a manageable disease. Our goal is to make cancer a chronic disease like AIDS or diabetes.
Please visit noreenfraserfoundation.org to learn how you can support our targeted research.
Noreen Fraser is living with Stage IV metastatic breast cancer. She is the Founder and CEO of the Noreen Fraser Foundation, a 501(c)(3) non-profit organization dedicated to funding groundbreaking women's cancer research. To stay in touch with Noreen, please 'LIKE' The Noreen Fraser Foundation on Facebook and follow her on Twitter. Noreen can be contacted via email at noreen@noreenfraserfoundation.org.