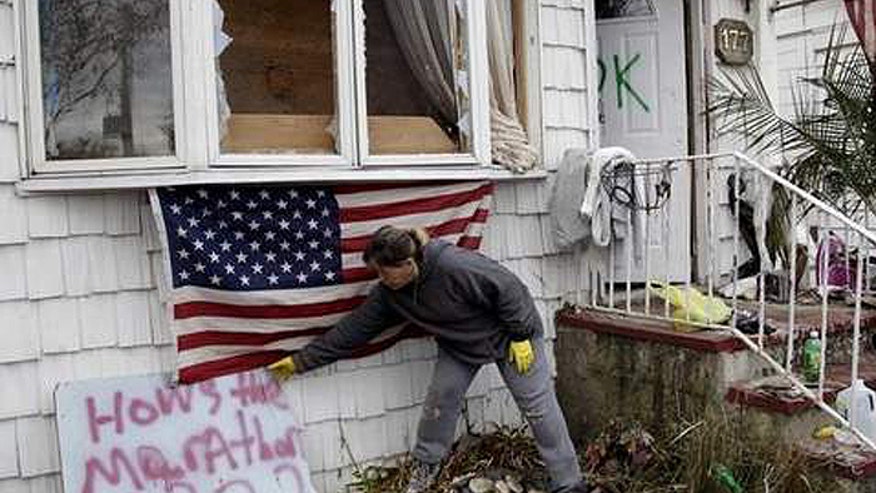 The Jersey Shore may have caught a break as a nor'easter that threatened to bring new flooding on the heels of superstorm Sandy weakened off the Atlantic coast, though parts of New York and Connecticut were still in its sights.
The storm had the flood-ravaged region on tenterhooks, as many residents are still without power and trying to find shelter, salvage possessions and get essentials like gas, batteries and food.Word that the storm is now expected to veer farther offshore than earlier projections had indicated was welcome, though it still was on course to skirt parts of Long Island, N.Y., and coastal Connecticut that took a pounding from Sandy a week ago.
"It just seems unfair it's coming now!"

– Geoff Fox, meteorologist
Jeff Masters of the private weather service Weather Underground said the strm's new course means less wind and rainfall on land. Still, winds could still gust to 50 mph in New York and New Jersey Wednesday afternoon and evening. Storm surges along the coasts of New Jersey and New York are expected to reach perhaps 3 feet, only half to a third of what Hurricane Sandy caused last week, Masters said. While that should produce only minor flooding, he said it will still cause some erosion problems along the New Jersey coast and the shores of Long Island, where Sandy destroyed some protective dunes.
Lauren Nash, a meteorologist from the National Weather Service, said wind gusts might blow down tree limbs weakened from Sandy and cause more power outages.
But for the New Jersey coast, the storm's new track was welcome news.
"It can't be as bad as the last storm," Artie Urso, 55, whose Seaside Heights, N.J., home was leveled by Sandy, told FoxNews.com. "How much worse can it get?
"It can't make the buildings any worse than they already are," he added.
The American Red Cross, already encamped in hard-hit areas along the Jersey Shore and in New York's Staten Island, Queens and Long Island, summoned extra supplies to the region as the storm gathered.
"In anticipation of the nor'easter, we are sending in an additional 80,000 blankets and bringing food and relief supplies to the hardest hit areas," said Charley Shimanski, senior vice president of Disaster Services for the Red Cross. "We are doing everything possible to get help to where it is needed and are extending our reach into more affected communities every day."
While the nor'easter won't be nearly as powerful as Sandy, the possibility of snow makes it a powerful follow-up punch to the brutal and unprecedented storm that hit just a week ago.
"Unlike Hurricane Sandy, there's nothing really unusual about this storm," said meteorologist Geoff Fox, of Fox Connecticut affiliate WTIC. "This is a type of storm New England and the Northeast get often.
"It just seems unfair it's coming now!" he added.
FoxNews.com's Perry Chiaramonte contributed to this report.