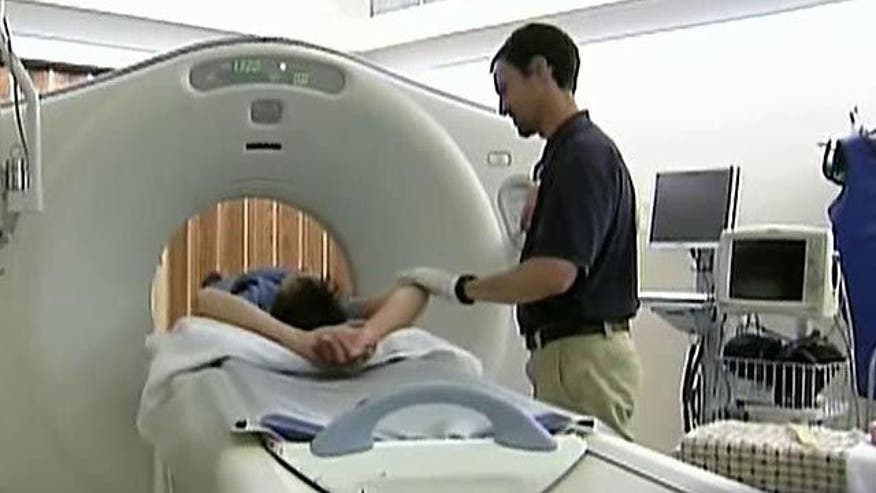 ObamaCare rate increases are coming to some key battleground states, fueling Republican attacks ahead of next month's midterm elections.
"It looks like we're going to have double-digit premium increases in places like Alaska, and Iowa and Louisiana," said health economist John Goodman. "Where we've got very close races for Senate, and Republican candidates are making a big deal over this."
The next ObamaCare open enrollment begins Nov. 15, just 11 days after the Nov. 4 elections. Because the enrollment season is so close, the rate increases in many states already are known.
"Where we have the tight Senate races, the fact that we're getting these big rate increases just adds fuel to the fire for ObamaCare as a political issue and the Republicans' attack on it," said Bob Laszewski of Health Policy and Strategy Associates.
In Iowa, for example, where Republican Joni Ernst is challenging Democrat Bruce Braley for the Senate, the Des Moines Register recently reported that premiums will be rising by double digits.
"We heard just last week," Ernst said in a debate Oct. 16, "that health care policies, their cost is going up an average of 19 percent."
In the Louisiana race, Democratic Sen. Mary Landrieu has tried to distance herself from the president, even as he suggested those who do that still really support him.
But the largest insurer in the state, Blue Cross/Blue Shield, will raise rates as much as 19.7 percent, so her opponent, Republican Bill Cassidy, is running an ad with supporters pegged to the issue.
One woman says, "Senator Landrieu, I voted for you before, but when you voted for ObamaCare, I knew I had made a mistake."
A second woman adds, "cancelled health plans, now big rate increases.."
Alaska appears to be the hardest hit of all, with increases as high as 37 percent.
An ad from an outside group, Freedom Partners Action Fund, shows a screen with the words "Huge increase for healthcare.gov insurance rates in Alaska" as an announcer says "Alaskans could see their rates increase by thousands of dollars each year."
Meanwhile, Sen. Mark Begich, the Democratic candidate, held the plan at arm's length, saying in a radio ad, "When I think about the health care law, frustrated, disappointed, you can put a lot of words toward it, but every day I work to try to fix it."
Then there's the president's promise that everyone could keep their plans and doctors "no matter what." A Fox News poll earlier this month showed 55 percent of those surveyed viewed that as a misrepresentation just to get the law passed, with only 37 percent disagreeing.
"President Obama promised the insurance companies that all these individual policies would be canceled and everybody would move over to the insurance exchange," Goodman said. "But he got on TV and promised the public that if you like your plan, you can keep it."
That's an issue Republicans are raising, no matter what premiums are doing.
Jim Angle currently serves as chief national correspondent for Fox News Channel (FNC). He joined FNC in 1996 as a senior White House correspondent.