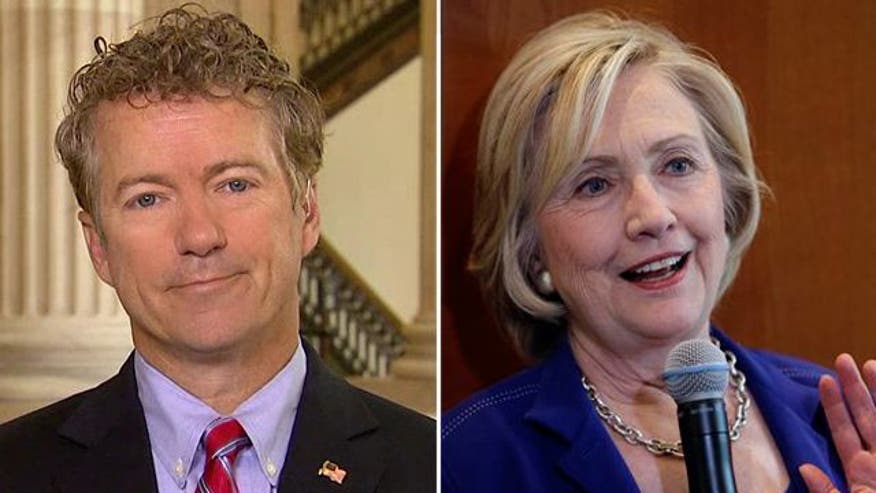 Senator Rand Paul, R-Ky., said Wednesday that he believes "there's a very good chance" Hillary Clinton was lying when she said in 2013 that she didn't know about the alleged U.S.-backed flow of weapons to rebels in Libya and Syria when she was secretary of state.
Recently released emails detail Clinton's interest in arming Libyan rebels in 2011 and show the 2016 Democratic presidential hopeful appearing to endorse the idea of using private contractors to her then-deputy chief of staff.
A new Fox News report, citing federal court documents, found that the United States supported the secret supply of weapons to Libyan rebels while Clinton was secretary of state.
Information uncovered in a 2012 Fox News investigation raised questions about whether the weapons used to arm the Libyan rebels later surfaced in Syria.
Former CIA Director Porter Goss told Fox News there was no question some of the weapons that flooded Libya were making their way to Syria — adding that the U.S. intelligence community must have been aware, given their presence in Benghazi.
"I find it very hard to believe Hillary Clinton didn't know," Sen. Paul said Wednesday. "In fact she was the biggest cheerleader for sending these arms and redistributing these hands into Syrian rebels."
When Paul asked Clinton in January 2013 at a congressional committee hearing about the alleged flow of arms to rebels in the Middle East, Clinton told Paul that she didn't know.
Paul took issue with Clinton's answers about her knowledge of the arms trade, and told Fox News' Bill Hemmer Wednesday that he finds it very hard to believe she didn't know.
"Whether or not she told the truth is a big deal and some of the emails coming out about Benghazi indicate that maybe she did know a lot more about this arms trade than she let on," said Paul, who is also running for president. "And I don't think our public officials should be allowed to come before congressional committees and lie."
When asked if he believed Clinton was lying, Paul responded: "I think there's a very good chance. Because I think there's no way Hillary Clinton did not know about this."
"But it's also concerning because of the big problem we face now with ISIS. Did it have anything to do with Hillary Clinton arming people who either became ISIS or who were friends or allies of ISIS?" Paul said.
Paul also used the issue to take a swipe at Clinton's run for the presidency.
"When we select a commander-in-chief, do we want a commander in chief who is so sloppy about who they give arms to, that we're now at war again with ISIS – they have a billion dollars of our Humvees for goodness sakes," Paul said.
Fox News' Catherine Herridge and Pamela Browne contributed to this report.